Cummins announced it will showcase the 12kW mobile generator set, the newest addition to the Tier 4 Final mobile generator product line at the American Rental Associate Show February 10-12 in booth 5031.
"The new C12D6RE model is equipped with several features and options making it a very reliable, flexible and robust product, ideal for mobile power applications,"
said John Gibbons, North American General Manager of Cummins Mobile Power generators. 
The generator packaging components are manufactured by Cummins, a company synonymous with innovation, dependability and service for over 100 years, to ensure operations will be always on, 24 hours a day, seven days a week.
The C12D6RE is powered by a U.S Tier 4 Final certified, 4-cycle liquid-cooled diesel engine, meeting stringent EPA standards.
The new mobile generator model can operate reliably across extreme temperatures, heavy airborne dust and highly humid conditions ranging from -20 °F (-29 °C) to 120 °F (49 °C). The generator's enclosure incorporates a weatherproof sound attenuation able to withstand extreme weather while minimizing the generator's noise levels at the same time. The unique sound-controlled housing covering the cooling system and muffler on the 12kW model further simplifies the installation process.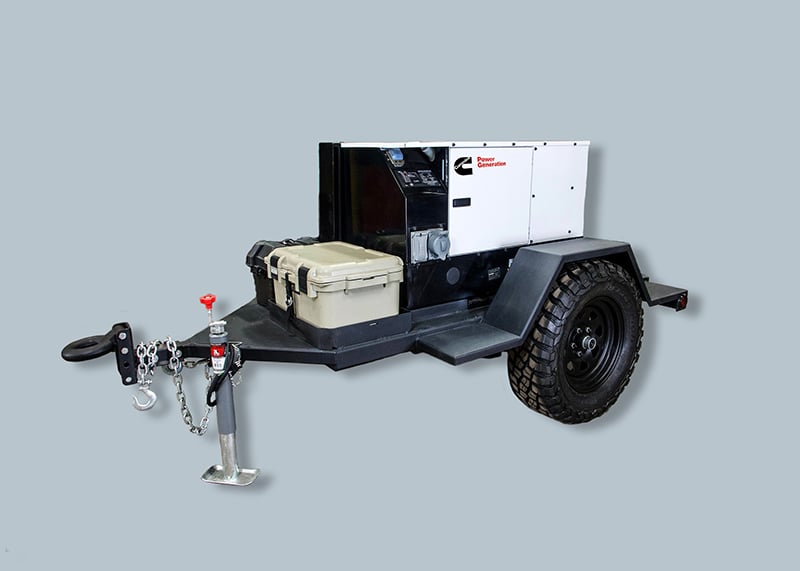 The C12D2RE is rugged and robust by design and the new heavy-duty trailer ensures even greater reliability for any mobile power application. This new model can support a variety of industries requiring mobile power, ranging from entertainment venues to construction sites and industrial manufacturing operations located in urban or remote locations. The generator's built-in self-diagnostic capabilities can simplify troubleshooting. As a result, customers can expect more stability, greater uptime and lower labour costs leading to the lower total cost of ownership.
"Alongside the newly released 500kW, 100kW and 70kW models, Cummins is now able to offer a wider range of mobile power generators from 12-500kW in strategic power nodes,"
With greater reliability, uptime and flexibility, the C12D6RE model offers a competitive mobile power solution, making it a perfect fit for diverse duty ratings for the North American region.
Source: Cummins