LiuGong, a leading global construction equipment manufacturer has officially announced the appointment of Muli Baumaschinen Service as its official regional dealer in the district 4 region of Germany during an opening event held in Velen – Germany at the main facility of Muli Baumaschinen Service
The dedication to the customer and its long reputation for quality and work efficiency has enabled the Muli Baumaschinen family business to develop a thriving business in the heavy equipment sector. Muli prides itself on being a reliable and punctual supplier in the management of its rental business, and owns a wide range of LiuGong excavators and wheel loaders.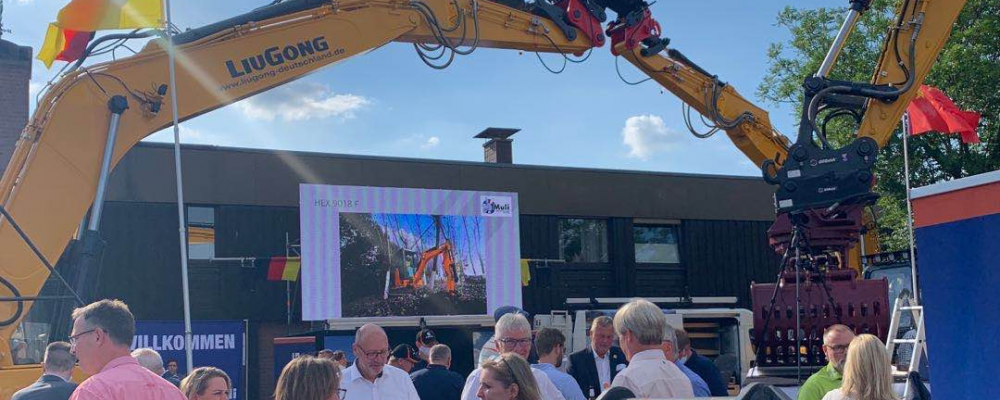 Muli will provide existing and new customers with an even wider choice of solutions all backed-up with comprehensive parts, service and technical support. LiuGong therefore appointed Muli Baumaschinen Service as the official regional dealer in Germany's District 4 region during an opening event in Velen.
Howard Dale, Chairman of LiuGong Europe, spoke during the opening event;
"We are excited to have Muli Baumaschinen Service as our first new regional dealer in Germany. They bring a tremendous amount of experience in the construction equipment sector with over 70 years' experience and a very professionally run family business now managed by the 3rd generation."
Germany is enfact an essential market for LiuGong's growth in Europe. The manufacturing facility is located in Poland, producing excavators and wheel loaders, but with the new dealer Muli Baumaschinen, the aim is to develop sales by providing equipment tailored to meet the varied requirements of customers in Germany.
"The proximity of our European Parts Distribution Centre in Stalowa Wola enables overnight parts deliveries and with Muli's service capability we will keep customers productive and profitable, every day."
Martin Günther, Managing Director of Muli Baumaschinen Service, commented:
"We are delighted to be representing LiuGong, as the market continues to recover, our strengths in construction, utilities and equipment rental will help meet the challenge of developing and growing LiuGong's presence in Germany. Our in-depth knowledge & experience of the construction equipment sector will allow us to provide our customers with tough & dependable LiuGong products which fit precisely with their needs."
LiuGong's strength has also recently been recognized by KHL, which makes the company appears among the top 20 companies in the Yellow table 2020.
Source: LiuGong