The best basic ration is the prerequisite for the health and performance of livestock. This is the basis for success in the farming business. High quality mowing, clean raking and loss-free collection by the harvesting machines are all essential factors. Contamination caused by wild animals being killed and the resulting botulism must be prevented at all costs.
This is an innovative idea that was awarded the Silver Innovation Award back in 2017. But the Pöttinger Group wanted to focus on innovation by creating several new prototypes, already subjected to intensive testing during the 2020 season. The feedback from the field was extremely encouraging. We are talking about SENSOSAFE, an assistance system for the detection and protection of wild animals.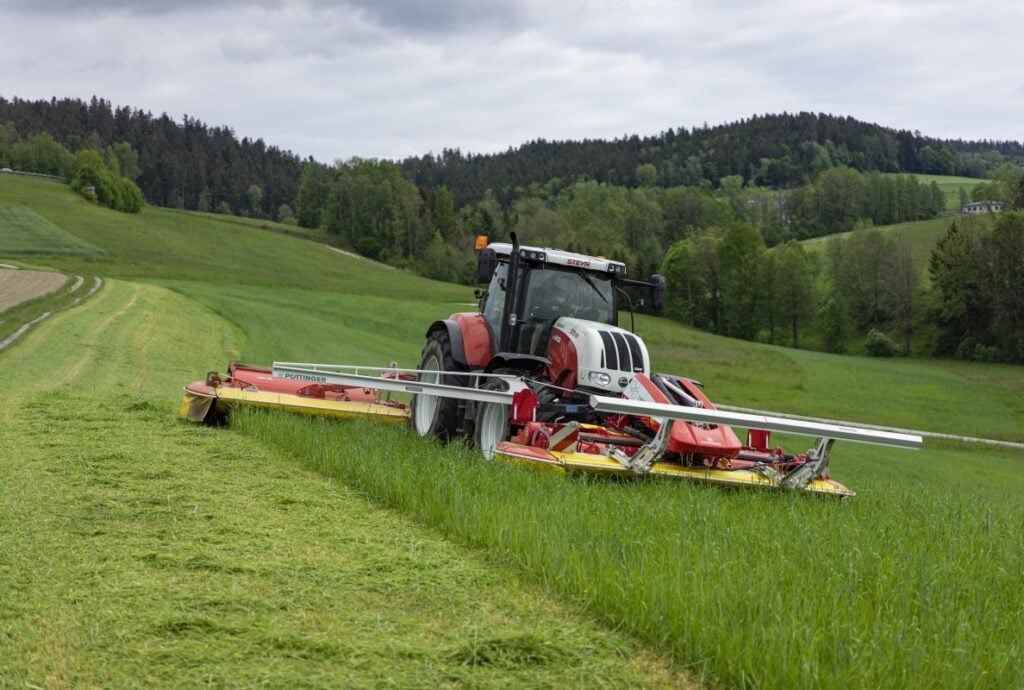 Although often underestimated, the cutting phase is very delicate for the welfare of both plants and animals. The fields, species with tall grass, are among the favourite hiding places for small wild animals, roe deer that, during the spring, love to lie down in the middle. For those who work with large machinery it can sometimes be very difficult to see them and unintentionally puts them in great danger. This is why Pottinger has developed SENSOSAFE, the first system of its kind in the world with optical sensors for detecting animals. They work perfectly even in daylight and direct sunlight. The optical sensor bar is mounted directly on the front mower and/or on an intermediate bar.
Without this ingenious system, however, it would be essential to put additional personnel in the localization of the animals before the start of mowing. This also means starting work with a significant delay.
Mowers raised – for the welfare of animals
SENSOSAFE sensors convert different wavelengths of light into an electrical signal. That is how SENSOSAFE detects a fawn or other small wild animal. The system immediately sends a signal to the mower hydraulics, which automatically raise the mower at lightning speed. It also emits an acoustic signal so that the tractor driver can apply the brakes. There is also a second version for rear mowers that features a separate intermediate frame with a sensor bar mounted on the front hitch. In the working position it is folded outwards. The sensor bar covers the full working of the rear mounted mower. There is a sufficiently large space between the sensor bar and the rear mower. When the system emits a signal (visual and audible), the driver can stop the tractor to get out of the cab and bring the animal out of the danger zone. The driver can also simply lift the rear mower and leave a small area uncut.
The system has saved the lives of a remarkably large number of animals.
Source: Pöttinger