Unterschleissheim to the north of Munich is the headquarters of BTU Hartmeier Entsorgung GmbH & Co. KG. The group was founded in 1996 and is split into two divisions, Waste Disposal and Service. The Waste Disposal division works at Unterschleissheim and Augsburg and employs 120 staff. The company disposes of waste from construction sites within a radius of 50 km around Munich and ensures the certified treatment, classification, and recycling of waste materials and recyclables. Johann Hartmeier Jun. reports the annual output as 130,000 tonnes. Around 7,000 containers and skips are in use.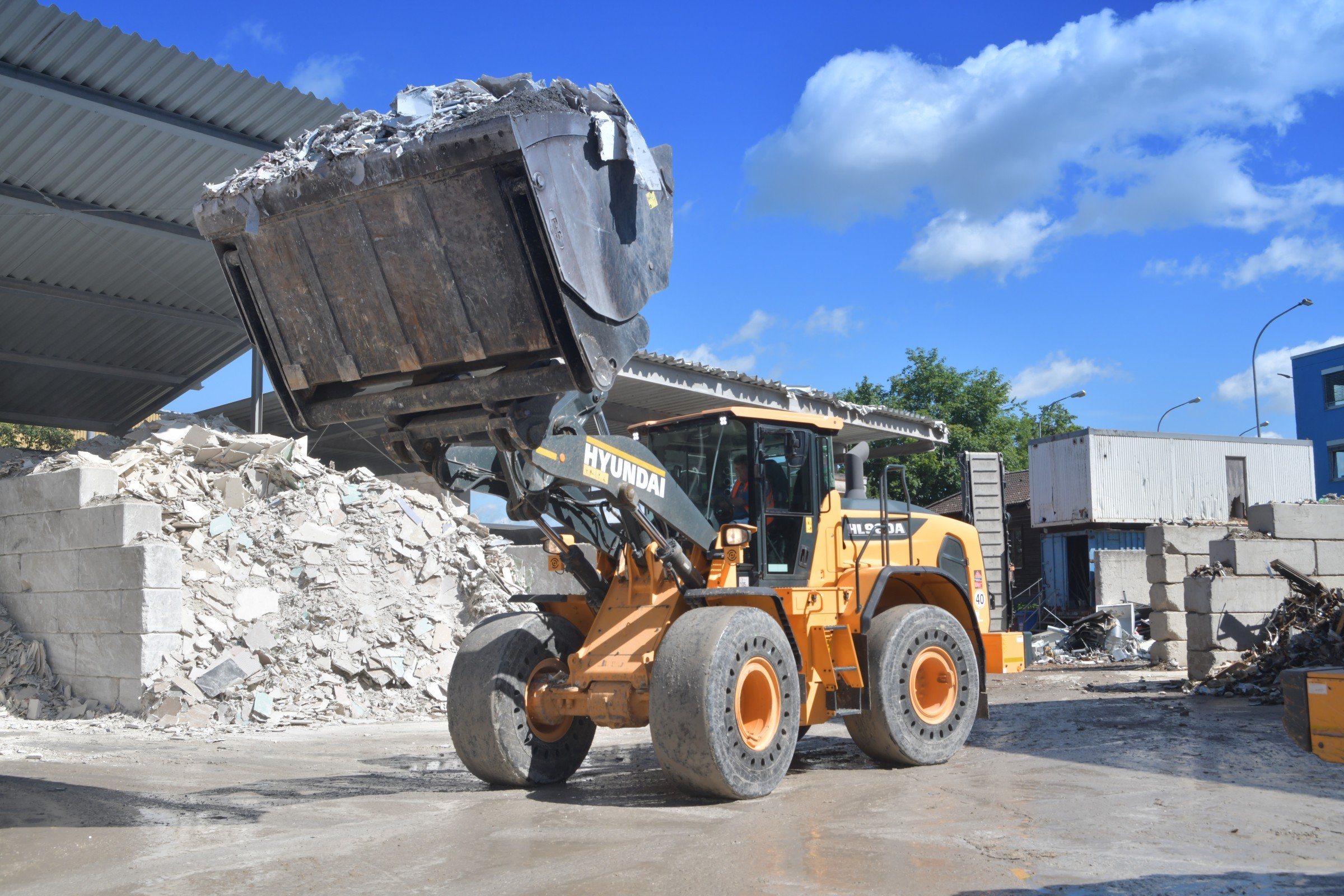 Countless construction machines work on loading and feeding the crushers on the 15,000 m² treatment site in Unterschleissheim and at further sites belonging to the group. Four Hyundai wheel loaders have been in use since 2010. At the start of 2020, the latest Hyundai wheel loader was brought into use – a 19.5 tonne, 168 kW HL960A equipped with a 7 m3 high-lift tipping bucket.
Johann Hartmeier Jun., whose responsibilities include the fleet of twenty construction and transfer loading machines and 80 trucks, opted for the modern Stage V machine from Hyundai because of its power, fuel consumption, and ergonomics. The service from Hyundai Construction Equipment service partner Fischer & Schweiger was another decisive factor in the purchase. Features include solid rubber tires which make working in often sharp-edged recycling material easier. The high-lift tipping bucket is required for loading high-edged and walking floor semitrailers. The tipping height of the high-lift bucket is 4,200 mm.
The machine is in use around 2,500 operating hours/year, and permanent drivers ensure excellent availability. Hyundai authorized dealer Fischer & Schweiger GmbH from Zusmarshausen near Augsburg provides customer care and services all-wheel loaders and some transfer loaders.
In view of the sustained strong demand for large wheel loaders in the European market, HCEE introduced the new A-series with Cummins engines (Stage V) at the Bauma 2019 show. The 19-tonne HL960A is powered by a Cummins QSB6.7 Stage V (168 kW). The new A-series wheel loaders from HCE Europe offer a broad range of performance features and functions. HCE's product development division is proud to present a wealth of leading technological improvements. These are all directly connected with improved fuel efficiency, increased safety, longer uptimes, and better fleet management.
Technical specifications
Model: HL960A
Engine Cummins: QSB6.7
Net power: 168 kW
Operating weight: 19,450 kg
Tipping load: 12,580 kg
Bucket volume: 2.9 to 3.3 m3
Hyundai Construction Equipment Europe wins the Samoter Technical Innovation Award in the 'Medium Wheel Loaders' category
HL960A was also the award-winning machine, voted by an international independent Jury, in the mid-size segment at the international fair of Samoter 2020.
The HL960A wheel loader, compliant with European Stage V emission levels, ensures fuel efficiency, high performance even in extended working situations, increased productivity and optimized uptime management, safety standards, improved visibility, and operator comfort.
About Hyundai Construction Equipment Europe
Hyundai Construction Equipment Europe is a recognized market leader in the European Construction Machinery market. Using advanced factory automation, zero-tolerance quality checking, and innovative technology, we supply the market with a wide range of construction machinery to meet every requirement. We manufacture heavy machinery for our Construction Equipment business unit, including hydraulic excavators, wheel loaders, and skid steer loaders. The Material Handling business unit provides a wide range of forklift trucks (including LPG, electric, and diesel forklifts) and warehouse technology to meet the constantly growing requirements of our customers. HCEE markets its own products through more than 140 authorized dealers in over 30 countries.
Source: Hyundai CE