The new Applic8r 3-point linkage boom sprayer range by Hustler for pasture spraying is user friendly with low tank profile, designed to be tough and for easy installation and training. It has the best in class agitation and mixing and will let you cover more ground, quicker.
Compact and built to last
Careful attention to detail and smart chassis/tank/pump integration has allowed Hustler to produce the toughest and most compact sprayer on the market today, that no longer requires storing on a pallet. The built-in SkidPlate protects vital parts from common obstacles and impacts when spraying.
Easy to use
The Applic8r uses space wisely with an ultra-low profile design. Filling from the ground is quick, safe, and easy with the spill catcher and prevents getting chemical on you. A unique CoupleUp system makes connecting to filling stations or filling out of natural water reservoirs with the pump easy. And everything you need is handy on the left hand side!
Ultimate Agitation
Utilising the latest computer-generated flow simulation we've created the perfect flow of liquid within the tank and combined with our MixMax technology and ErgoMax induction hopper, you can be assured that your solution is mixed and stays mixed.
Functional and Efficient
The Applic8r is loaded with practical features that help you get the job done quicker such as, rapid tank emptying with QuickFlush kit, a deep sump that allows you to spray on steep terrain, a ViziGauge that is visible from the tractor seat and the ground, a toolbox that is quickly accessible with plenty of room for spare nozzles, filters and a controller.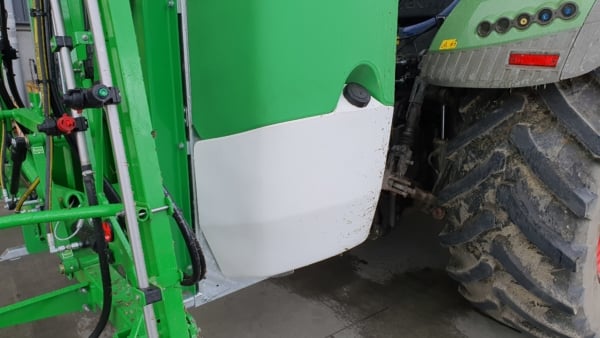 Modular Design
The Applic8r is modular and there is a vast choice of optional time savers available, that can be fitted at your convenience. You pick how to control your new Applic8r, from manual controls to full ISOBUS. You can also compliment your rear-mounted three-point linkage Hustler's Applic8r sprayer by increasing your capacity with the fitment of an 890L or a 1150L front mount spray module.
 Boom!
When it comes to booms, you're spoiled for choices! From 6 to 14m, manual and hydraulic folding, from their proven DuraBoom and SonicBoom range to their industry-first 14m EagleTech Boom to choose from. Optional bi-directional hose reels and spray guns can complete the customisation of your very own Applic8r. Want to go boomless in some of your paddocks? Just add an optional nozzle kit up to 14-metre swath width. 
New Features
Eagle Tech Boom – 14 metre hydraulic fold
Featuring Yaw, Vertical, and individual Sectional suspension, hydraulic boom dampeners for a silky smooth glide like an eagle, in-line sectional filters, transport boom-locks, and the most user-friendly wing-lift means you'll be covering more ground with an eagle, no matter how rough! And backed by Hustler's warranty, peace of mind comes standard.
ErgoMax induction hopper
Pre-mix powders, chemicals or fertilizer – all from waist height for extra convenience
Smart sluice feature speeds up and simplifies clean-up
Special bottom nozzle blasts through granula powder and fertilizer to cut down mixing time
Handy container rinse nozzle
Source: Hustler