A UNIC URW-706 mini spider crane and P11104 glass vacuum lifter were hired from GGR Group to help lift glazing into place at this school in Manchester.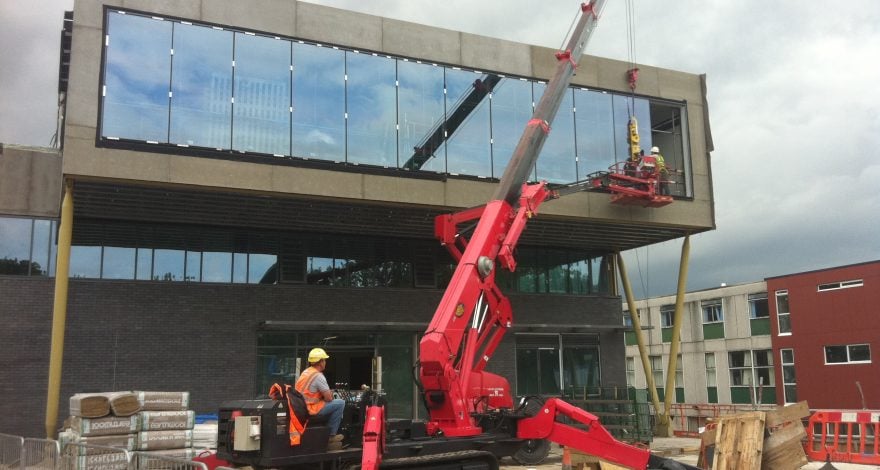 Selected for its small working footprint and ability to work around obstacles on site, the UNIC URW-706 had the perfect combination of reach and heavy lifting capacity to help make this lifting project a success.
Lightweight, compact and versatile, the popular UNIC URW-706 mini spider crane boasts from a 6-tonne lifting capacity at 3.0m and a hook height of 19.5 metres, making it ideal for a variety of lifting operations.
To lift the new glazing into place, the P11104 glass vacuum lifter was selected thanks to its versatility and ability to lift different sized glass into place. The P11104 glass vacuum lifter is one of the most popular glass vacuum lifters on the market, the Connect-4 suction lifter comes with a 320kg lifting capacity and two separate vacuum circuits, each designed to handle the load independently for extra safety during vacuum lifts.
The P11104 glass vacuum lifter enables users to quickly manoeuvre loads into position during vacuum lifts with its 180 degree lockable rotation and 90 degree tilt. This popular glass vacuum lifter comes with on-board power from a rechargeable battery, so there are no tricky cords to deal with during vacuum lifts.
Source: GGR Group