When it comes to loading heavy crane parts, Krebs Korrosionsschutz GmbH tackles every challenge. And the strong fleet of Cometto self-propelled modular transporters plays a central role in this.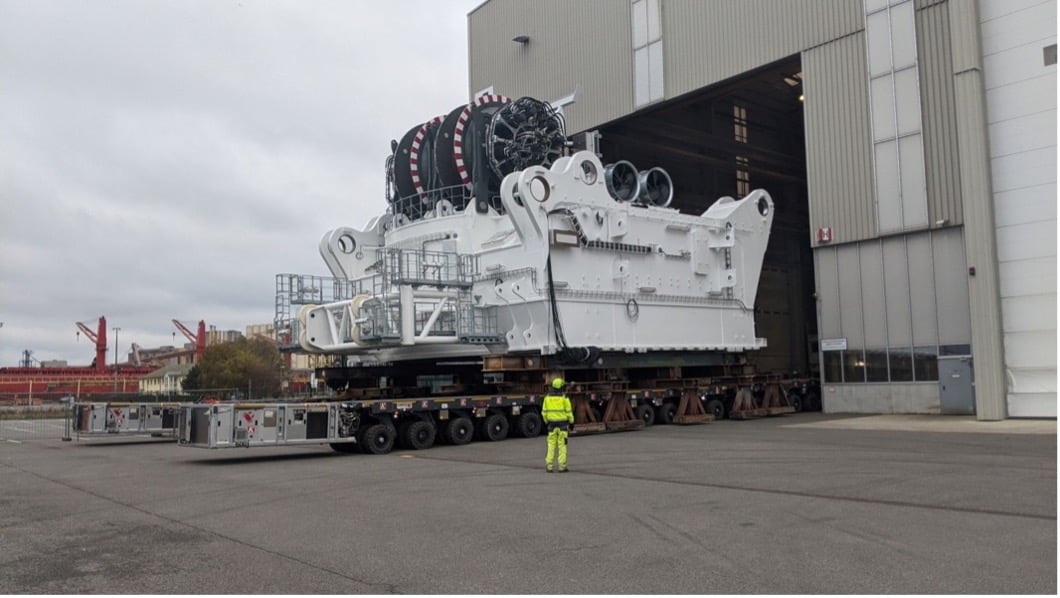 At the Rostock site, the task is to transport a 1200-tonne slewing platform lower part of an offshore ship crane from Liebherr across the factory premises. The imposing cargo is driven on 36 axle lines of Cometto MSPE and two Power Pack Units with a power of 202 kW each. The self-propelled modular vehicles are arranged with 2 x 18 axle lines side-by-side in an open compound.
The Krebs Group now relies on 36 axle lines of the MSPE type Cometto self-propelled transporter. The fleet is divided into six units of 6-axle bogies, each with 48t axle load and two Power Packs, each with 202kW power.
In addition, another 12 axle lines of the 3-metre wide ModulMAX SP-E self-propelled unit with a Power Pack of 372kW are available with them.
Both systems can be coupled mechanically or electronically.
More about Cometto
Cometto's an italian company, member of The Faymonville Group. The origins date back to 1954, when the first workshop for the manufacture of vehicles, bridge cranes and systems was opened in Cuneo under the name "Officine Cometto".
Then the production plant was continuously extended over the years in order to meet the growing demand, and manufacturing concentrated on various vehicle types that were designed for road transport, extending even to off-road special transport.
In the shipyard transporter sector, the largest self-propelled vehicle ever built for the transport of production parts weighing up to 1,000 t was designed by Cometto for Hyundai Heavy Industries of South Korea. Since then Cometto has kept step with developments in industry in the steel construction sector and heavy components for the petrochemical and shipyard sectors. The main characteristics of this series is its high reliability for continuous operation, even under extreme environmental conditions.
Electronically steered self-propelled modules have been part of Cometto's range since 1981. Various new development stages have been added over the years.
Since 2017, Cometto has been the specialist for the development and manufacture of self-propelled modular transporters, heavy load modules and special transporters for industrial applications within the Faymonville Group, one of the leading full-range manufacturers of special vehicles for heavy load transport and special transport. Following the takeover, the company has found its way back to the right dynamics and has adopted a new product into the range: the Eco1000.
Source: Cometto