The construction industry is booming even in times of the Corona pandemic, causing bottlenecks in the rental of cranes in many places. Stirob Baustelleneinrichtung from Inning am Ammersee is all the more pleased that a new Böcker trailer crane AHK 30 KS adds to its fleet of machines and equipment.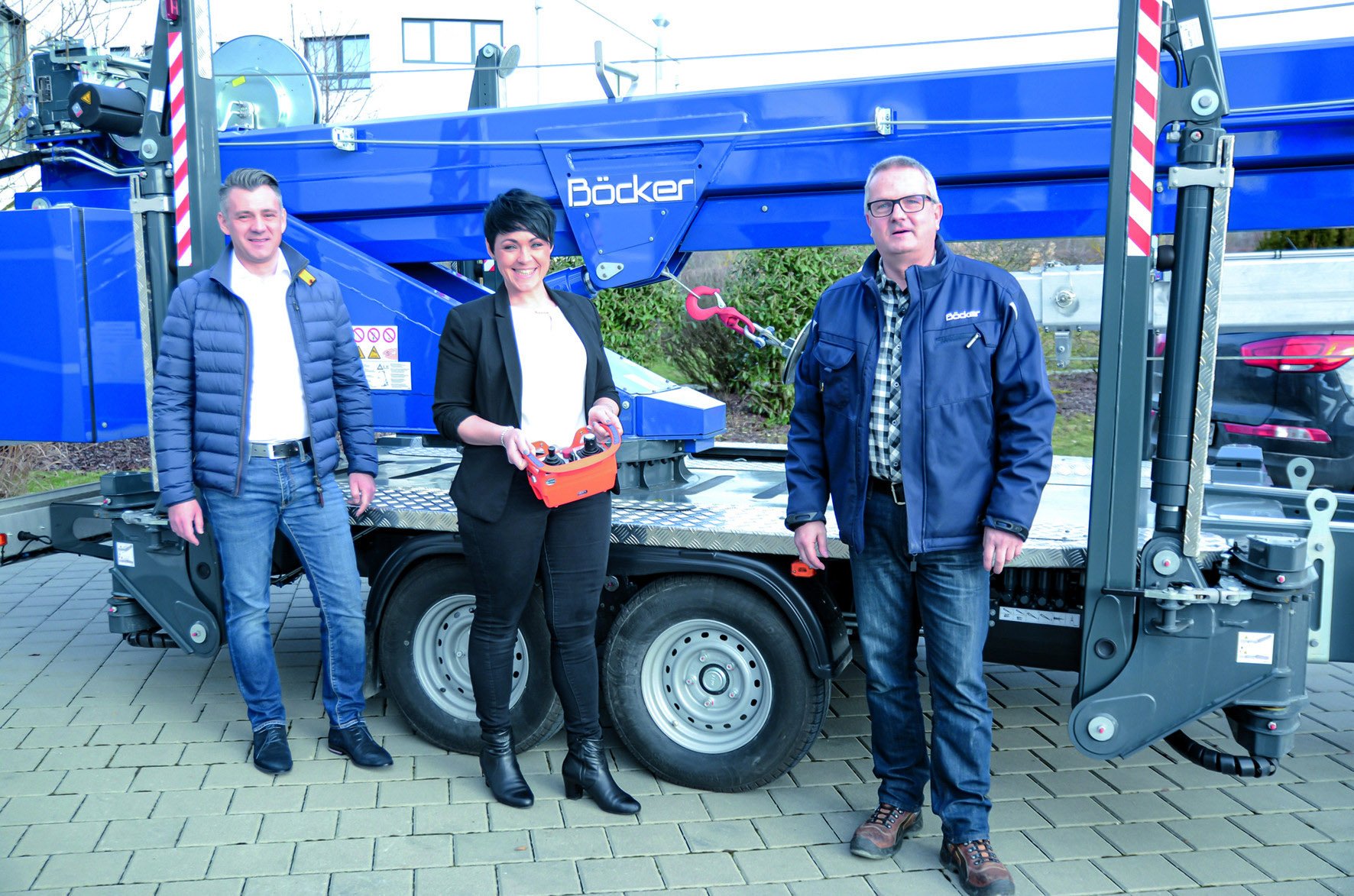 The new addition to the rental fleet of the Upper Bavarian company offers many technical details that make working on the construction site not only faster and more effective but also safer. The standard equipment of the trailer crane includes, among other things, a powerful manoeuvring drive and a state-of-the-art crane control system for maximum of operational safety. The control automatically releases the working range depending on the position of the outriggers and the attached load. When using near power lines,  the selectable turn and lift angle restriction helps you remain within the available working space. The fully variable extension of each individual outrigger and the auto-leveling enable the trailer crane to be set up quickly and guarantee optimum stability. Especially for Stirob's tenants, an all-around carefree package like this facilitates working with the crane.
The responsible sales representative of the Böcker branch in Alling, Oliver Hofschild, explains:
"Our crane solutions are all optimized for highest safety. The electronics in combination with numerous sensors ensure that the crane stops immediately when an important limit is reached. This means for both, tenants and rental company, that there is always a feeling of safety when traveling to the construction site."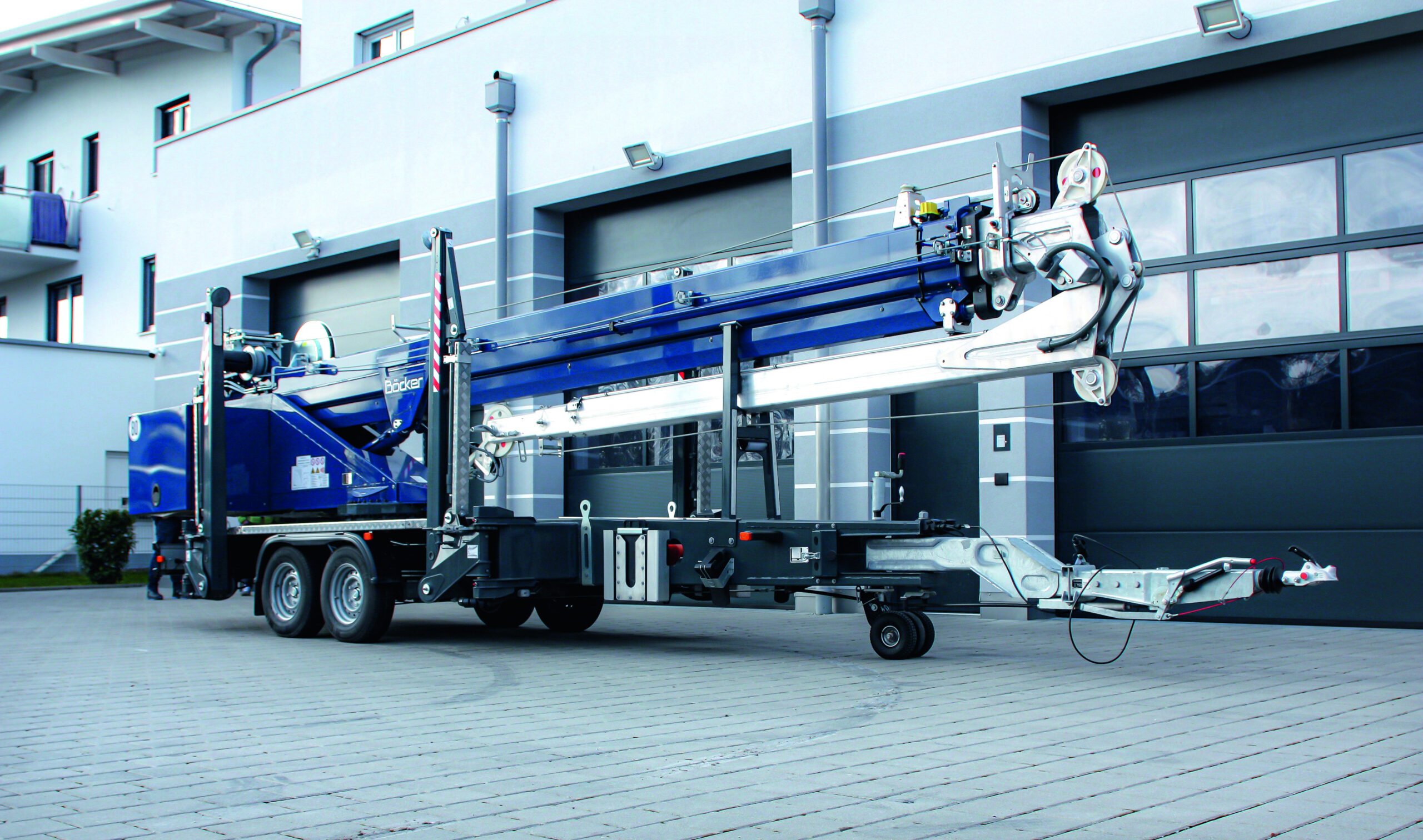 With an extended length of up to 30 m and payloads of up to 1,500 kg, the AHK 30 KS trailer crane represents a strong addition to Stirob's fleet. Even fully extended, the crane still lifts a weight of 250 kg. The crane is operated comfortably and intuitively via radio remote control, which always allows the crane operator a clear view of the current operating situation on its color display. Another huge advantage: The AHK 30 KS offers a remote maintenance module that reduces downtimes to a minimum. Error messages can be viewed and eliminated by Böcker Service, regardless of the crane's location.
Furthermore, the AHK 30 KS is equipped with a swivel drawbar as standard, which significantly reduces the overall length of the crane when swiveled in. Thanks to fully variable outrigger control, the four foldable swiveling outriggers can be set up independently of each other at various angles and enable a ground clearance of up to 50 cm. This means that the trailer crane can also be used on confined construction sites. The chassis with a tandem axle ensures perfect floor-load distribution.
Stirob owner and managing director Robert Stic is convinced of the qualities of his latest addition to the fleet:
"We equip our customers' construction sites exclusively with the best machines available on the market. Due to many years of experience, we know how powerful Böcker products are and we are pleased to offer reliable and flexible support for construction sites. The delivery of the new Böcker AHK 30 KS is particularly timely due to the growing demand in the field of construction site equipment."