Kings Heath Demolition, the demolition company based in Redditch in Worcestershire in the UK, has purchased new Doosan mini and crawler excavators from Stourport-on-Severn-based Murley Construction, the local Doosan dealer.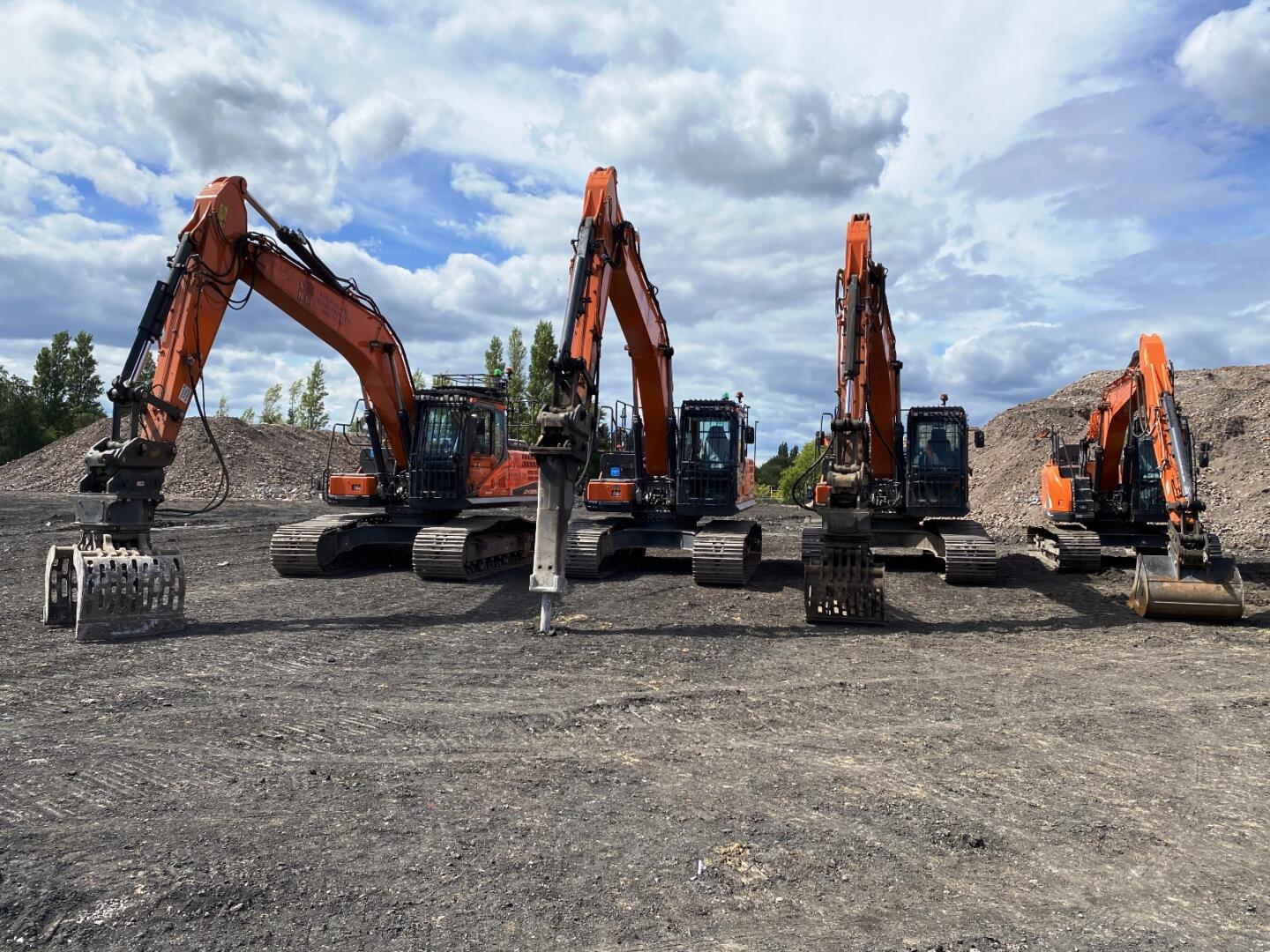 In the latest batch of new Doosan machines, Kings Heath Demolition has taken delivery of the company's first three mini-excavators, comprising Doosan DX17Z, DX27Z and DX63-3 models. The order also includes three of the larger Doosan DX225LC-5 22.1 tonne crawler excavators, adding to Kings Heath Demolition's existing DX140LC-5 and DX225LC-5 units.
Tony Nicholls, Senior Contracts Manager at Kings Heath Demolition, said: "With the new Doosan DX17Z, DX27Z and DX63-3, we are adding mini-excavators to our fleet for the first time. These machines meet the increasing demand in the market for indoor demolition and refurbishment work, involving work in confined spaces and basements. We are beginning to see an uptick in this type of project, including the conversion of existing multi-storey office buildings into new apartments in urban locations and the new Doosan mini-excavators are perfect for this type of work."
The first new Doosan crawler excavator purchased by Kings Heath Demolition was a DX140LC-5 14.4 tonne model. This machine and the DX225LC-5 models subsequently added have so impressed the company's drivers, that Kings Heath Demolition switched brands and has only purchased Doosan in the last 3-4 years.
Tony Nicholls added: "When you add how much our drivers like the Doosan machines to the impeccable service offered by Murley Construction, it has been a simple decision to keep adding more Doosan excavators. We work throughout Great Britain, undertaking contracts in England, Scotland and Wales, so reliable and high performing equipment is essential for our work, supported by the best aftermarket back-up on the market."
A Proud 70 Year Legacy in the Demolition Industry
Founded in 1952 by Jim Ferran, together with his brothers and his father, Kings Heath Demolition has been a leading demolition specialist not only in Birmingham but all around the country. Kevin Condon of Murley Construction was delighted to welcome Jim Ferran and Tony Nicholls for a photo opportunity with the new Doosan DX17 and DX63-3 mini-excavators when they arrived at the Murley premises in Stourport-on-Severn.
Shortly after starting the business, Jim went on to complete two years of national service in the British Army, before rejoining the family firm in 1954. Jim has commented in detail on the various works the company has completed across the West Midlands region, noting it was mostly carried out by hand in the earlier days of the business. Kings Heath Demolition has always been dedicated to the recycling side of the industry. In fact, the company had three yards to store and sort all the demolition debris from its projects, to recycle these materials back into the construction industry.
After a period of hiatus from the industry, Kings Heath Demolition came back to life again in 2016 when John Smith, one of Jim's former employees, approached him with the idea of restarting the business. Jim was more than happy with this and explains how he was excited to see the company pick up where it had left off.
Kings Heath Demolition is now owned and run by John Smith and Jim's son, Paul Ferran, with the support of Tony Nicholls as Senior Contracts Manager. The company offers a wide range of demolition services including soft strip works; asbestos surveys and removal; on-site crushing and high-rise demolition.
Over 60 Years Serving the Midlands Market
Also established in the 1950s, Murley Construction has been providing machinery sales and support for over 60 years to the Midlands community. Murley Construction represents the full range of equipment from Doosan that also includes wheeled excavators, wheel loaders, articulated dump trucks and attachments, providing full servicing, repairs, warranty and parts back-up from the company's modern and well-equipped premises, with Doosan-trained technicians and advisors.