Our staff attended at Caterpillar digital event
***
The new Cat 308 CR Fixed Boom hydraulic mini excavator delivers maximum power and performance to efficiently complete work in a wide range of applications. Its fixed boom and compact radius design limit overhang when working to the side, enabling this Next Generation excavator to excel in confined spaces. When compared to a swing boom design, the fixed boom delivers increased vertical wall digging depth and dump height and improves lifting performance when working at a close radius to the machine.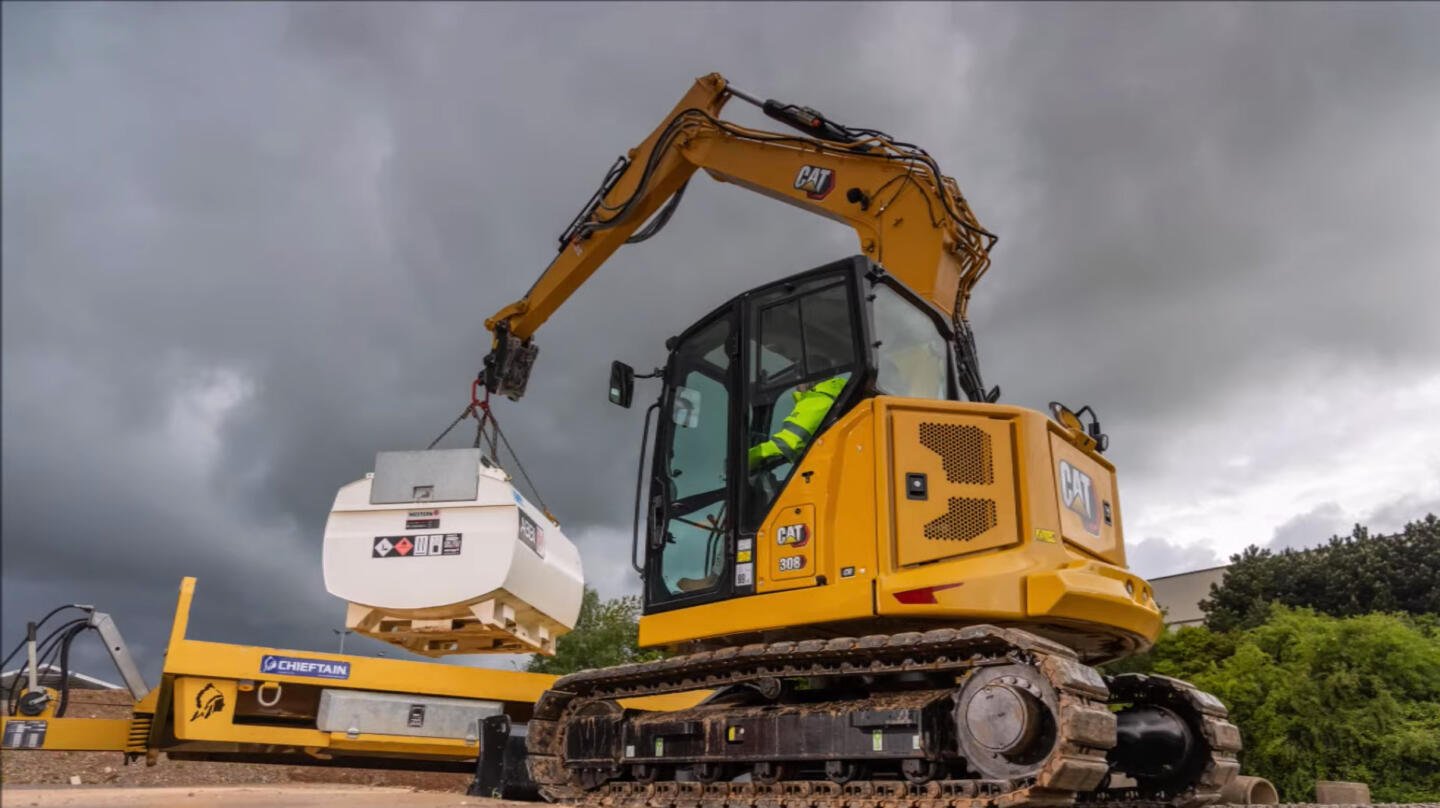 As part of the Caterpillar Next Generation line, the 308 CR Fixed Boom delivers more excavating solutions to ensure a perfect match for 8-tonne requirements. It offers industry-leading performance, unparalleled operator experience, and simplified service. Increasing stick length from 1670- to 2210-mm, the long-stick option extends dig depth from 4150- to 4690-mm and maximum reach from 6390- to 6900-mm.
The new machine is powered by the field-proven, 51.8-kW Cat C3.3B engine meeting EU Stage V emissions standards. Enhancements to the hydraulic system combine with standard auto-idle and auto engine shutdown features to improve machine efficiency, reduce operating costs and increase machine affordability.
High performance simplified
Providing a 20% increase in vertical wall digging depth compared to the 308 CR Swing Boom, the 308 CR Fixed Boom requires less repositioning in a trenching application, further improving efficiency and reducing fuel consumption. Featuring a familiar control layout as other Cat mini excavators to simplify training, the machine's new LCD monitor offers intuitive control, provides easy to understand information, and features a jog dial for easy screen navigation. Its standard control-pattern changer allows operators to quickly adapt the excavator to their preferred joystick movement.
Efficient load-sensing hydraulics with variable displacement pump provides oil flow reaching 167 L/min. The machine's electrohydraulic control system allows for easy adjustments to operator settings based on preference or application, both for the machine linkage and the operator's choice of work tools. Complete with quick-disconnect lines, the standard auxiliary system provides the choice of one-way, two-way, or continuous flow.
The new 308 CR Fixed Boom model features standard front-shovel operation to deliver increased digging precision when working around utilities. For unmatched versatility, contractors can equip the machine with the TiltRotate System, Cat TRS8 coupling that allows work tools to rotate 360 degrees and tilt 40 degrees side-to-side. This allows the excavator to efficiently reach more areas from a single position, while maneuvering tools over, under, and around obstructions when completing work.
For grading and backfilling tasks, the machine comes standard with a 2300-mm-wide blade or a 2450-mm wide-blade option. It features a float function for simple operation and 370- and 407-mm blade height and depth respectively.
Comfortable experience
The sealed and pressurized Next Generation cab ensures a clean environment for the operator. Its reengineered heating/ventilating/air conditioning system provides all-weather climate control. Low in-cab sound levels of 72 dB(A), operating consoles with adjustable wrist rests and suspension seat provides all-day comfort.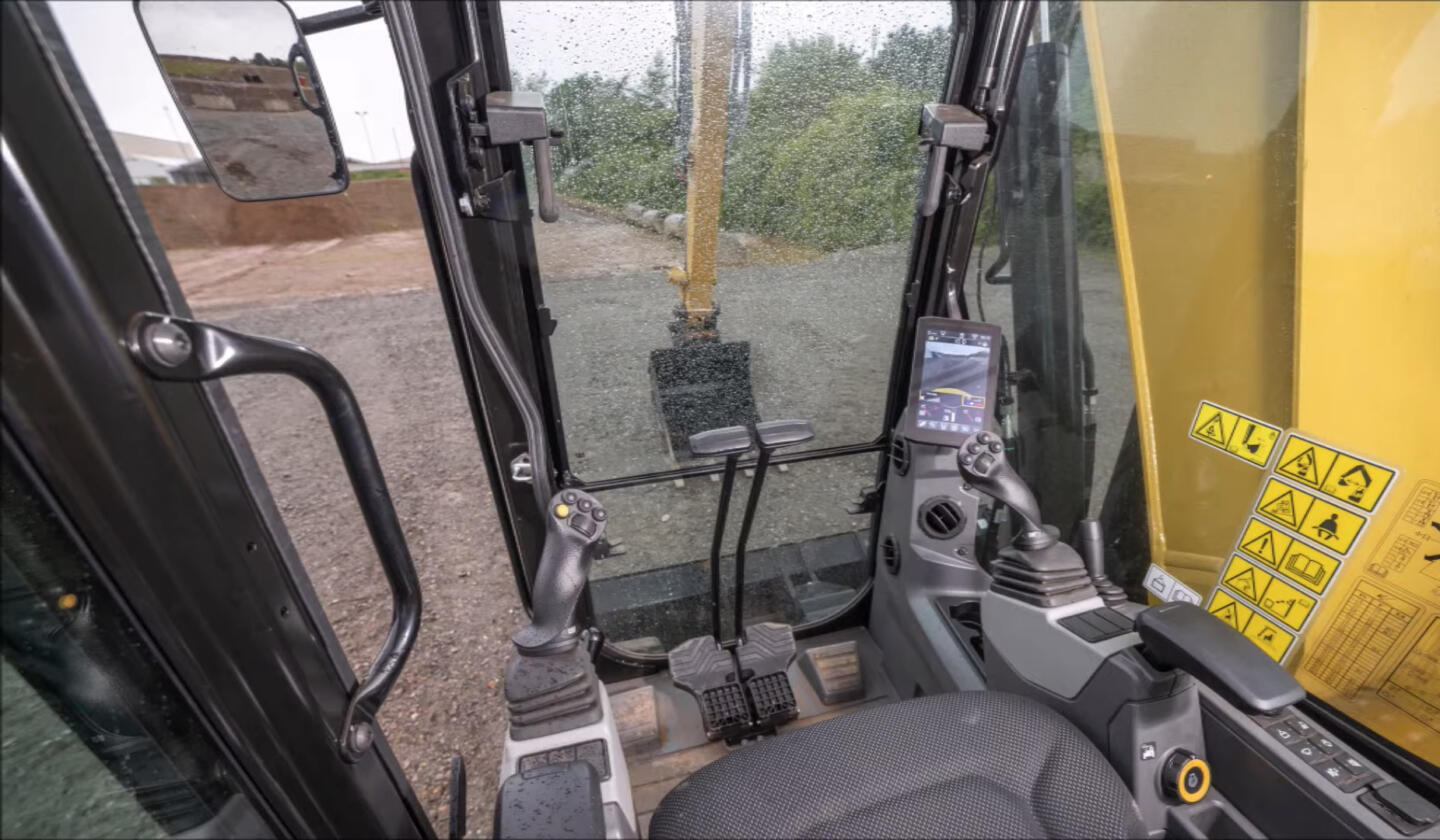 The 308 CR Fixed Boom features the industry-exclusive Cat Stick Steer System for simple machine control. At the touch of a button, the operator can switch from conventional lever/foot-pedal steering controls to low-effort joystick operation. This next-generation hydraulic mini excavator offers two travel ranges with a maximum speed reaching 4.9 km/h. Standard cruise control minimizes operator fatigue when traveling long distances between work locations at the site.
The cab's large front window easily slides upward and conveniently stores overhead, out of the operator's line of sight. All-around visibility is afforded by wide side, rear and rooftop windows. The available rearview camera integrates a video feed into the monitor for increased operating safety.
Further improving safety, routine maintenance checkpoints are easily accessible from ground level through side doors. Recessed and flat, the side panels are protected from damage and are designed for quick, easy replacement to lower costs.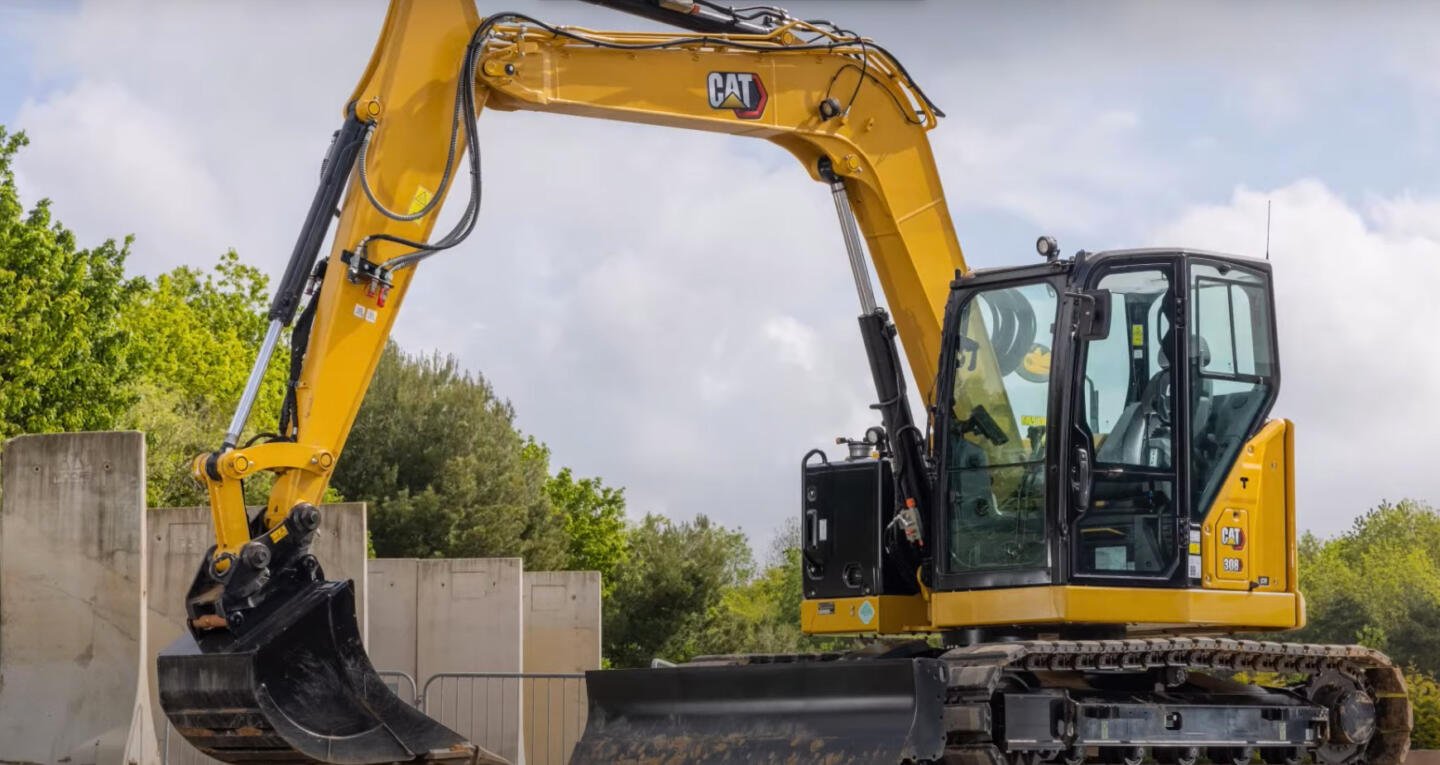 308 CR fixed boom specifications
| | |
| --- | --- |
| Engine | Cat® C3.3 B |
| Net power, kW | 51.8 |
| Min. weight with cab, kg | 7330 |
| Max. weight with cab, kg | 8025 |
| Tail swing | Compact |
| Dig depth standard, mm | 4145 |
| Dig depth long, mm | 4687 |
Net power advertised is the power available at the flywheel when the engine is equipped with fan at minimum speed, air intake system, exhaust system, and alternator.