Until recently, ZUO International, the waste and recycling company based at Kunowice in Poland, used only wheel loaders. However, when the opportunity arose to invest in new mobile equipment, the company decided to purchase a material handler for the first time, a new Doosan DX250WMH‑5 wheeled model.
ZUO International was established thanks to the investments and capital of Sirius Finance S.A. (Luxembourg). As a Municipal Waste Treatment Facility, it provides comprehensive waste management, recovery and disposal services. The new Doosan machine was purchased in response to the growing waste stream and to improve processes.
"With an additional unit, it is much easier to manage the machines in a way that guarantees their optimal use and best performance. This is why we didn't buy another wheel loader, but rather a material handler. This machine enables us to easily sort materials from a waste heap or load waste into the shredder with precision, because the operator, when located several metres above ground level, can clearly see the inside of the working chamber and can properly distribute the load,"
explains Rafał Kościukiewicz, operations manager, ZUO International.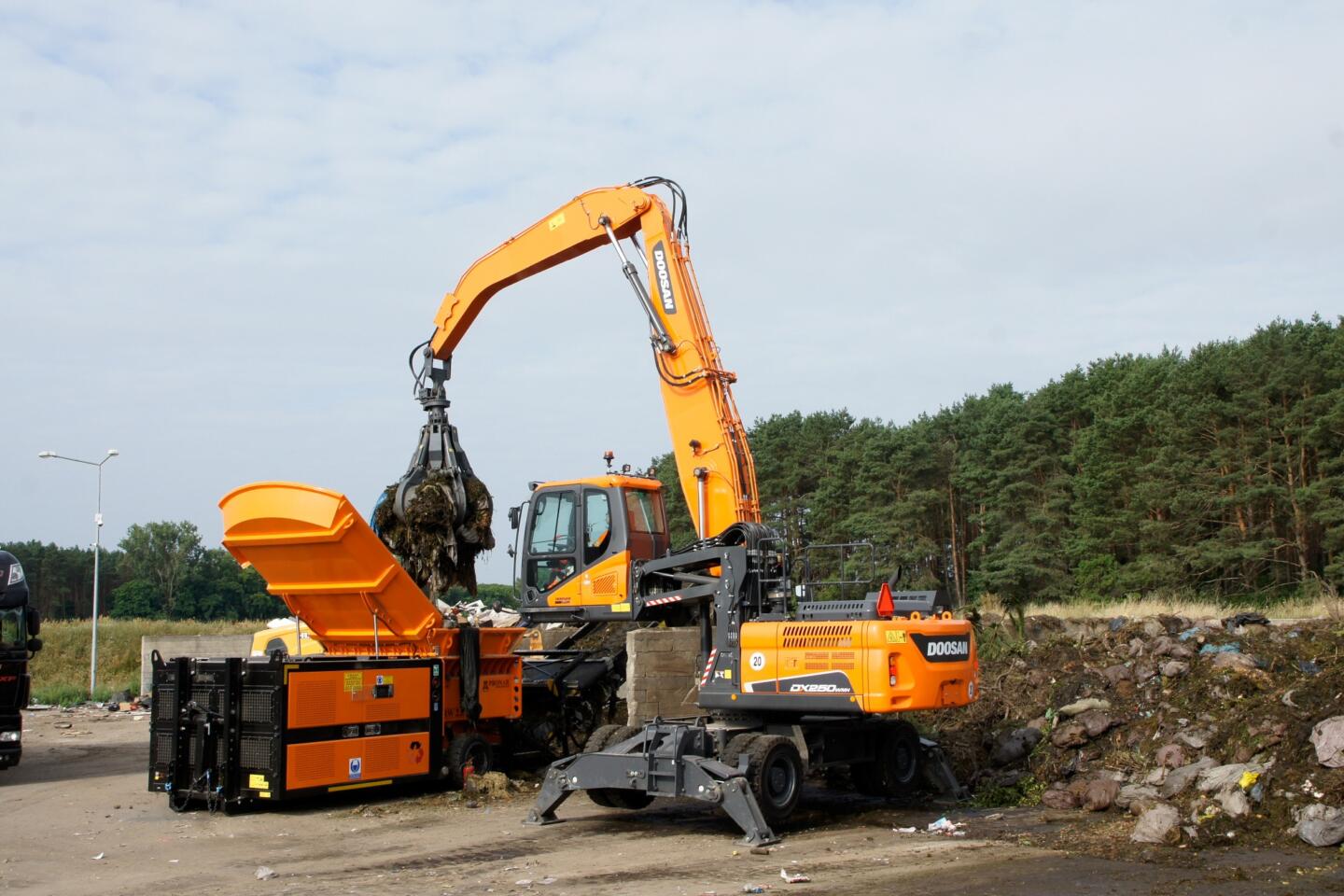 Careful Choice from a Field of Five Competitive Suppliers
The purchase decision was made carefully on the basis of a tender procedure in which five companies participated. The best proposal was presented by Grausch i Grausch Maszyny Budowlane Sp. z o.o., the exclusive Authorized Doosan Dealer in Poland. The proposed machine met all the technical criteria set by ZUO International and had the most attractive price.
"The DX250WMH‑5 model perfectly meets our needs. Its high performance and range in excess of 11 m make the machine a perfect tool for handling even the heaviest materials. The new machine is used to load green waste into a shredder and screening unit, but we know – based on previous experience from other facilities – that it can also handle bulk waste,"
adds Rafał Kościukiewicz.
He also stresses other important aspects that led to the selection of the offer from Grausch i Grausch Maszyny Budowlane, when he adds:
"The 6-cylinder, 6-litre engine, relatively large for this class of machine, provides the best operating parameters. We were also impressed by the low noise level in the cab, much lower than in the machines from the competitors."
Initially, ZUO International was concerned about a drop in shredder loading efficiency, as the wheel loader used so far has a 4 m3 bucket, while the new material handler is equipped with a semi-open 5‑finger gripper with a capacity of 0.6 m3.
As Rafał Kościukiewicz assures, these fears were completely unfounded. The new machine is fast and guarantees shorter work cycles, so the work efficiency is comparable. He summarises the situation:
"The Doosan material handler meets our expectations and we are very satisfied with it. It does what it's supposed to. Our operator likes working in it because of the noticeable power reserve and spacious, comfortable cab."