The Polish crane and heavy haulage contractor took delivery of the first LTM 1650-8.1 mobile crane from Liebherr in Poland. The new crane will upgrade the company's fleet which consists of over thirty Liebherr cranes.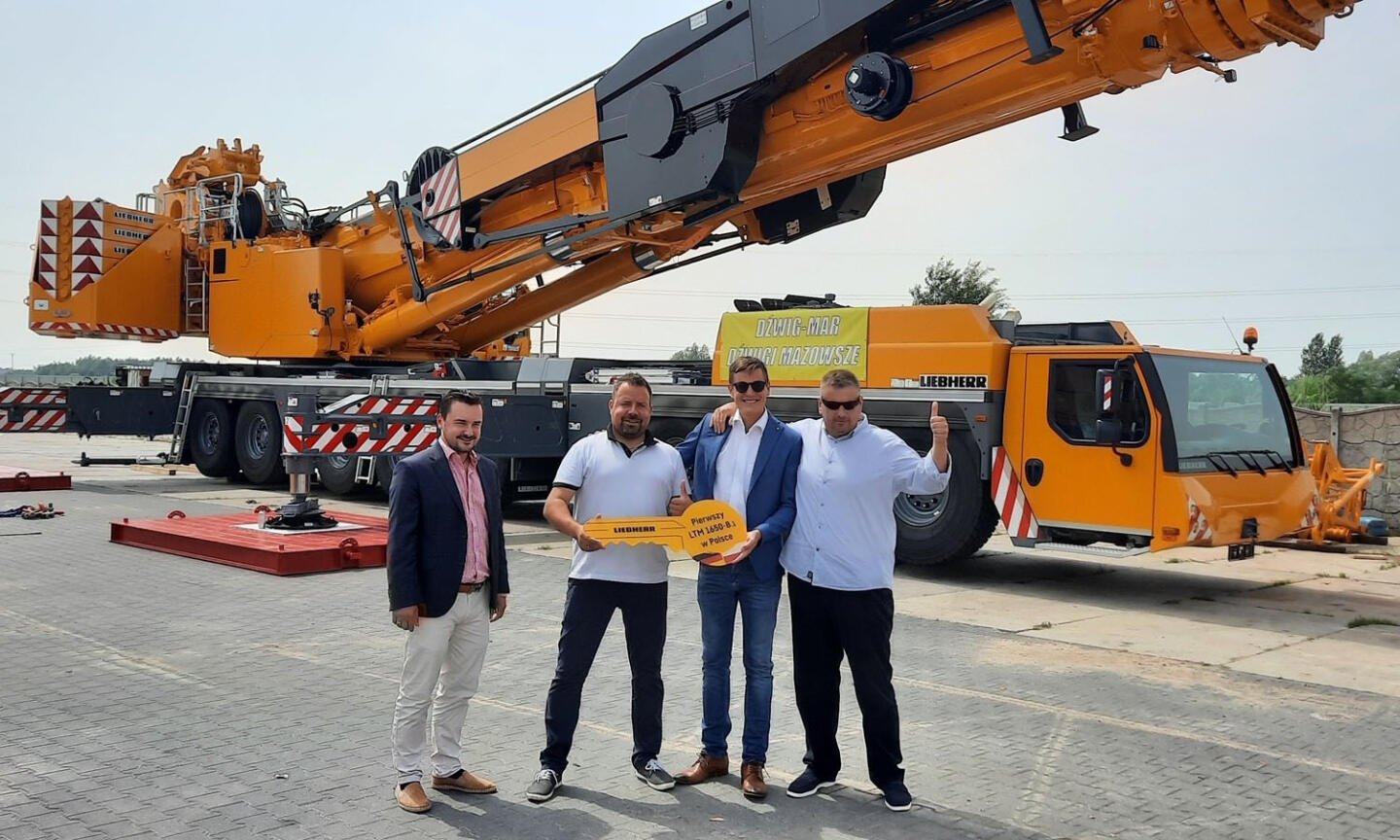 "The LTM 1650-8.1 has a unique design and concept. It is variable and powerful, yet compact",
says Marcin Zielonka, Managing Director at Dźwig-Mar s.c.
The expansion in the number of wind turbines in Poland continues apace. For Marcin Zielonka and his company Dźwig-Mar s.c. it means:
"We have higher demand for large cranes. The 8-axle model will upgrade our fleet to meet the increased demand for cranes in this class. It is now our largest mobile crane."
In addition to the erection of wind turbines, the LTM 1650-8.1 will also carry out hoisting work at heavy industry sites such as refineries.
The LTM 1650-8.1 features the very latest technology and is designed to deliver maximum performance together with high flexibility and economy.
"This heavy duty crane can handle hoisting work normally reserved for the 700 tonne class effortlessly but has the dimensions of a 500 tonne crane",
says Marcin Zielonka.
"In addition, VarioBallast delivers enormous benefits."
The variable hydraulic adjustment of the ballast radius from 6.4 metres to 8.4 metres saves on ballast transport if there is sufficient space available. It also enables jobs requiring high lifting capacity to be carried out on constricted sites. At the same time, the 8-axle crane is designed to be set up quickly using its smart set-up processes and can also be transported economically.
For Dźwig-Mar, which has a workforce of around 50, the LTM 1650-8.1 is one of three new cranes in 2021 – the company has already modernised its fleet by investing in an LTM 1130-5.1 and an LTM 1350-6.1.
"We buy Liebherr because we have had a good, solid partnership with the company for many years. In addition, Liebherr's service in Poland is excellent and totally reliable",
says Marcin Zielonka.