Morbark, LLC, debuted the Rayco 4000AWL Articulated Wheel Loader at the TCI Expo in Indianapolis, IN. The company also offered an overview of additional equipment within the Morbark, Boxer, Denis Cimaf, and Rayco brands that complement the equipment needs of tree care professionals.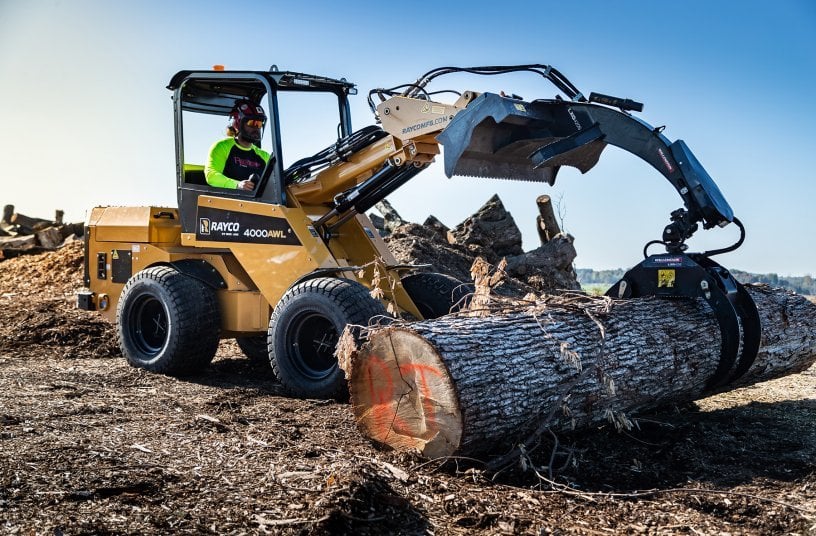 "At Morbark, we are focused on continually providing new products and product improvements that meet our customers' needs and help them succeed in their businesses,"
said Jason Showers, Morbark Director of Tree Care Products.
"The new 4000AWL articulated wheel loader is in direct response to our customer's requests and feedback for higher capacity, with cost and labor-saving tool options."
Rayco 4000AWL Articulated Wheel Loader Features
The 4000AWL is the second model in Rayco's articulated wheel loader line and is designed to meet the material handling needs of landscape contractors, tree services, rental companies, municipalities, and agricultural businesses. This turf-friendly, highly maneuverable articulated wheel loader offers a light footprint and heavy workload. Designed to meet the material handling needs of tree services, landscapers, rental companies, municipalities, light construction, and agricultural business, the 4000AWL can take on a multitude of big challenges in tight areas while minimizing ground disturbances. In addition, the 4000AWL offers impressive lifting capacity and a compact size that easily works inside fenced-in yards, pens, nurseries, and more.
The 4000AWL is outfitted with a standard skid steer attachment plate and can accommodate many attachments. In addition, the quick-attach system enables users to quickly and easily switch from a bucket to forks or other tools for optimum on-the-job flexibility and bottom-line performance.
The telescoping boom provides excellent lifting and dumping height, enabling loading on high-sided trucks and other applications that require extended reach. The 4000AWL has a maximum lift height (measured at the hinge pin) of 126 inches (320.7 cm). With its 48-hp (36-kW) Isuzu 4LE2T diesel engine, the 4000AWL generates a working lift capacity of 4000 lb (1814.4 kg).
The small footprint (the 4000AWL is only 56.63″/143.8 cm wide) and articulating design give operators the agility they need to maneuver in close quarters, such as small yards or narrow pathways. At the same time, the turf tires provide minimal turf disruption when making turns.
The 4000AWL has been built with operator comfort and safety in mind, including a low-profile suspension seat within the ROPS/FOPS-certified roll cage. In addition, the open-air design provides a clear view of the worksite in all directions, and easy-to-use controls make these machines simple for anyone to operate.