Three new lines for Farmall C to Puma / 27 models match customer needs and tractor types / Designed for maximum visibility and capacity / Maximum lift heights 3.5-4.7m; maximum lift capacities 1.2-2.7t / Sales, spares and service directly from Case IH and its dealer network /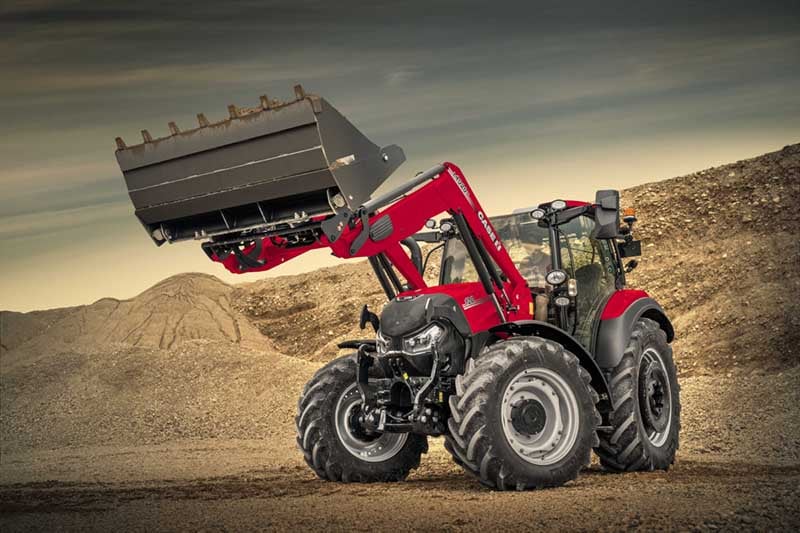 Case IH has announced a totally new line of loaders for tractor ranges from the Farmall C to the Puma, with advanced coupling features, tailored design for each of the three new series, and a fresh approach to configuring, selling and supporting the complete tractor and loader package.
The new loader series is split into three ranges, and Case IH engineers have worked closely with the loaders' manufacturer to ensure their features and specifications precisely match each tractor series for which they are intended. Case IH is also announcing a new approach to selling and supporting tractor/loader packages, with a new integrated 'one stop shop' structure to aid customers when specifying, selling and supporting loader and tractor packages.
With the new Case IH loader business approach, the customer benefits from simpler and smarter dealer sales and support, a wider front loader and implement offering, and higher specification and performance. The dealer is able to order the tractor and loader together, thereby operating a more efficient sales and support system, and there is also benefit for Case IH itself, which gains a new premium loader line matching the build of its tractors.
A new way of selling and supporting
The all-new A, U and T front loader ranges can be ordered through the Case IH dealer configurator digital software, making possible a single purchase of selected tractor and matched loader, along with any attachments, ensuring the best possible combination is configured for the customer's requirements.
All activities concerning installation of the loader at the dealership, customer support, supply of spare parts and any service requirements are, with the new approach, also part of the offering from Case IH and its dealers.
Specifications to suit every situation
The new Case IH loader line-up comprises three ranges and totals 27 models, the widest the brand has ever offered. All can be ordered with a broad range of implements/attachments.
The flagship T range is aimed at high-output work, with premium specification including hydraulic self-levelling, and in sizes that match Case IH tractor models from the Farmall 55C to the Puma 240. Next comes the U range, aimed at everyday handling tasks, and available in with mechanical self-levelling and non-self-levelling versions, matching Case IH tractors from the Farmall 55C to the Puma 175. At the base of the line is the three-model A range, an entry-level, lighter front loader for general handling work, with three models featuring mechanical self-levelling, suiting Farmall 55C to Maxxum 140 tractors.
For the most demanding operations
The ten loaders in the T series have maximum lift heights that start at 3.75m, with the flagship model lifting to 4.70m. Lift capacities range from 1,390kg on the smallest model to 2,720kg on the largest. All feature a design that protects the hydraulic hoses by routing them inside the loader frame and cross-bar. Standard hydraulic self-levelling incorporates integral compensation cylinders connected to the headstock-dumping hydraulic cylinders, resulting in fast load/unload cycle times. This can be aided by an AUTO-UNLOAD System® option, which synchronises grab-opening and bucket-dumping functions.
As on the T series, the hydraulic lines on the 14 models of the U range are routed inside the loader frame to protect them from damage. Maximum lift heights on these models start at 3.50m and rise to 4.50m, while maximum lift capacities for the U range start at 1,210kg and top out at 2,230kg.
At the base of the line is the three-model A range, an entry-level, lighter front loader for general handling work, with three models incorporating mechanical self-levelling, matching Farmall 55C to Maxxum 140 tractors. The A series loaders have lift capacities from 1.3-1.7 tonnes, and maximum lift heights from 3.5-4.0 metres.
SHOCK Eliminator® shock absorbing is standard on all three ranges, to minimise transfer of load shocks through to the tractor and operator, for smoother, faster, safer tractor/loader operation. Hitching the loader to the tractor, as well as uncoupling it, is eased and speeded by the FITLOCK 2+ System®, which automates the process, while a MACH System® multi quick-coupler makes for fast connection of hydraulic and electrical services in a single process.
Numbering system makes models easy to understand
The new Case IH loader line uses a simple numbering across the three ranges to make selection simple and load/lift ratings easily understandable. All model numbers begin with L for Case IH front loader, and as an illustration the L4020T model lifts to a maximum height of 4.0 metres and has a maximum lift capacity of 2.0 tonnes. The final letter denotes the range.
Tractors specified loader-ready from the factory are fitted with a common bracket and the MACH System® multi hydraulic/electrical service quick-coupler. Control of the loader and third and fourth hydraulic service functions are via the tractor hydraulic valves and joysticks. The package is completed with a robust cross bar and integrated engine hood guards.

An integrated system of support
The new range of Case IH loaders is covered by the same warranty and product support processes as the Case IH tractors to which they are fitted. This new and enhanced level of support from Case IH and its dealers extends to spare parts supply, with stocking and support of these items treated in the same high-level manner as tractor spare parts.