Falkirk-based family business Horizon Reinforcing & Crane Hire has taken delivery of Scotland's first Grove GMK5250XL-1 all-terrain crane from Manitowoc.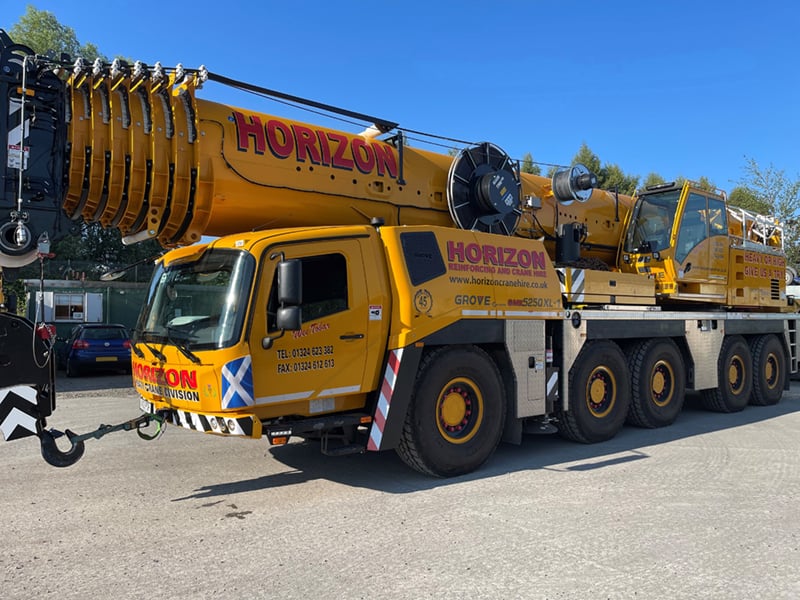 Horizon Reinforcing offers a rental fleet of 18 all-terrain, city, truck-mounted and self-erecting tower cranes from 25 to 250 t, as well as providing express cutting and bending of steel reinforcing throughout the UK.
The company strives to deliver the highest levels of quality and reliability, employing highly qualified and dedicated operators to work on one of the most up-to-date fleets in the industry. This commitment to quality and innovation made Grove an ideal choice for Horizon Reinforcing, which has been a Manitowoc customer for almost 30 years.
Horizon Reinforcing selected the new 250 t capacity Grove GMK5250XL-1, in particular, as a replacement for the 300 t GMK6300L it purchased around six years ago.
director of Horizon Reinforcing & Crane, Stewart Dougall, said:
"The GMK5250XL-1 has practically the same boom length (78.5 m) as the GMK6300L (80 m) but on five-axles, so it just made sense. It's got the best-in-class boom length and is efficient to set up – what I would call a good all-round, no nonsense crane."
The late grandfather of Stewart founded Horizon Reinforcing in 1973. His father, aunt and three brothers also work at the company, making the business very much a family affair.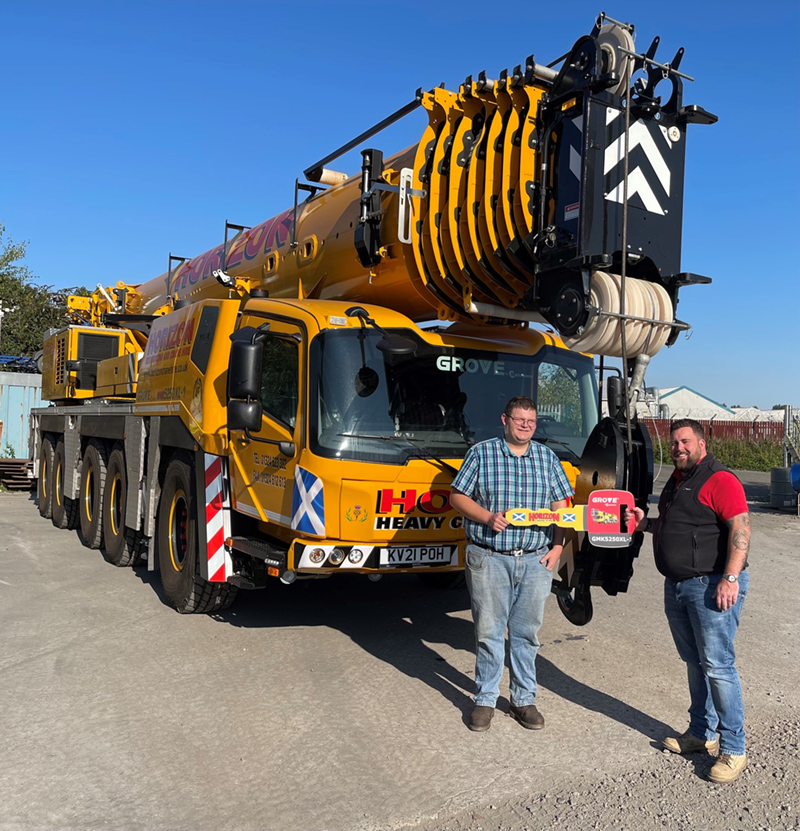 Reliable and easy to assemble
Stewart continued:
"The GMK6300L was a reliable, good machine for us that was so easy to assemble and never had a great deal of issues. On the rare occasion that we did have an issue, it was sorted straight away. The engineers at Manitowoc are very helpful, as are the sales guys. We have a great relationship with them – there are always reliable people to speak to, which gave us the trust and confidence to place an order for the GMK5250XL-1."
The new GMK5250XL-1 all-terrain crane will also be quick and simple for Horizon Reinforcing to set up, thanks to the self-rigging auxiliary hoist and CCS (Crane Control System) with jog-dial, boom configurator mode and MAXbase variable outrigger positioning. The unique Grove MEGATRAK independent suspension with all-wheel steering, meanwhile, will make it easy and comfortable to maneuver.
When Horizon Reinforcing's GMK5250XL-1 arrived at the yard in Falkirk in mid-July 2021, Stewart and his colleagues were immediately impressed.
All the mod cons
"Of course, I had a go and it is a very impressive machine with lots of new technology and benefits for the operator – all the modern conveniences and advances. Our operator, who previously worked with the 300 tonner, was also really impressed. The GMK6300L was already a good machine but this one has some great added extras."
The operator's superstructure cab on the GMK5250XL-1 is tiltable to approximately 20° and offers a commanding view of the jobsite. The operator's seat has its own suspension and is fully adjustable with controls integrated into the armrest. Each control has been ergonomically arranged for the ultimate in comfort, accuracy and efficiency, while all crane movements are shown on the ideally positioned CCS graphic display. The load moment and independent anti-two block system with audio visual warning and control lever lock-out also helps the operator stay in full control.
During its first two weeks, Horizon Reinforcing's new GMK5250XL-1 crane was already rented out five times for engineering, construction and telecoms jobs across Central Scotland.
Stewart concluded:
"It means a lot to us to be the first crane hire company in Scotland to have the GMK5250XL-1. It's a big draw for our customers to know we have this machine in our fleet"