Crane and work platform rental contractor Herrmann & Wittrock took delivery of three new Liebherr mobile cranes on one day at the beginning of February. The LTM 1040-2.1, LTM 1055-3.2 and LTM 1150-5.3 machines will expand the company's crane fleet and are also part of the process to continuously modernise the fleet, which is very important to Herrmann & Wittrock. Liebherr supplied ten new mobile cranes to the company last year and more cranes are already on order for this year.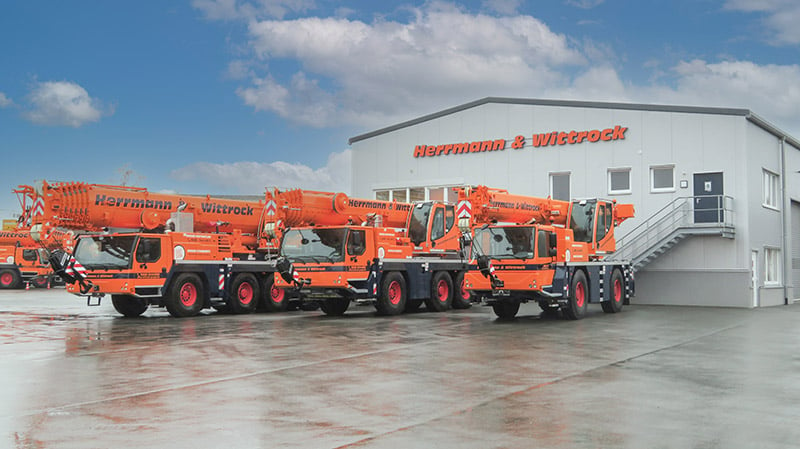 "None of our cranes is more than five years old",

"We will be receiving more cranes during 2022, which we have ordered to keep our fleet up to date and to expand our crane fleet at our various outlets. We continue to place our trust in the excellent quality and reliability of Liebherr cranes. What is more, its after-sales service is unbeatable."
says Managing Director Oliver Herrmann.
The new LTM 1040-2.1, LTM 1055-3.2 and LTM 1150-5.3 cranes were delivered to the Hof outlet, where they were fitted with various accessories. They are then destined for the new outlet in Bayreuth, which was opened recently
Herrmann & Wittrock is growing and now operates more than 50 mobile cranes. Managing Director Johannes von Sobbe says:
"Over the past few years we have bought all our new cranes from Liebherr",
The LTM 1150-5.3 which has just been delivered will be joined by another before the end of the year. Herrmann explains:
"The 150 tonne model features the latest crane technology on the market. It is the successor to the LTM 1130-5.1, which is a crane we are very satisfied with."
Herrmann & Wittrock is part of the Wittrock Group, which operates throughout Germany. It was founded in 2005 and initially only rented work platforms. Mobile crane rental was added to its services in 2007. Based in Hof, the company now has ten outlets in Bavaria, Saxony and Brandenburg.