ITT Canarias became the new Bobcat Authorised Dealer for the Canary Islands in Spain. With ITT Canarias joining sister companies ITT Bobcat Of, the Authorised Dealer for central Spain, Valencia and Catalonia; Compañía Maquinaria 93 in the Balearic Islands and ITTMach10 in France, this makes the parent, the International Trucks & Tractors (ITT) group, one of the largest distributors of the Bobcat brand in Europe. ITT Group is a leading supplier of agricultural machinery, construction equipment and transport vehicles.
Operating from Three Locations, with Coverage in All the islands
Alejandro Buitrago, Manager of ITT Canarias, comments:
"We are pleased to be distributing Bobcat, one of the most recognized and valued brands in the world, through our three locations on the islands of Tenerife, Las Palmas and Lanzarote, respectively, providing coverage across all of the Canary Islands, supported by 15 technical specialists and seven service vehicles. To guarantee the best service for our customers, we also offer the extensive experience of the ITT Bobcat operation, a benchmark in the group as a specialist in the Bobcat brand since 2002."
In addition to the sale of Bobcat compact equipment and handling the aftermarket, ITT Canarias will offer its customers an extensive range of machines for rent. ITT's specialized rental division currently has a fleet of more than 800 pieces of equipment in France and Spain. From telehandlers, mini-excavators and compact loaders, to compaction equipment and all kinds of attachments, the ITT fleet will be available from hire by Canarian users.
Excellent Customer Response
Alejandro Buitrago comments:
"The response from our customers has been excellent and they are very excited about also being able to benefit from our technical service, not only from the ITT Canarias team but also from all the synergies of the group and its long history with Bobcat.

"Customers are currently concerned about delivery times, but ITT has more than 300 Bobcat skid-steer loaders, mini-excavators and telehandlers scheduled for its specialized Bobcat subsidiaries, so we will be able to quickly meet most needs,"
With more than 13 Bobcat dealers on the Iberian peninsula, with 34 different locations, including ITT Canarias, this demonstrates Bobcat's commitment to offer the best professional service, analysing and complementing the specific needs of each customer across every sector.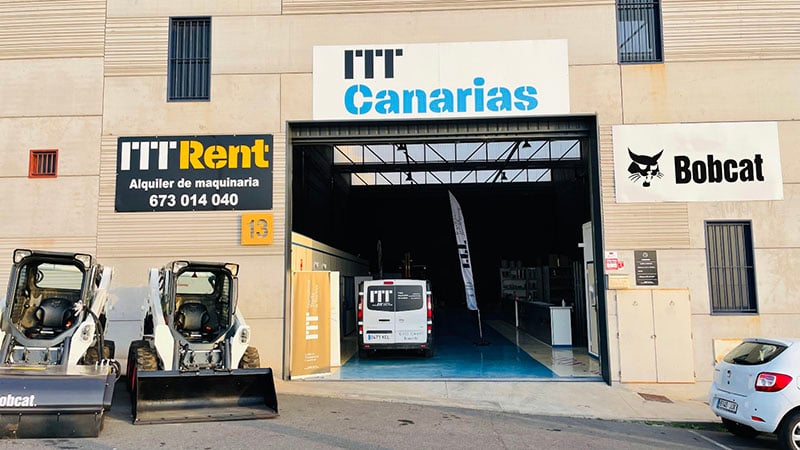 "The appointment of ITT Canarias as the new Authorised Dealer for the entire Bobcat product line provides us with a strong presence in a territory in which Bobcat has not been present for a while and is without doubt good news for our customers in the Canary Islands.

"We are confident that ITT Canarias will once again place the Bobcat brand in the leadership position it deserves,"
says Carlos Campos, District Manager Bobcat – Iberia & Turkey.