Due to the Covid-19 pandemic two years later than originally planned, IFAT is to take place this time from 30 May to 3 June in Munich at the exhibition centre. According to the circular economy urgency, construction machinery must perform sorting tasks meticulously in order to separate recyclable materials from one another so that industry can add value. Zeppelin will also focus on recycling and processing when it presents construction machinery technology geared to this in Hall C5 on Stand 139/238. The full range of material handlers from Cat MH3022 to Cat MH3040 from 21 to 39 tonnes will be on display at the show, flanked by wheel loader technology such as a Cat 950M.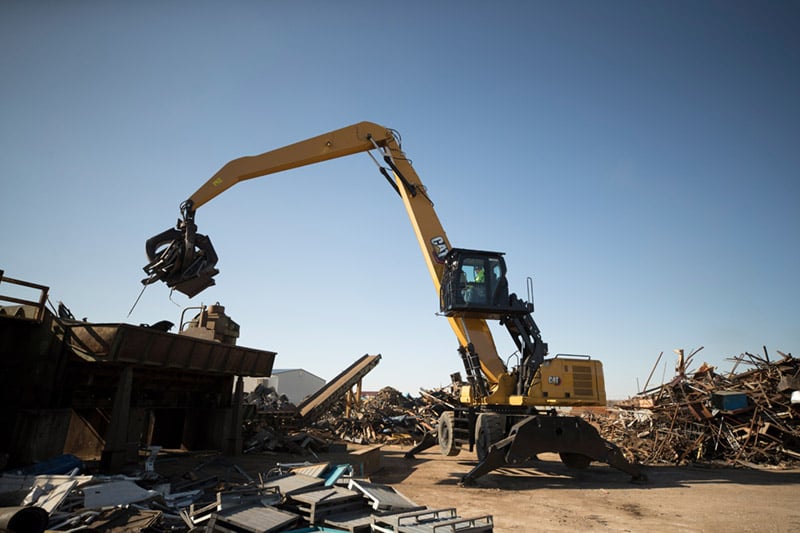 The job profile for tasks in the recycling and waste disposal industry is: sorting recyclable materials by type, safely and quickly. When it comes to the first and coarser sorting jobs, the M314 MH material handler, which Zeppelin is also presenting at IFAT, is the ideal choice. Thanks to its VAH boom, its compact dimensions and its elevating cab, it can do its job even in cramped conditions at recycling centres. When sorting, it benefits from sensitive and fast hydraulics, which has a positive effect on its efficiency. With an operating weight of 18 to 19 tonnes, it rounds off the lower end of the range for material handling.
At the other end of the scale in terms of operating weight up to 39 tonnes is the Cat MH 3040, making it a special heavyweight that aims to do justice to this role in heavy scrap handling: it will be presented at IFAT between Hall C4/C5 in front of Gate 3. The boom, stick and other heavily stressed areas are made of thick, multi-part plates, castings and forgings to withstand material fatigue and ensure years of trouble-free operation – visitors to IFAT will be able to see this for themselves. The same applies to the largest colleague in the MH series: ensuring short cycle times with a fast swivel speed and thus more material to move.
The advanced hydraulic system offers a balanced ratio of power, efficiency and sensitivity. Heavy-duty mode increases lifting capacity. Like all new-generation Cat excavators, this machine is equipped with electro-hydraulic pilot control – it's also a hallmark on the Cat MH 3022, Cat MH3024 and Cat MH 3026. Heavy-lift mode also allows these models to handle heavy loads more efficiently.
The standard SmartBoom feature simplifies operation and saves fuel by using freed-up hydraulic power. The separate swing pump ensures fast acceleration and wear-free braking of the upper carriage without interfering with other working movements. Joystick steering is standard on all models. Wheel and axle sway brakes detect the working situation and shift automatically. Individually controllable outrigger claws as standard quickly bring the machines into a safe working position so that they can then move large quantities from A to B. Occupational safety and health are becoming increasingly important to companies. The machines also meet these requirements with a powerful LED lighting system with 1800 lumens, rotating beacons and drive alarm.
Because every recyclable material has different handling requirements, there are different equipment variants to choose from. There is also a wide range of equipment for the attachments. Zeppelin employees will present the different variants at the trade fair stand and go into more detail about the various options.