European countries saw their economies return to growth in 2021. This reflected the gradual easing of measures to reduce the spread of the Covid-19 pandemic and the macroeconomic policies associated with it. At the same time, major overseas markets that are key export destinations for European countries experienced strong recoveries in demand. In 2021, GDP within the euro zone increased by 5.3%, following a fall of 6.4% in 2020. Germany recorded the weakest performance with only 2.8% growth, while Spain saw a 5% increase, Italy improved by 6.5% and France by 7%. Outside of the European Union, gross domestic product rebounded by 7.5% in the United Kingdom in 2021.
During the first half of 2021, the strength of the economic recovery was surprising in terms of its speed and magnitude. Private consumption surged, as households started to spend savings that had accumulated during 2020.
In addition, the reopening of service sectors and the ending of travel restrictions within the intra-EU area stimulated recovery, especially in Greece, Italy, and Spain that all have large tourist sectors. However, in the second half of 2021 the region faced significant headwinds. This involved the manufacturing sector which experienced significant supply chain disruptions, caused mainly by shortages of shipping containers and capacity limitations in Asian ports. This included the automotive industry, which was forced to scale back production due to the global shortage of semiconductors.
On top of this, many industries and service sectors were faced with large-scale shortages of workers. Consumer price inflation had been negative in many European countries in 2020, but then accelerated significantly in the second half of 2021 and exceeded the European Central Bank's 2% target rate. Very large increases in the cost of raw materials and energy and persistent supply-chain problems were the main reasons for this surge in inflation.
In Eastern European countries with volatile exchange rates, depreciation added to these inflationary pressures. While some of these factors are considered to be temporary, there is a risk that there will be a longer-than-anticipated period of above-target inflation in the region. Economic growth is expected to remain strong over the next three years despite some headwinds in the short term.
Significant increases in rates of coronavirus infections in several of the countries in the euro area has led to a renewal of restrictions and heightened uncertainty about the duration of the pandemic. In addition, supply chain bottlenecks have intensified and are now expected to last longer.
The expectation is that they may gradually ease after the second quarter of 2022 and fully unwind by 2023. GDP is now expected to exceed its pre-crisis level in the first quarter of 2022. Private consumption will remain the key driver of economic growth, benefiting from the rebound in real disposable income, increased spending of accumulated savings and a robust labour market.
Construction Output In 2021 Should Record A Recovery Of Around 5.6%
In November 2021 compared with November 2020, construction output increased by 0.5% in the euro area and by 1.3% in the EU. Annual comparisons by sector and by Member State in the euro area show that civil engineering increased by 0.7% and building by 0.3%. In the EU, civil engineering increased by 1.5% and building by 1.2%. Among the Member States for which data is available, the highest annual increases in output in the construction sector were observed in Poland (+12.7%), Hungary (+12.3%) and Finland (+8.4%). The largest decreases were recorded in Slovenia (-17.3%), Belgium (-8.8%) and Spain (-5.6%). Although data for the month of December is not available yet, the year 2021 will go down as the year of the rebound in the construction sector in Europe.
Despite strong growth in the construction sector in Europe In 2021, not all countries have returned to the pre-covid levels
The construction sector in the Eurozone has been hit hard by the pandemic, but not to the same extent as hotels and the aviation sector. 2021 was a year of recovery in all markets, especially in countries that applied severe containment measures such as Spain and France. However, given the uncertain business outlook and the weak financial situation, growth did not fully offset the declines seen in 2020. A number of factors within the sector supported the widespread international recovery and helped to improve the situation within the construction industry.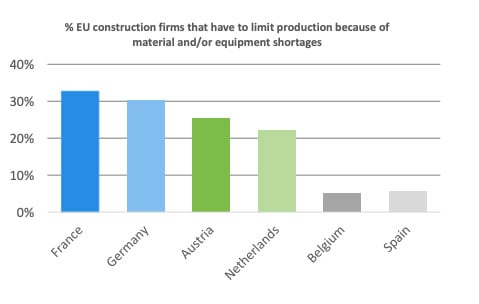 This included investment in infrastructure projects and the introduction of generous incentives for the renovation and modernization of buildings. Construction output in 2021 should record a recovery of around 5.6% according to Euroconstruct, which, after a difficult year in 2020, represents a bounce back similar to the level of declining activity the year before. At a country level, the situation is quite varied. In some countries precrisis levels of output have already been exceeded. In others, market activity reached a similar level last year compared with 2019. However, in some countries there is still a shortfall compared with pre-crisis levels of output.
In Italy, levels of investment in construction in the 3rd quarter demonstrate a positive outlook, at 8.9% above the same period in 2020. This includes investment in housing (+9.5%) and in non-residential buildings (+8.4%). This also represents a rising trend when compared with the same "pre-pandemic" period in 2019 (+13.1%), which demonstrates that construction is on a gradual recovery path. This dynamic should continue, thanks to the significant measures put in place by the Italian overnment, such as the Superbonus 110% and the opportunities offered by the Recovery Plan.
In 2021, CRESME estimate that investment in construction will show a 17.6% increase compared with the previous year. This growth is mainly driven by residential renovation (+25.2%), and also a significant contribution from investment in new public works (+15.4%). In Germany, residential construction activity remains as the main driver of growth. In 2021, growth in construction output picked up, driven by the government's focus on the development of the country's transport and energy infrastructure. Manufacturing output in Germany in 2021 increased by 3% year-on-year, but was still 5.5% below the pre-crisis level in 2019, according to Destatis, the Federal Statistical Office.
In France, public works activity rebounded in 2021 by 10%, due to the impact of a postcovid catch-up, particularly in the springtime, before a less dynamic second half of the year. However, it remains well below pre-crisis levels (-3.8%), due mainly to sluggish order intake throughout the year. The volume of building activity remains 5% below 2019 levels. Taking into account production times, new housing comes out at -5.8%, despite a small increase in site openings (+ 0.9%) which are recorded at 390,000 units. New non-residential activity remains at very low levels, with output at -10.5%, and all segments within the sector contributing to this weak position.
In contrast, repair and maintenance activity held up much better, at -2.6%, thanks to energy renovation in the housing sector. This exceeded its pre-crisis level by 5.0%, boosted by the redeployment of the MaPrimeRénov' scheme. Construction experts in the United Kingdom are forecasting a positive picture for the industry over the next year with strong levels of activity expected, despite on-going concerns regarding sourcing of materials and labor. Annual construction output increased by a record 12.7% in 2021 compared with 2020. However, this was comparing activity with a weak 2020 due to the coronavirus pandemic which resulted in a record decline in annual output of 14.9%.
Despite the pressure on prices, business confidence at the start of 2022 is positive among most entrepreneurs in the European Union and is returning to pre-covid levels. The highest ratings for business confidence have been recorded in Austria and the Netherlands. Optimism among entrepreneurs was already high in both countries before the Covid-19 outbreak and recovered quickly after the first wave.
A record number of building companies are planning to increase their prices at the beginning of 2022. This involves 36% of EU building firms who planned to increase prices in January 2022.
A recovery in construction activity is expected to continue in France and Belgium this year and in 2023. France recently implemented a new law requiring half of the materials used in public buildings to be wood or other bio-based materials. This has led to growing demand for these materials and to some shortages, especially as wood is still in short supply. Shortages could also be significant in Germany, Austria and the Netherlands, as construction activity will remain at high levels in these countries.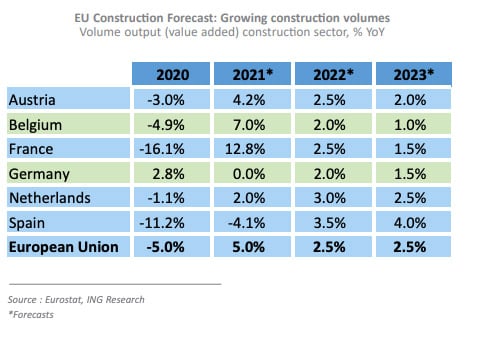 Shortages of building materials are expected to continue for some time to come, construction firms that have to limit production because of material and/or equipment shortages March 2022 CECE ANNUAL ECONOMIC REPORT 5 especially due to China's "zero-Covid" strategy, and the measures put in place to contain the virus in cities and ports which are an important part of global supply chains.
This will result in construction activity suffering further in future, alongside increasing costs. This will continue to have a negative impact on the profit margins and cash flow of construction companies. However, despite building material shortages and labor shortages, the EU construction sector is forecast to grow in 2022 and 2023.
Source: CECE