Bennetts Cranes, Raimondi's official agent for the UK, installs two MRT159 tower cranes and two LR213 luffing cranes for a prestigious residential development in the south of England. The new residential development is located in Berkshire and is part of a riverfront regeneration scheme that aims to transform the town into a true urban center.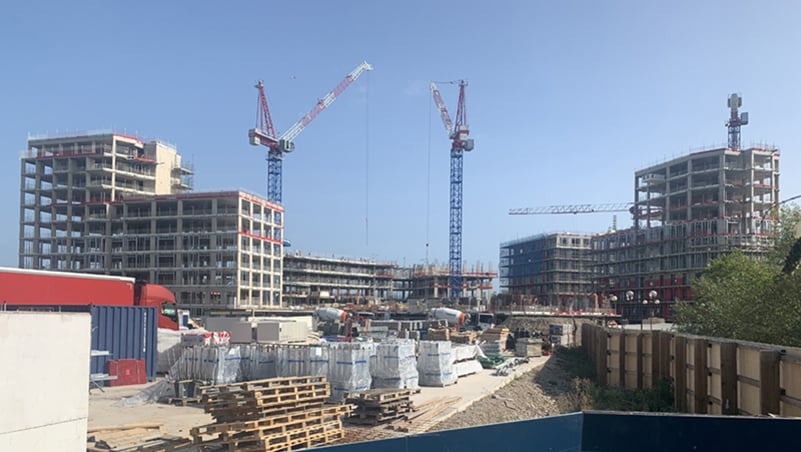 "We are proud to have strengthened our relationship with Berkeley Homes, the project developer, even further by providing the Reading site with four Raimondi cranes. The LR213s, with their 38m parking angle and swinging boom, were perfect for avoiding flying over surrounding buildings. The MRT159s, on the other hand, were chosen for their ease of installation and versatility on site,"
explained Edward Seager, general manager of Bennetts Cranes.
The LR213s were installed in 2020 and will not be relocated, while the MRT159s are already the second installation at the same site.
He adds:
"The fact that these tower cranes arrived at the site already pre-assembled and with the rope loop prepared was of paramount importance and help, allowing for easier dismantling and re-installation procedures,"
Seager added that the site had to overcome a number of challenges, including the need for cranes with a reduced off-duty parking angle to ensure that work could continue after the first residential blocks were completed without encroaching on the space above the already occupied apartments. It was also necessary to ensure that all government regulations related to Covid-19 were met, such as a distance of at least two meters between operators at work.
"By installing LR213s in the middle of the pandemic, we not only had to carefully study the placement of the cranes depending on how the construction site would later develop, but we also had to reinvent suitable assembly and disassembly methods to comply with safety regulations."
One MRT159 was recently de-installed, so there are currently two slewing cranes at work on site with a maximum capacity of 14 tons, tower height of 40m and outreach of 50m and the remaining flat top characterized by a maximum capacity of 8 tons, height under hook of 36m and boom length of 38m.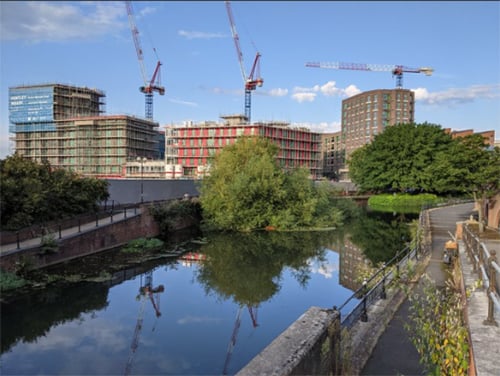 The cranes should be dismantled in the coming months depending on the completion of the works. The complex, once completed, will house 700 modern apartments around a central square with bar, restaurant, gym and kindergarten.