In Bavarian, "Let's do the work" would be translated succinctly as "pack ma's," which in High German means something like "let's get to work. This is the motto of the joint trade show appearance of Zeppelin Baumaschinen and co-exhibitor Zeppelin Rental at bauma from October 24 to 30, 2022. It is the first major event for both after two years of the Corona pandemic. The main venue this time will again be exhibition hall B6 in Munich-Riem. There, and outside in front of it, trade fair visitors will find answers to bauma's trend topics such as digitalization and sustainability. In conjunction with technologies that help companies move forward in their daily work, an exhibition area of around 8500 square meters will be occupied.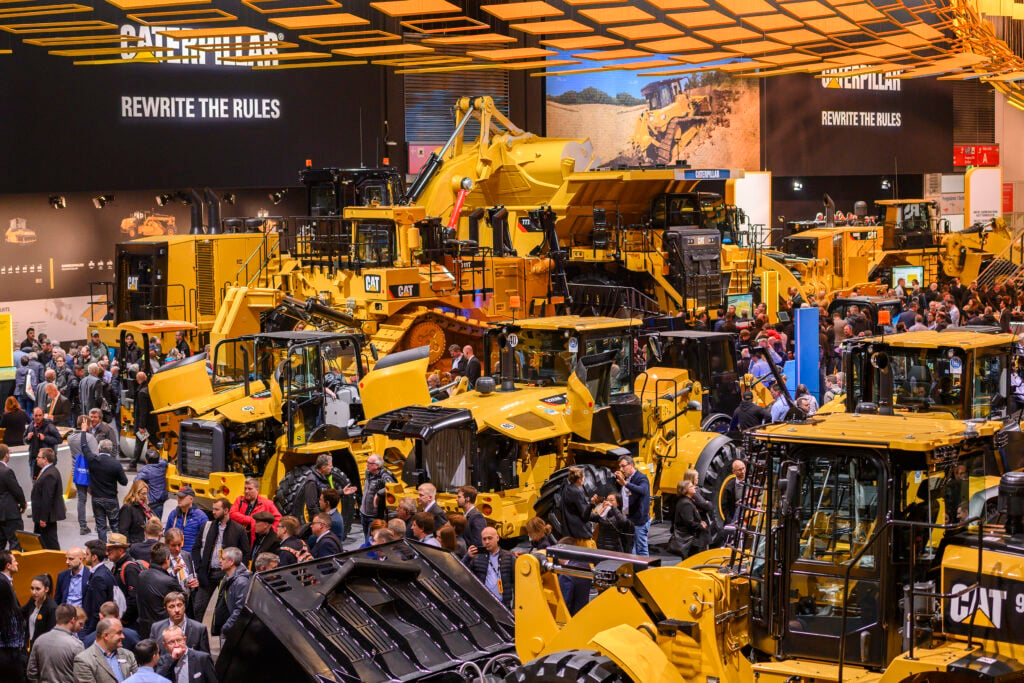 More than 50 exhibits in all size categories reflect the advances for construction machinery applications in earthworks, civil engineering, road construction, landscaping, demolition and recycling, as well as in the extraction of raw materials, which Zeppelin Baumaschinen has put together for the trade fair together with Caterpillar. They thus underscore the breadth of the product range, which has been expanded since the last bauma 2019 to include various models and series of the new generation of machines – first and foremost Cat wheel loaders in the compact, standard and large equipment categories. Cat mini excavators from 1.8 tons upwards and other representatives in different gradations also represent the further developments, triggered by the electrohydraulic pilot control and the associated advantages, as they are also inherent in the Cat crawler excavators presented at bauma.
Since 2017, Caterpillar has included several product lines for a wide range of application requirements in its program, which will also be present at the booth. To offer customers more choice, they can choose between the GC version – General Construction stands for a basic version designed for simple to medium-heavy applications – or models without additional letters but with more features. Even in the standard version, these represent high-tech for high performance and productivity. Even better equipped and leading in terms of efficiency are models with the suffix XE (extremely efficient) with diesel-electric drive or power-split transmission.
The handling segment will be served at bauma by the Cat models MH3024 and MH3040, for example, while wheeled excavators from the M314 to M319 or the compact Zeppelin wheeled excavator ZM110 are geared to civil engineering and road construction. The road construction segment will be covered by the CB 2.5 rollers and the CS12GC type. A Cat M323F rail-road excavator is available for track construction and, thanks to its hydrostatic rail wheel drive, is an example of successful innovation. In addition, there is a range of suitable attachments, in line with a trend that is becoming increasingly prevalent in business practice: Construction machines are carrier machines and through their tooling they multiply the functionalities to be used in a versatile and flexible way. Another development can be seen in the success of compact design: Because space on the construction site is becoming a limiting factor, compact machines in particular can be convincing in work applications – Zeppelin Baumaschinen's trade fair stand will also take this trend into account, even though large equipment for loading and transporting material, such as a Cat 992K wheel loader and Cat 988K XE together with the accompanying Cat 775G dump truck, will most likely captivate visitors at a bauma as they always have.
The trade show in Munich will provide lasting impetus for new technologies and services that will shape future processes and workflows on the construction site, making them more productive and cost-effective and increasingly automating construction projects. The key to this is the networking of Cat construction machinery in the course of digitalization, which leads to more efficient processes, higher productivity and cost savings. Everything in the Technology Area revolves around this bauma focus. There, Zeppelin will be showing the latest developments in the field of assistance systems.
As far as fleet management is concerned, it's all about ever closer networking of telematics data, for example to handle online ordering of spare parts via the customer portal. Or when the data collected via this, such as the GPS position, start/stop times, operating hours, fuel consumption, and error codes, allow remote diagnosis as well as error detection of construction machines – and this in advance, before the malfunctions even occur and result in unplanned costs. The next stage of development is the new Como dashboard developed by Zeppelin, with which a contractor can monitor his machinery. It is designed to enable efficient and fast maintenance planning by allowing maintenance measures to be planned and wear reserves of wear parts to be better utilized. Other online tools to be presented at bauma include the new Zeppelin Cat Shop, the Construction Machinery Configurator and the Excavator Exchange, with which Zeppelin intends to expand and extend its online trade.
Another topic gaining momentum around the globe is the development of autonomous vehicles. This will be illustrated at bauma by the Cat Command remote control system – an application that is recommended when work such as in explosive ordnance clearance or due to environmental conditions is better carried out from a safe distance. As far as the potential of autonomous systems is concerned, visitors can also obtain information and advice here at the Zeppelin booth.
New trends can also be based on old technology: Zeppelin has been demonstrating this for many years at bauma with the Cat Certified Used program, when used machines inspected by experts start another machine life with a guarantee. This also applies to the Certified Rebuild program, when older construction machines are overhauled for a further period of use – this time a 982M wheel loader will be on display at bauma. If you like, this is also a form of recycling. If construction machinery or individual components are professionally overhauled, less raw materials and energy are consumed, fewer emissions are generated and – an extremely pleasant side effect – the purse is also spared. Customers receive an as-new appliance that incorporates elementary technical innovations that have since found their way into series production. But it doesn't have to be a complete machine that is refurbished. Individual used components don't necessarily have to be old news either – refurbished assemblies and key components such as engines, transmissions, torque converters, axles, hydraulic pumps, motors and cylinders are just as likely to be refurbished and reinstalled as fully functional remanufactured parts. Zeppe-lin will also be presenting this at bauma in Hall B6 in order to highlight sustainable aspects relating to repair options.
Alternative drives will be high on the agenda at bauma. Visitors will also be eagerly awaiting answers from Caterpillar and Zeppelin with regard to emissions. The demand for cleaner, quieter and more efficient construction machinery is growing. One solution here can be the use of electric drives – this applies not only to small machines in the lower performance range that are required with electric drives, but also to construction machines that have to move material in continuous operation. A strategy that Caterpillar has been pursuing for some time will also be evident at bauma: various alternative drive concepts will be offered in parallel, such as diesel-electric construction machines like the Cat dozer in the form of the D6 XE as well as the Cat wheel loader 988K XE or various Cat wheel loaders with power-split, continuously variable transmission. They all have one goal: to efficiently perform the specified tasks on construction sites or in the loading of construction materials while saving emissions and fuel – in times like these, these effects are becoming increasingly important because they will determine future work with construction machinery. And that is precisely the focus of this bauma: to show trends for tomorrow's work processes.
But these are increasingly determined by a prevailing shortage of skilled workers. The ICM at bauma is dedicated to the recruitment of junior staff as well as training and entry-level opportunities at the exhibitors. Zeppelin will be there as an employer and will have its own stand in Hall B6, where visitors can find out about career opportunities and job possibilities in the construction industry.