Hyundai Construction Equipment is further developing its market-leading range of A-Series wheeled excavators, with the launch of a 15-tonne reduced radius machine at Bauma 2022 and the promise of two additional compact models early in 2023. Increasingly specified by contractors and rental businesses across Europe, the Hyundai A-Series range of wheeled excavators delivers new levels of operator comfort and controllability, low-emission EU Stage V drivelines and a range of models to meet the needs of the majority of industry sectors.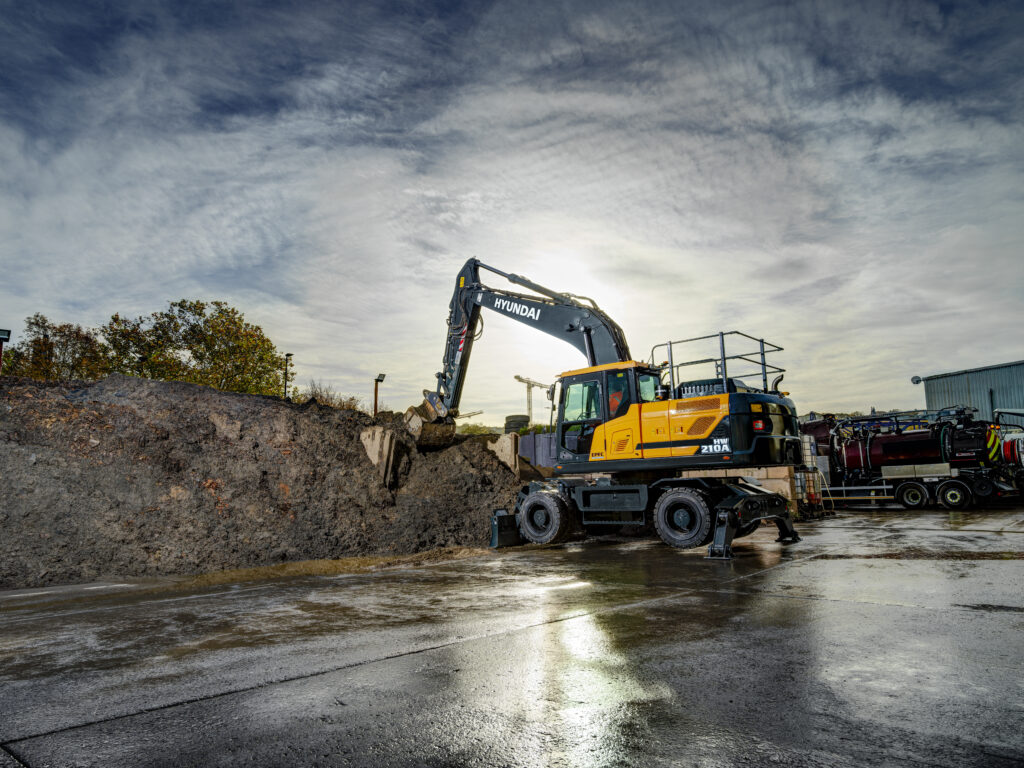 Sector specific
Hyundai Construction Equipment's A-Series wheeled excavators have been developed to meet the needs of operators in a wide range of industry sectors, from urban infrastructure to civil engineering projects, house building and rental. With the recent addition of the HW150A CR, the line-up now boasts two compact radius models, delivering ultimate manoeuvrability and versatility in confined site conditions.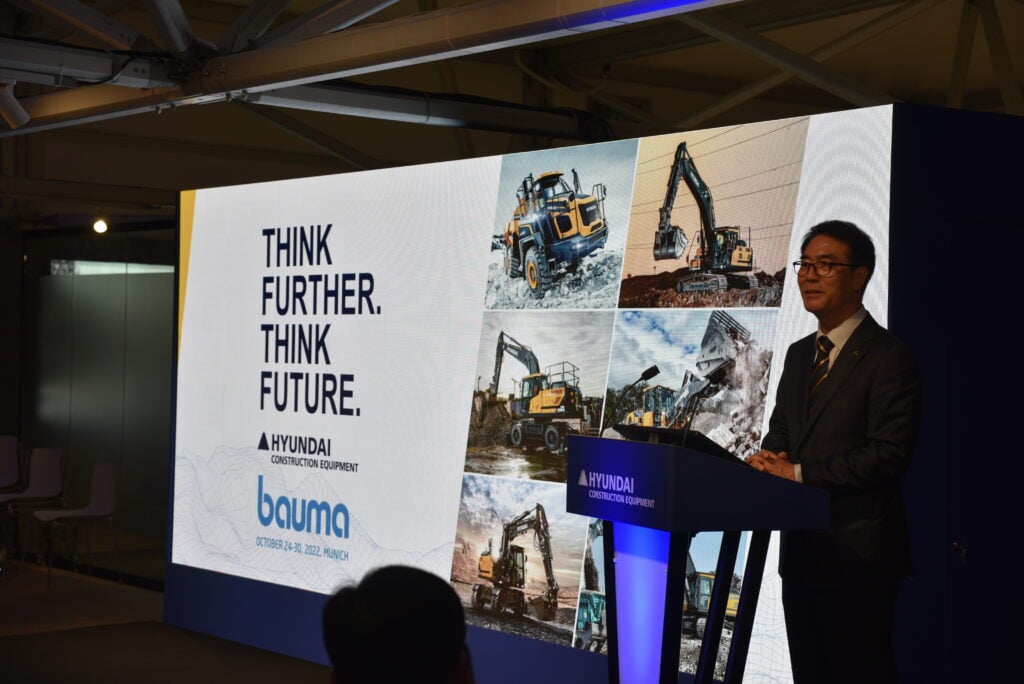 With a high degree of shared componentry across the HW140A, HW150A CR, HW160A and HW170A CR, Hyundai offers customers a highly adaptable, customisable platform. The machines boast a robust upper and lower structure, that can be configured with a range of dozer blade and stabiliser leg configurations.
Revisions to the swing centre, wheelbase and axle location have resulted in impressive gains in stability and digging capability. For ultimate lifting performance, the range-topping HW210A has a fixed front stabiliser layout and the machine is equipped with a lifting mode that increases power and precision, while reducing operating speed during heavy lift work. A power boost function automatically increases relief pressure for an additional push when required.

Operator control
A revised operator's cab, with easier entry, delivers improved visibility, thanks to additional mirrors and revised windscreen wiper location. As with Hyundai's crawler machines, the A-Series wheeled excavators can be equipped with Advanced Around View Monitoring (AAVM) system, that uses video cameras to provide the operator with a 360° view of the machine on the in-cab monitor. The system includes Intelligent Moving Object Detection (IMOD) alerting the operator to the presence of other workers or objects within a 5m range of machine operation. Conventional tailswing models are offered with an optional radar with a second monitor, to provide rear detection of static or moving objects to a distance of 10m, in day or night-time conditions.
The steering column offers lower and upper section tilt and a central telescopic feature. With a slim design and no lever on the right-hand side, this results in improved visibility, while optional joystick steering, using the right-hand lever, is also possible at lower operating speeds. Direction change control has been moved to the joysticks, ensuring maximum control for the operator.
Joystick buttons have been redesigned for easier operation and when the front axle oscillation is set to automatic mode, the ram lock can also be activated or deactivated using a button in the joystick, to improve productivity. The attachment controls now feature a continuous operation detent, for breaker or crusher mode, improving convenience for the operator.
The pedals have been repositioned and the optional two-way driving pedal has been deleted, with direction changes now possible through the switch on the joystick. A two-piece floor mat makes it easier to clean the cab and reduces the risk of damage during maintenance work.
The excavators feature an 8" touchscreen display for all machine function and control settings. There is a new Jog Dial Module with a relocated rotary controller and function switches, making it easier to access menus within the touchscreen system.
Ride Control is an option on larger A-Series models, allowing the machine to travel smoothly over rough ground. An accumulator absorbs ground impacts, allowing the boom to gently float, improving comfort for the operator. The system also includes a boom float option for use in grading.
All Hyundai A-Series excavators feature an Auto Safety Lock, to prevent unintended use of the boom functions. The system also prevents the engine starting if the safety lever is in the unlocked position, to prevent sudden activation of hydraulic functions.
Stage V low emission engines
The HW140A, HW150A CR, HW160A and HW170ACR are powered by a highly efficient Cummins B4.5 diesel engine. Using a wastegate turbocharger, this compact engine has a Flex-Module two-can exhaust system, comprising a Diesel Oxidation Catalyst (DOC), Diesel Particulate Filter (DPF) and Selective Catalytic Reduction (SCR). There is no requirement for Exhaust Gas Recirculation (EGR), reducing service cost for customers, while the smaller engine is more fuel efficient than its predecessor.
The four machines deliver 129kW (173hp), driving the machine through a Rexroth load sensing hydraulic system, with load independent flow control for consistent machine operating speed and improved controllability for the operator.
The larger HW210A retains a 6.7-litre engine, however it moves to the latest Cummins B6.7 model. With a variable geometry turbocharger, the B6.7 has a single module after-treatment system, with the DOC, DPF and SCR located in a single exhaust can. Again, there is no requirement for EGR on this engine and no need for manual DPF regeneration, cutting cost and downtime for customers.
As with the smaller engine, there is an increase in output, with the new Cummins unit delivering maximum power of 145kW (195hp). The 21-tonne machine has two Kawasaki hydraulic pumps with Electronic Pump Flow Control (EPFC), which has proven highly productive on Hyundai's crawler HX210A and HX220AL. The machine benefits from a reduced minimum flow rate, improving fuel consumption by up to 8-11% depending on operation. Automatic idle is standard, further reducing fuel consumption, engine noise and exhaust emissions.
Future trends
In 2023, HCE will launch two additional wheeled excavators. With operating weights of 6-tonnes and 10-tonnes, the machines are expected to open new market segments for the company, with particular interest from markets including France, BeNeLux and Scandinavian countries. While the 6-tonne machine will replace the previous R55W model as the smallest wheeled excavator in the line-up, the 10-tonne machine will compete in a totally new sector for HCE.
Both of the excavators have a conventional radius counterweight, though their compact dimensions will ensure that they are ideal for confined urban site operation. The 10-tonne model boasts three steering modes, including two-wheel, four-wheel and crab steering, making it a highly manoeuvrable machine. It also boasts load sensing hydraulics, for smooth, multi-function operation. The two excavators are powered by EU Stage V compliant engines, in the case of the larger model, with a DOC, DPF and SCR. The 10-tonne machine also drives through an efficient hydrostatic transmission.
Operators benefit from standard rear and side view cameras, with an operator's cab that delivers the high levels of comfort, visibility and controllability that have become standard for a Hyundai wheeled excavator.
"The new range of wheeled excavators from Hyundai offers plenty of features for customers working in infrastructure and civil engineering. Recent updates to larger models provide Hyundai's new wheeled excavators with outstanding performance in multi-function operation, smooth controllability and the necessary stability for maximum productivity. With the addition of the 15-tonne compact radius model and two smaller machines next year, Hyundai is establishing itself in a growing number of market sectors, by listening to customer feedback and responding to their requirements. The A-Series wheeled excavators will continue our expansion in this demanding sector of the market. All of our customers can aim high with the new Hyundai wheeled excavators."
said Peter Sebold, Product Specialist at HCEE.