Activity falls for first time since August and new work declines at quickest rate since May 2020. The UK's construction sector recorded a fall in business activity during December, ending a three-month sequence of growth, with the rate of decline the fastest since May 2020. A similar trend was observed for new orders, which saw a renewed fall that was the strongest for more than two-and-a-half years.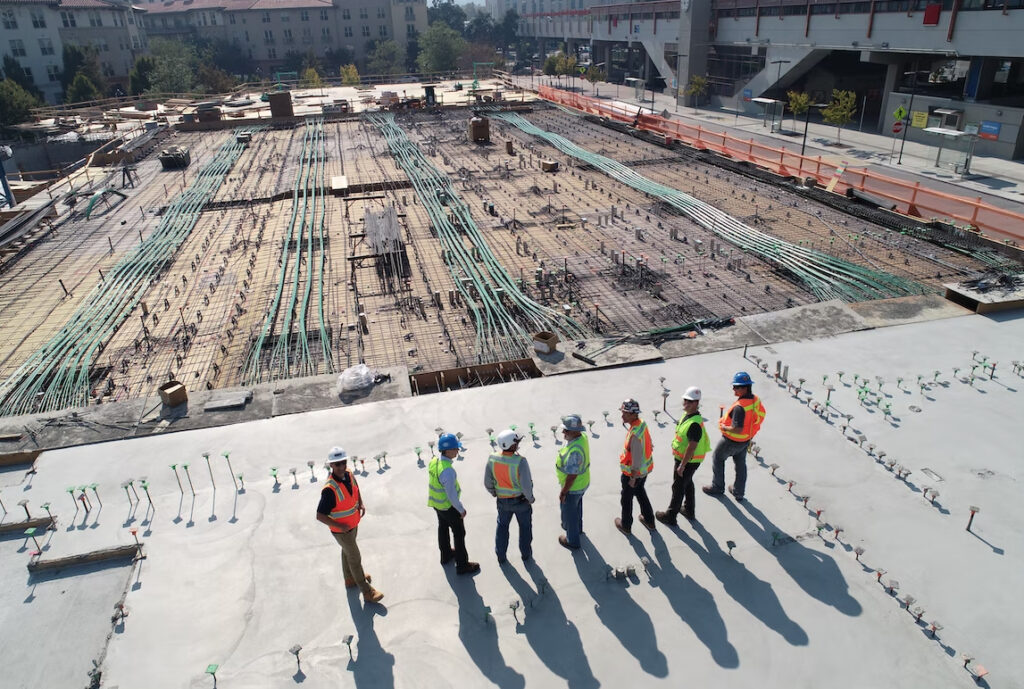 Concurrently, sentiment amongst firms towards the year-ahead outlook for activity dipped into negative territory for only the sixth time on record, reflecting fears around the near-term economic outlook. Pessimistic expectations were reflected in the first round of job shedding in the construction sector since January 2021.
At 48.8 in December, down from 50.4 in November, the headline seasonally adjusted S&P Global / CIPS UK Construction Purchasing Managers' Index (PMI) – which measures month-on-month changes in total industry activity – registered below the 50.0 mark to signal the first contraction in construction sector output since last August.
Although commercial construction activity continued to rise in the final month of the year, the rate of contraction eased to the slowest in the current four-month sequence and was only fractional overall (index at 50.3).
As such, the uplift in the commercial sector was outweighed by contractions across the residential and civil engineering sectors in December. Housing activity declined for the first time since last July and only marginally (48.0), while civil engineering recorded a sixth consecutive monthly contraction in output (46.8) and the rate of decline remained sharp overall.
December data also highlighted a reduction in new orders placed with UK constructors, following a modest uplift in November. According to survey respondents, the fall was driven by weak client demand, linked in turn to higher prices charged. Moreover, the rate of contraction was the fastest since May 2020.
Challenging business conditions were reflected in confidence amongst constructors towards the year-ahead outlook for activity, which dropped into negative territory for the first time since the initial COVID-19 wave and for only the sixth time on record. Downbeat sentiment was attributed to expectations of a recession and poor demand conditions, as well as inflationary pressures. That said, the degree of pessimism was marginal.
Lewis Cooper, economist at S&P Global Market Intelligence, who compile the survey, said:
"The UK's construction sector registered a relatively poor finish to 2022, with business activity falling into decline following a three-month growth sequence amid the fastest contraction in new work since the initial pandemic period in May 2020. Companies cited weak client demand, driven partly by higher prices amid ongoing inflationary pressures. Commercial construction activity remained the only bright spot, though here the rate of growth came close to stalling, with the overall contraction led by a further sharp decline in civil engineering and the first fall in residential construction activity since last July. The challenging environment in December was subsequently reflected in pessimism amongst firms towards activity levels over the coming year, with business confidence downbeat for only the sixth time since the survey began in April 1997."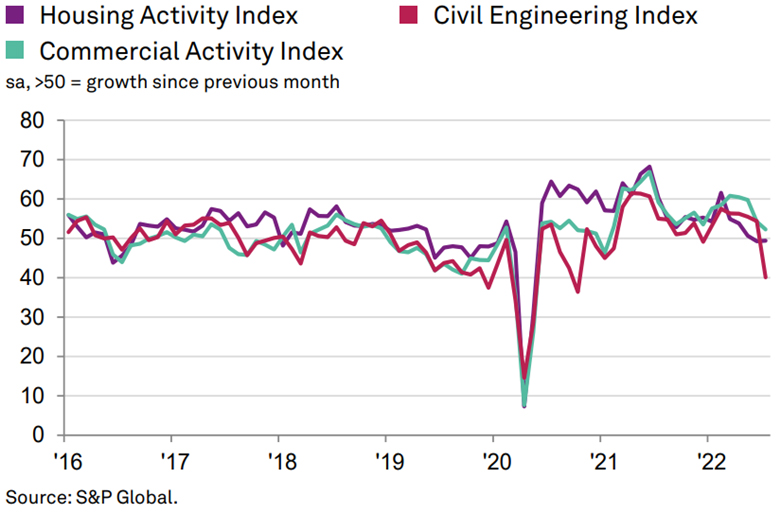 Dr John Glen, chief economist at the Chartered Institute of Procurement & Supply, said:
"The construction sector was stuck in the mud in December with the steepest fall in activity since the beginning of the pandemic in May 2020 and a similarly fast drop in pipelines of new work. House building saw a notable change of direction, with a mix of higher inflation for raw materials and transportation and the squeeze on affordability rates for mortgages resulting in fewer house sales. The sector subsequently fell back into contraction for the first time since July. Civil engineering, responsible for larger projects, continued to be the weakest performer again, with a sixth month in the doldrums as uncertainty about the UK economy reared its ugly head again and customers hesitated. Supply chain managers reined back spending on materials with the sharpest fall in buying activity for over two-and-a-half years as a result of this poor demand."
Source: S&P Global