The Belgian contractor Ceulemans Fr & Co has invested in a pair of Hitachi ZX490LCH-6s that are involved in aiding flood protection in The Netherlands. The Berlaar-based company owns and operates a 30-hectare clay pit at Schelle, from which the large Zaxis excavators dig under licence up to 2,700 tonnes per day to a depth of 15 metres.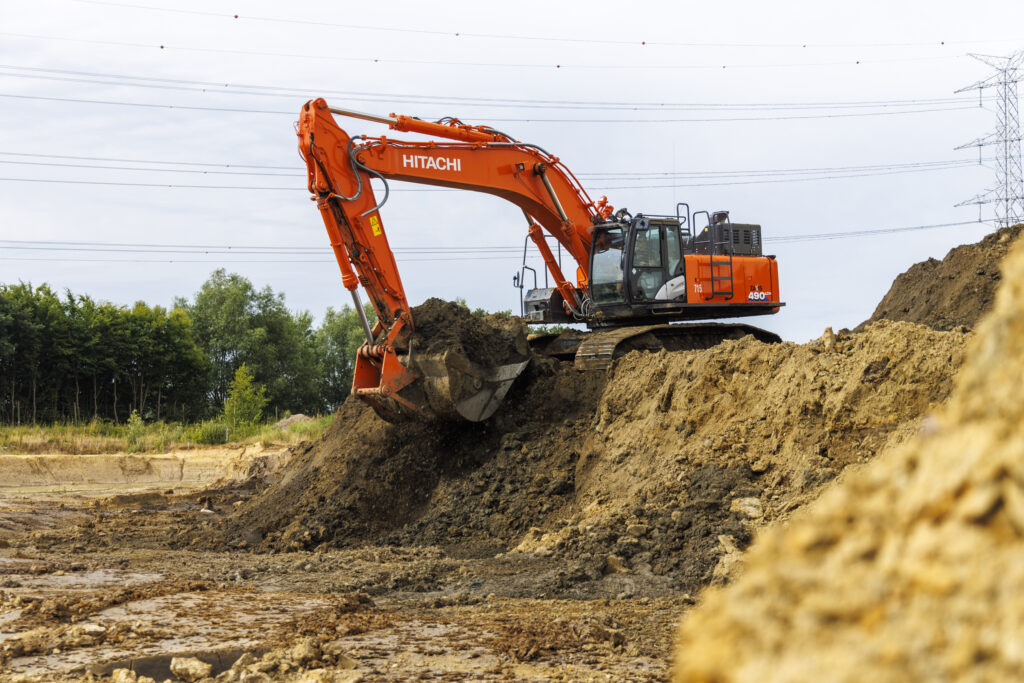 Productive and reliable
"We dig exclusively with Hitachi excavators and our current two ZX490LCH-6s are very productive in the clay pit,"
says Wim Ceulemans, the third generation of the family to run the company.
It was founded by his grandfather, Frans Ceulemans, in 1953 and run by his father, Herman, from the early 1970s. The fourth generation, Wim's son Herman, operates one of the large Zaxis excavators in the pit.
"We are satisfied with these machines because of their low fuel consumption, very smooth operation and precise finishing thanks to the hydraulics," adds Wim. "All of our Hitachi machines have proved to be equally reliable and had a strong resale value. My preference is for the ZX490LCH-6 because it has many benefits over the previous generations. It is more modern and sophisticated, as well as being more user-friendly and fuel efficient."
Quality products and service
Ceulemans Fr & Co has bought over 30 excavators from Luyckx since it ordered the first four UH-series machines from the then newly appointed Belgian Hitachi dealer in 1982. As well as the two ZX490LCH-6s (2018 and 2019), the current fleet includes a ZX300LCH-6 (2017) and a ZX135US-3 (2005). The three larger machines are covered by a five-year, 7,000-hour repair and maintenance contract.
"We have been working with Luyckx for over 40 years, because of the good understanding and the friendly business relationship we have built together,"
says Wim.
"We are convinced of the quality of the products and service we receive, so we hope to continue working with Luyckx and Hitachi for many years to come."
Best quality clay
The raw materials excavated by the Zaxis-6 machines are "erosion class 1" and therefore among the best quality clay products available in the region. Ceulemans sells the product to the contractors who are reinforcing the dikes as part of the Dutch Flood Protection Programme.
As a low-lying country, The Netherlands is prone to flooding from its many lakes, rivers and canals. Legal safety standards reduce the risk by more than a factor of ten and these are satisfied by the implementation of the programme's flood protection measures. These cover two-thirds of all primary flood defences that have to be reinforced at an increased pace and decreased cost, compared to previous projects.