Hitachi Construction Machinery has announced that its authorised dealer in Israel, CMD, has been acquired by Carasso Motors, a leading company in the country's automotive industry. A ceremony to finalise the agreement was held in Israel on 30 April and attended by HCME President Takaharu Ikeda.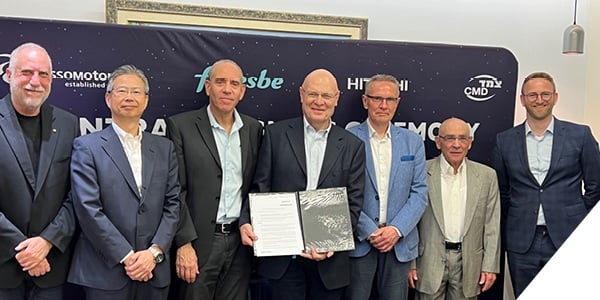 CMD was established in 1957, and it is one of the leading companies in the Israeli heavy construction machinery market. CMD has been responsible for the sales and service of new and used Hitachi Construction Machinery equipment since 2009.
CEO Yair Livne said:
"Following our decision to sell the company, we were presented with an attractive business opportunity that offers synergies and benefits to each party. We have a highly experienced service team and a solid infrastructure for spare parts, and Carasso Motors provides extensive experience in leasing, financing and insurance."
Carasso Motors imports and distributes several car brands, as well as heavy equipment and agricultural machinery. Its nationwide network of service centres provides after-sales services and spare parts. In addition, it operates an insurance agency and financing activities, supporting the sale of new and used vehicles, and owns shares of Metro Motor Holdings Ltd, a leader in importing and marketing two-wheeled vehicles.
"CMD and Carasso share the same ambitions for the future," said Yair Livne. "We want to invest in the development and growth of the business, taking advantage of the benefits of each company, while maintaining independence and brand differentiation."
HCME President Takaharu Ikeda said:
"On behalf of everyone at Hitachi Construction Machinery, I would like to welcome Carasso to our dealer network through its acquisition of CMD and wish them every future success in partnership with HCME. Our valued customers in Israel will continue to receive the same high level of sales and service from our existing dealer, supported by its dedicated employees, who are committed to excellence and quality."