With its PK 45.002 TEC 5 and PK 48.002 TEC 7, PALFINGER rounds off its product range in the 25-60 meter-ton category. The innovative steel construction, combined with the familiar TEC features help to make applications noticeably more efficient.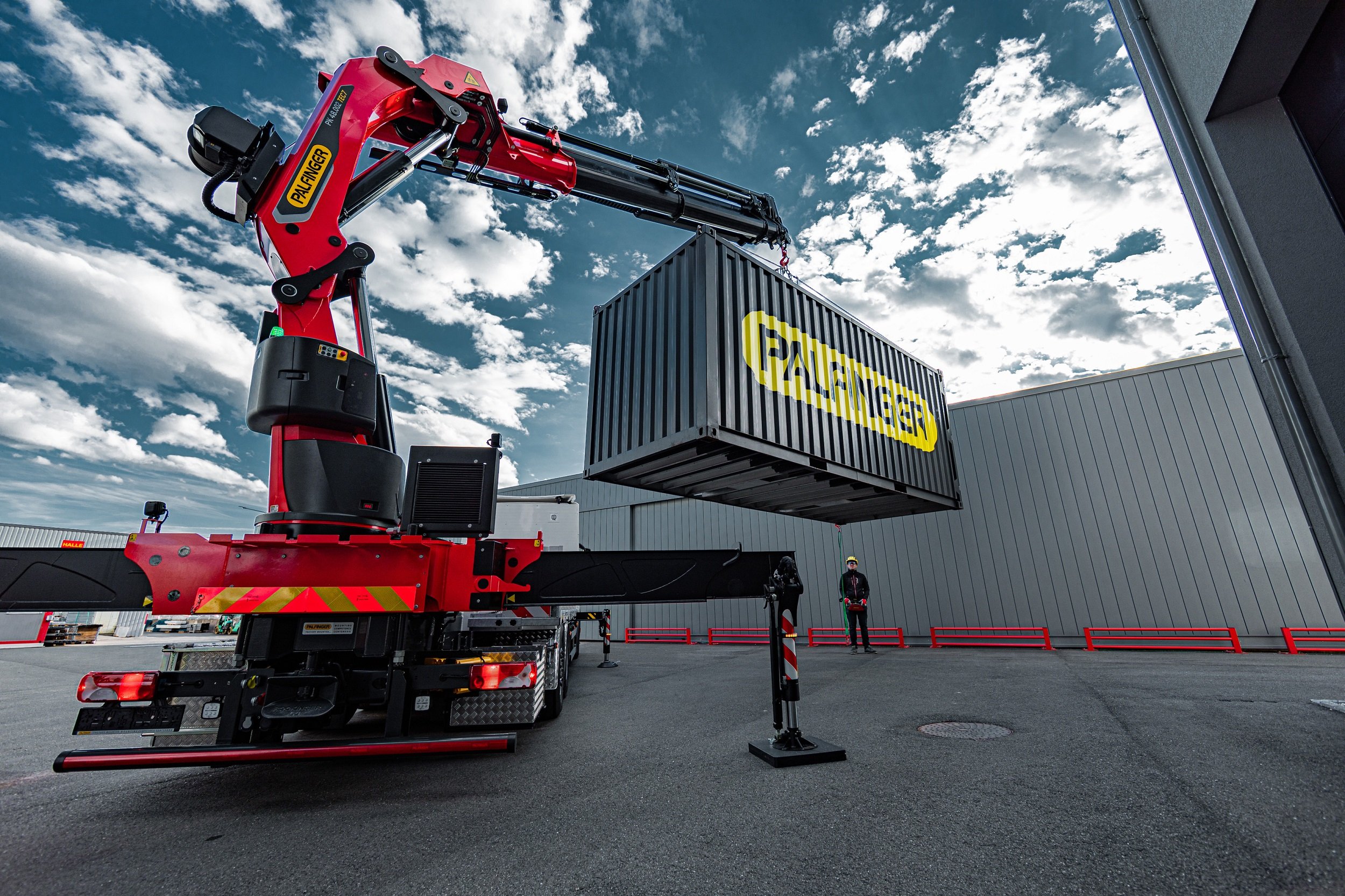 The new PALFINGER cranes in the 40-50 meter-ton segment pack more of a punch than their names might initially suggest. Whether container handling, carrying out building maintenance or performing assembly work, the new cranes are highly versatile as rear- or front-mounted versions on trucks. Michael Völker, PALFINGER's Head of Crane Product Management, argues:
"Our PK 48.002 TEC 7 and PK 45.002 TEC 5 perform outstandingly with or without a fly jib. One common variation is the PK 48.002 E with PJ150 E, which combines six extensions on the crane and a further six extensions on the fly jib for enormous lifting capacity".
MAXIMUM STABILITY ALL THE WAY TO THE BOOM TIP
The lightweight design of the polygonal profile (P profile) ensures that the extension boom system remains highly stable all the way to the boom tip despite the lower dead weight. This makes applications – whether for structural and civil engineering work or in city centers where precision is required – safer and more efficient. Furthermore, the PALFINGER extension boom system is low maintenance, which significantly increases application times.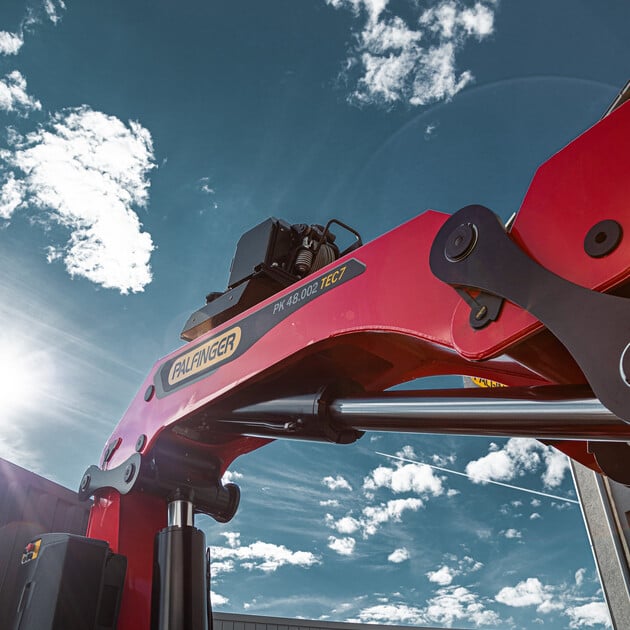 MAXIMUM LIFTING CAPACITY AND EVEN LONGER OUTREACH
Of these new cranes, one can choose between three fly jibs (PJ075, PJ090, PJ150). This means that DPS-P or DPS-C is always on board, helping to utilize maximum lifting power in fly jib mode. The PK 48.002 TEC 7 E combined with PJ150E and DPS-C for example, can lift up to 1,080 kilograms to a height of 18 meters over a 17-meter outreach while positioned at 70 degrees – an impressive performance that is particularly useful for work performed at high altitude such as window installation or in workman baskets during building maintenance.
FLEXIBLE AND HIGH-PRECISION WORK
Thanks to Power Link Plus, tasks such as working inside buildings through low door openings are no longer such a challenge. Building material such as interior cladding can now be easily lifted through tight spots. Power Link Plus is a double-linkage system that significantly increases the crane's lifting power, thanks to the special connection between the knuckle and main booms, as well as the main boom and crane column. The knuckle boom can be overextended by an additional 15 degrees, enabling even more potential applications for crane operators. The WEIGH function on the TEC 7 model makes weighing loads at point of use particularly effective; loads can be weighed directly on the crane so that exact lifting locations are given and considerable time is saved because moving the truck is no longer necessary. WEIGH also saves the last ten weighing operations automatically and can add them up if required. This function is particularly useful when it comes to loading the platform of the truck.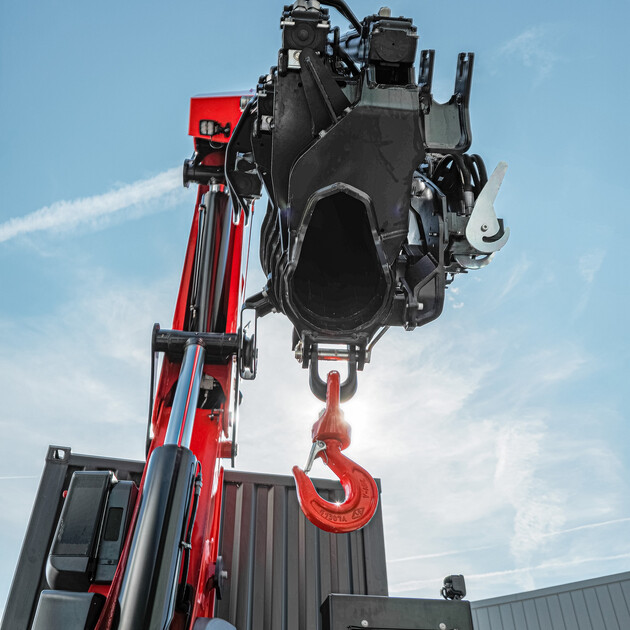 SELF-OPTIMIZATION FOR EVEN GREATER PERFORMANCE
Flow Sharing is an electronically controlled volumetric hydraulic oil flow distribution system designed to ensure that various activated functions are supplied with exactly the required amount of oil. This enhances overall crane functionality. Flow Sharing is essential to the soon-to-be-available Smart Boom Control function, the innovative tip boom controller by PALFINGER.
ALL ASSISTANCE AND COMFORT SYSTEMS AT A GLANCE
The model line TEC 5 features the familiar TEC steel construction with P profile and the maximum in system options that can be expected from the TEC range. The TEC 7 model line offers a lot more than just its well-known and highly-innovative steel construction. In addition to its maximum lifting power, the range of assistance and comfort systems is the prominent characteristics of the TEC 7 crane.
PK 45.002 TEC 5
PK 48.002 TEC 7
TEC-typical
Power Link Plus (bending upwards 15°)
x
x
Low maintenance extension boom system with P-Profile
x
x
With Radio Remote Control Scanreco P3
x
With Radio Remote Control PALcom P7
x
DPS-Plus for fly jib operation
x
DPS-C for fly jib operation
x
Soft Stop, TOOL and FLOW
x
x
Available System Options
Remote stabilizers as well as workman baskets possible
x
x
AOS
x
x
HPSC-Plus LOAD
x
x
HPSC-Plus GEOM
x
HPSC-Plus FSTAB
x
FPM: Fall-Protection Mode
x
x
SRC for rope winch operation
x
x
RTC for rope winch operation
x
P-FOLD
x
MEXT and WEIGH
x
Smart Boom Control
x
ABOUT PALFINGER
PALFINGER (CEO Andreas Klauser) is a leading international manufacturer of innovative lifting solutions for use on commercial vehicles, ships and stationary equipment. Based in Bergheim, Austria, the PALFINGER Group develops and produces leading solutions for its customers and partners all over the world, with more than 11,000 employees and over 5,000 sales and service centers.
As a technology leader, the company also drives digitalization, electrification and autonomous systems as central components for future solutions and products in order to secure a long term partnership and success with its customers.
Convinced that sustainable thinking and acting significantly contributes to economic success, PALFINGER takes social, ecological and economic responsibility along the entire value chain.
Source:Palifinger