Construction work has already begun on the PH Eco Mall project which combines a shopping mall and private residences near the Mekong River and National Road 1 in Phnom Penh, Cambodia. Eight tower cranes produced by Zoomlion have been used in this large-scale project.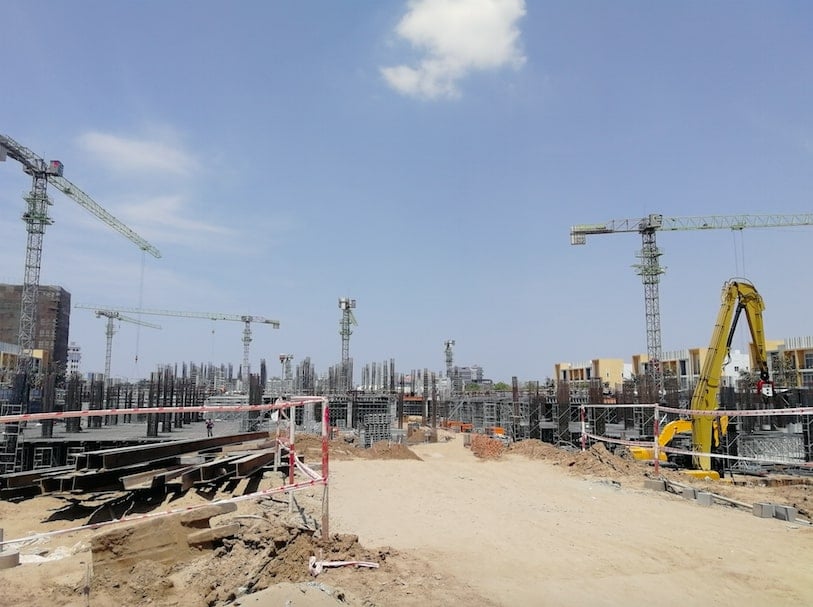 PH Eco Mall Project is a flagship project in Phnom Penh developed by the real estate developer Borey Peng Huoth Group in Cambodia.
An investement of 200 million USD for a project area that will exceed 26800 square metres. Over 90000 square metres of leased land will also provide parking space for 5000 cars and a large number of motorcycles. The project started in 2016 and the main work is planned to be completed in 2021, with the mall opening for business in 2022.
The Zoomlion service technicians, the construction team and the customer had previously discussed about the actual conditions under which the construction would take place. As the project covers a large area and the buildings are not high – the residential complex will reach about 30 meters in height – they found cooperation between multiple tower cranes is required. Gao Biao,on behalf of the Southeast Asia branch of Zoomlion Construction Crane, explained:
"After careful consideration, we chose eight T6013-8As, and decided the specific locations of each during construction."
Zoomlion's eight T6013-8A flat-top tower cranes are mainly used for the lifting work in the residential complex part of this project.
The T6013-8A is a highly reliable and intelligent tower crane powered by German JOST technology. The complete frequency conversion of the three major mechanisms makes the impact quite small and ensures steady operation of the tower crane. In the PH Eco Mall Project, the T6013-8A adopts an independent height of 40.5 meters and 60-meter-long lifting boom. The boom tips can lift a weight up to 1.3t and the maximum lifting weight can reach 8t. In terms of installation, different working heights were arranged for each of the eight tower cranes to prevent slewing collisions when working. This also allowed the whole group of tower cranes could work at the same time, greatly improving construction efficiency.
The eight tower cranes have been working efficiently and steadily on the site since 2018, ensuring the success of the construction and also laying the foundations for deeper cooperation between Zoomlion and Borey Peng Huoth, that now have become close partners.
Indeed, after the construction plan was made, Zoomlion completed the delivery of the eight tower cranes on time and they were soon put into use. The low failure rate, energy conservation and high efficiency have guarateed the customer's favor.
In the same year, Borey Peng Huoth went on to purchase another three T6013-8As tower cranes and six other construction lifting products for new projects.
Source:Zoomlion