Tata Hitachi has launched a number of new models
Tata Hitachi launched the EX215LC -a machine engineered to perform in tough quarry applications. It has a reinforced heavy-duty boom, heavy duty arm, strengthened main frame and track frame, heavy duty track link and chain with 20% thicker shoes, heavy duty upper and lower rollers, and an improved idler and sprocket.
The company's second launch was the EX215LC-SLR, which has been built keeping in mind the demand for customized and special machines. The super long reach machines are very popular in the industry. To address this trend, Tata Hitachi has designed and developed its very own SUPER LONG REACH front-attachment for its most popular 20-ton excavator to create the new Super+ Series model EX215LC-SLR. 
On display was the compact and power packed duo – ZAXIS20U and ZAXIS33U – mini excavators used for most jobsite requirements. The Alicon B30 Rock breaker coupled with ZAXIS 20U is designed for building demolition and for use in concrete breaking sites where accessibility is constrained. The Auger 3500 Max fitted with ZAXIS 33U is best suited for applications like boring, pole erection, landscaping etc. providing higher productivity and reduced lead time.
Tata Hitachi's ZAXIS140H (GI series) hydraulic excavator, promises unbeatable performance; it is mounted with a hydraulic quick coupler. Its EX 130 Super + hydraulic excavator is powered with superior hydraulics, promising unparalleled versatility and best in class return on investment. The indigenous TL340H with a highly reliable engine at its heart, is a fuel efficient wheel loader that promises 15% better fuel efficiency vis a vis similar jobs done by other loaders in its class.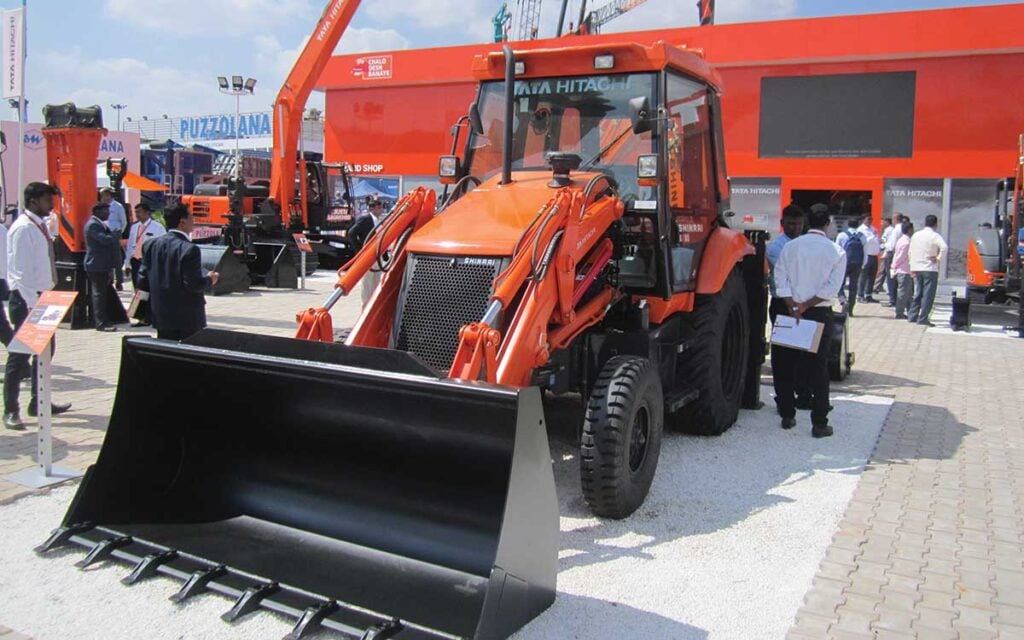 With industry leading hydraulic technology and performance, the ZAXIS220LC GI series of excavators provides reliable solutions. It is fitted with a GH-9 rock breaker. On display was a 1.22cubic meter bucket. The ZAXIS370 LCH, with a unique enhanced power boost, offers class leading digging forces, 6 working modes to adapt to the job on hand, durable structures for long life, and comes equipped with Consite (Hitachi's Telematics suite) to not only inform but also advise on machine performance. The machine is fitted with a 2.1 cubic meter general purpose bucket. Also, on display was the specially designed block handing bucket for handling of large size granite and marble blocks.
The centerpiece of the stall was the all-new backhoe loader – Shinrai – built on the Japanese tenets of trust, reliability and confidence. This revolutionary machine promises powerful performance, high productivity and best in class fuel efficiency. Shinrai is fitted with the Alicon B60 super rock breaker which promises higher durability and performance, and a Mechanical Quick coupler which offers fast changeover of multiple attachments, saving cost and time during operation. On display, long with the machine were two trenching buckets.
Keeping pace with technology, Tata Hitachi showcased Consite for its Zaxis GI series of hydraulic excavators and Insite for its EX Super + series of hydraulic excavators and wheeled products. The telematics suites, armed with GPRS-based remote machine monitoring application, help customers view their machine locations and enable them to monitor the machine health and operations through alerts.
The Tata Hitachi stall showcased two Experience Zones – one for the Zaxis series of hydraulic excavators and the second for Shinrai. There was also a display of a wide range of customized attachments and an array of genuine Tata Hitachi spare parts. The Tata Hitachi brand shop displayed an array of branded merchandise.