Forestry Equipment Manufacturer Valentini at EIMA Digital Preview showcases the main innovations on the V850/M/3/2012 mobile tower yarder.
Wheel reducers instead of square reducers are used: this means that there are less gearwheels working, therefore more rotations can be achieved as output, which means a longer life span for the reducer. The reducers are fixed directly to the drums.
The negative brake does not need dedicated hydraulic oil: it is lubricated by the reducer oil.
Mainline, Haul-back line and Setup drums have a very big core diameter: in this way there are no big pulling power differences between empty and full drum.
The pulling speed is up to 9,5 m/sec.
The Setup winch (strawline) has closed circuit pump and engine. The speed control is proportional and radio-operated.
The machine is built with a robust shielding with side doors. The inner parts are both protected and particularly accessible for inspection and service when needed.
The machine has become even more compact and extremely robust.

V850/M/3/2012. Source: Valentini.
From 2020 this tower yarder model and her "little sister" V600/M/3/2012 can be equipped with more optional devices, pushing forward the machine customization:
5th Guyline winch (safety anchorage onwards, for providing additional balance to the machine even when the Skyline is not tensioned) with deviation pulley, rope capacity 60 m Ø 14 mm, operated by its own hydraulic engine.
Carriage support, for transporting the carriage on the tower yarder.
Vise with support installed on the machine frame.
Hydraulic winch for winding up the ropes (e.g. the guylines for the intermediate supports), with quick coupling (can be attached and detached from the machine).
Compressed air system integrated into the machine, made up of compressor installed on the diesel engine, air tank with support installed on the tower yarder frame under the diesel engine, compressed air hoses, and joints, hose-roller with 10 m hose and air gun coupling installed on the machine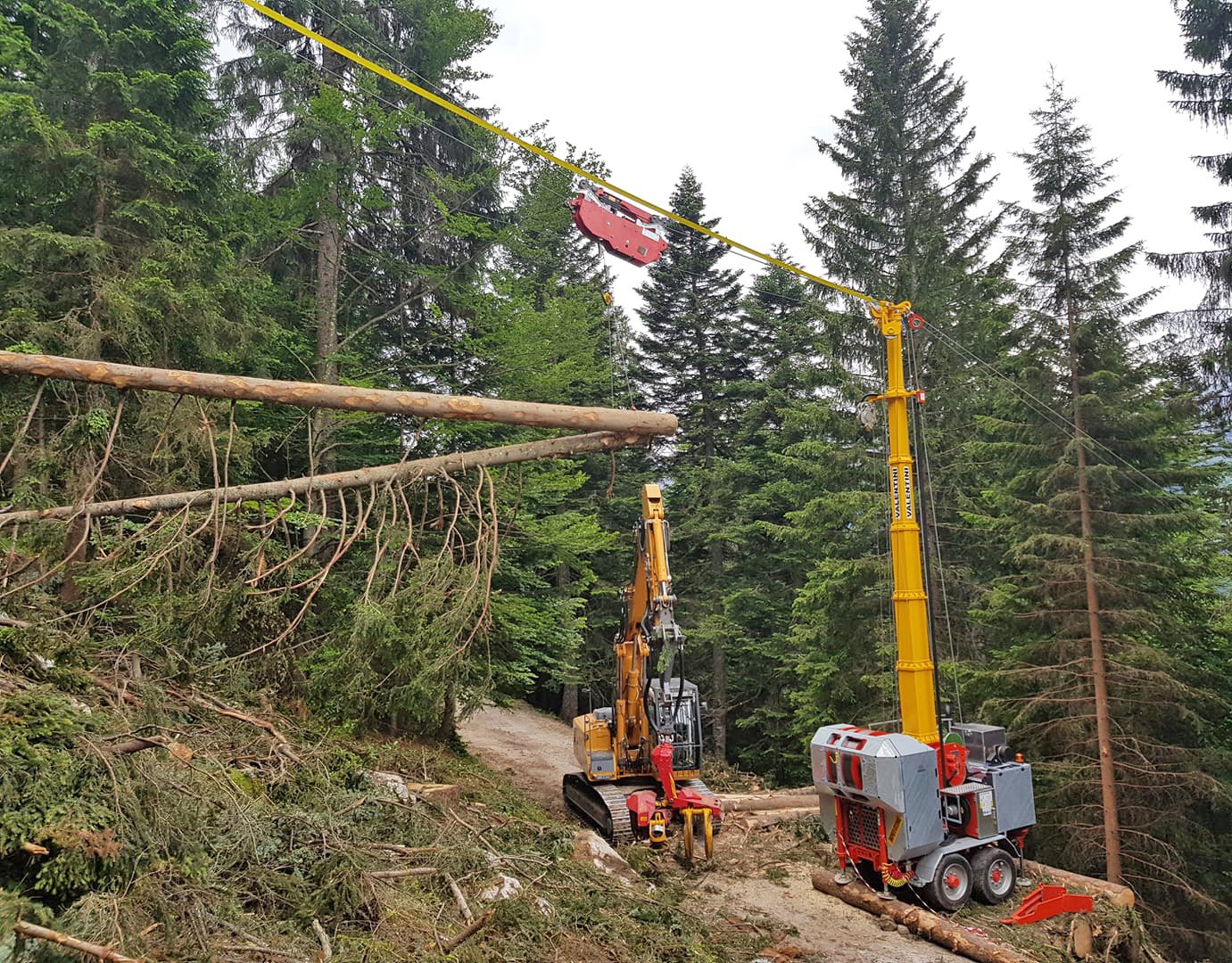 "VALENTINI INDUSTRY 4.0": a control unit for data processing and communication. The system includes:
– Control unit for the remote connection, with GPS and SIM card for data transfer.
– Access to the Proemion portal, where the extracted data and the machine position can be seen, as well as access to the "RM Tools Dashboard" application for PC or smartphone, for the real-time visualization of the machine collected data.
The tower yarder VALENTINI V850/M/3/2012 can be installed on trailer, tracked undercarriage or truck, according to the customer's needs.