On November 24, 2020, bauma CHINA 2020, the largest construction machinery exhibition in China, was held as scheduled. More than 3,000 exhibitors from all over the world gathered in Shanghai to display their best products in the grand event.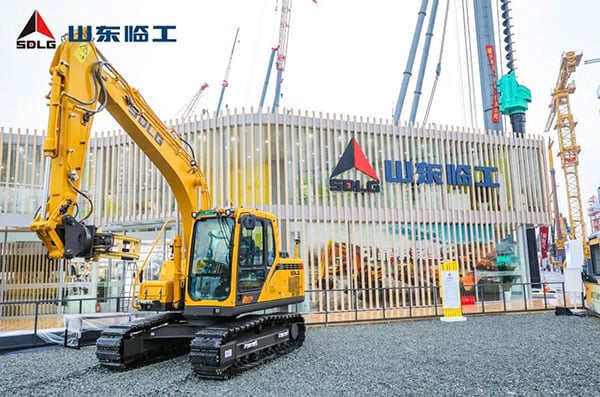 As a pioneer in China's mechanical engineering industry, SDLG, upholding the philosophy "All Conditions, Complete Solutions, Wholehearted Services", shows up with their all-star products. And among them, two featured products will make their debut in the world, fully demonstrating the latest R&D achievements in state-of-the-art digitalization, automation and intelligence as well as its edges in product cluster under multiple working conditions.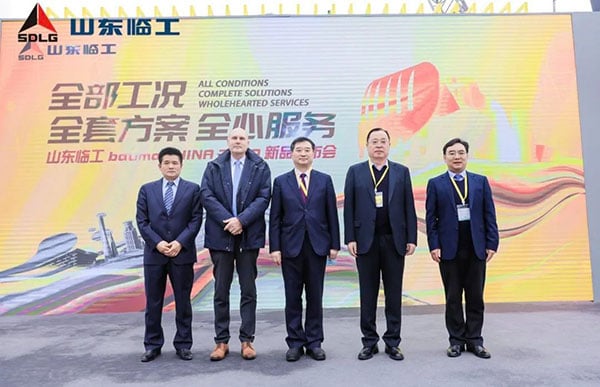 Present in the launch ceremony of SDLG's new products are Su Zimeng, President of China Construction Machinery Association, Thomas Kuta, CEO of Volvo Construction Equipment Asia, SDLG Chairman Wang Zhizhong, CEO Yu Mengsheng and General Manager Wen Degang and other leaders, as well as dealers and media personages from all over the country.
Innovation Drives Change, Technology Leads the Tide
Adhering to the development concept of "efficiency first, science and technology foremost", SDLG has created a complete set of construction machinery and services from loading, digging, rolling, leveling and transporting, and made quite a few remarkable breakthroughs in core technology. As SDLG CEO Yu Mengsheng said, SDLG, oriented to intelligent manufacturing and primarily powered by "innovation", has long strived to create products of best "SDLG quality" and forge top-notch "SDLG business mode" leading transformation and upgrading in the industry. SDLG stays committed to providing customers with the best products and services, and making great efforts to maximize the benefits for the customers.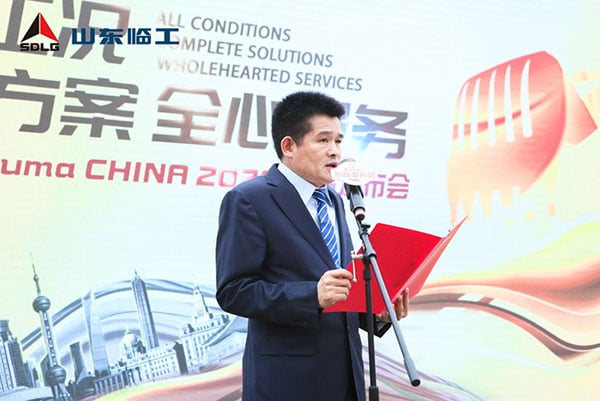 Thomas Kuta, President of Volvo Construction Equipment Asia, said in his speech that the Chinese market has always been an integral component of Volvo Group's global development strategy. And as a significant part of Volvo Group, SDLG, with its widespread market layout in great complements with Volvo's global resources and cutting-edge technology innovations, will provide more than 80 different models of excellent products and a complete set of solutions tailored for end users with different needs, including articulated trucks, excavators, wheel loaders and graders.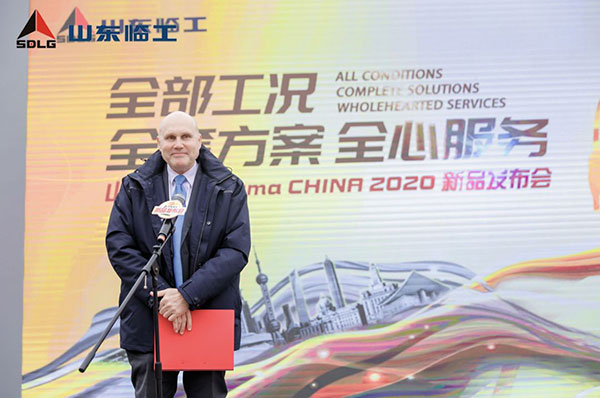 Su Zimeng, President of China Construction Machinery Association, said "in his speech that SDLG continues to sharpen its leading edges in the subdivisions. Now its sales growth has overtaken the industry average and its products been more competitive, with its core product – loaders being positioned as the top seller among the product category in the manufacturing industry for many years, and the market share of its excavators tops the industry. Especially in 2019, SDLG, as the first manufacturer ever to win the EFQM Award, brought honor to China's construction machinery, even to the whole manufacturing industry in China. "
At the press conference, Chi Feng, SDLG chief engineer, introduced the two brand new products. The 50t hybrid electric excavator E6500FHB adopts cutting-edge permanent magnet synchronous reluctance motor, super capacitor regulating power system, motor driven rotary energy regeneration and other control technologies, making possible the safety application of 1000V high-voltage electric system, and scoring 25% comprehensive energy saving under typical working conditions, a breakthrough for large tonnage products pioneering the whole industry. The second product is L968H, a 6t hydrostatic loader equipped with a 7T grade special gearbox. Utilizing single pump + dual motor drive, variable working hydraulic pressure, full hydraulic braking and other technologies, it can run with stepless speed change, high efficiency and energy saving of more than 15%.
Idea of 5G Technology Environment Protection, Diversity of Products Categories
On site of bauma CHINA 2020, through 5G technology, SDLG independently developed unmanned excavator called "little SDLG" E6135F, attracting a lot of visitors to watch the operation with remote control. It integrates intelligent speech recognition, image self learning recognition, 5G transmission, Beidou high precision positioning, automatic path planning and other advanced technologies to assist the automatic operation.
On top of that, the 20t H series excavator showed in the bauma CHINA 2020 has full electric control, with multiple models of operation, including highland, lower land and flat ground, optimizes operation coordination and priority, could change handle control model according to the operators, with optional driving assistance module and 3D navigation system to reduce driver's workload to greatly improve work efficiency as well as accuracy.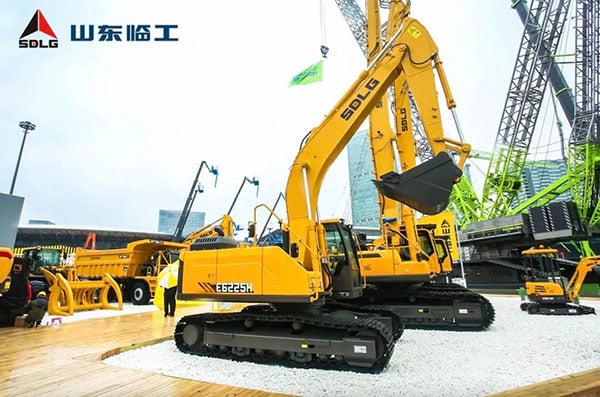 The high efficiency of the product could help customers, especially walking in mining industry to create more profit. SDLG E6600FB Hammer King showed on site is a typical case. Industry newly innovated front valve double pump confluence technology using crushing hammer intelligent flow regulation, intelligent compensation technology, active heat energy management system, crushing and digging double modules intelligent switching and other advanced technologies to guarantee 48-hour constant work without reducing strike power. It has many advantages, including high efficiency with low fuel consumption.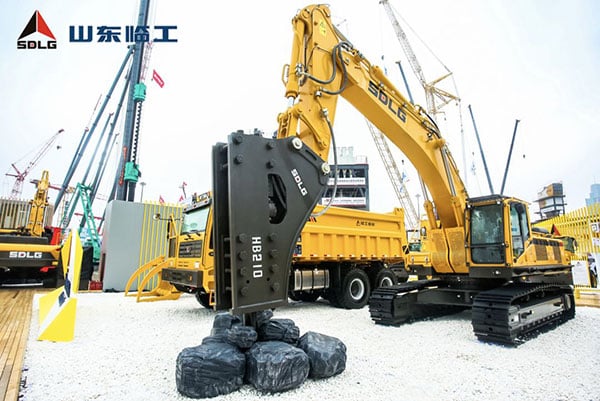 Meeting Customers' Demands in All Conditions
SDLG showed more than 20 products in this bauma CHINA 2020, including loader, excavator, road machinery as well as the complete solutions, such as 30-meter demolition machinery, 18-meter piling machine, 5T side unloading machine, 33t stone fork lift, large mechanic transmission grader, new road roller to meet the different demands of the customers.
In terms of differentiation, L918H, L936H, L956H, L968H-HST, L972H, LFT33H series loaders have further expanded the segmented product line and satisfied the emission regulations in different regions, with the brand new design and the upgraded performance to satisfy the different needs of the customers. ER616F, ER636F, E655F, E675F, E6225H, E6500FHB excavator series carry different types of chassis and control systems.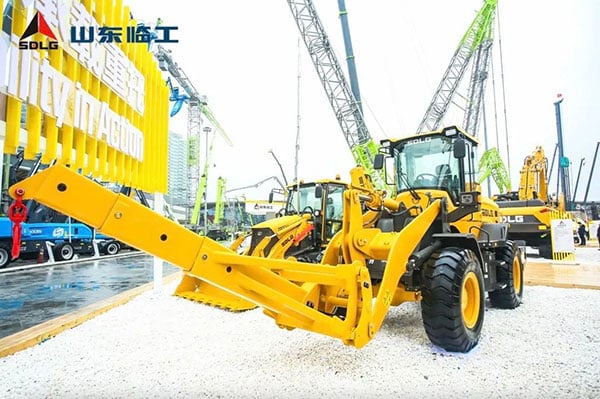 Customers could choose to use rubber belt as well as other accessories to make it applicable in multiple job sites. E6600FB crushing machine, E6650FP piling machine, E6500F demolition machine are manufactured for working conditions in mining, construction and real estate. The versatile B877F, backhoe loader, comes with engines with different emission standards. The road machinery of RC730 roller, RS6260H roller, RP6300 roller, plus the G9290 grader are applicable in all conditions to facilitate the construction of new infrastructure projects.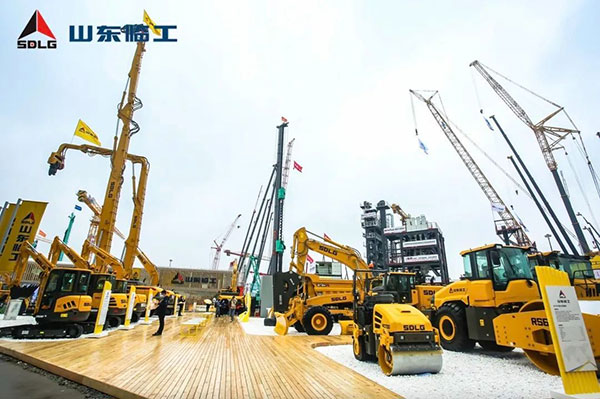 As an achievement of complete solutions, SDLG has formed an integrated construction equipment solution covering loading, digging, drilling, transporting equipment to provide different models of machinery, job sites matching, after-sales service, smart mining information system, from R&D to application. Most importantly, SDLG put together construction machinery with new generation informational technology, created "intelligent mine platform" to realize digital mining and management, by using 5G technology and remote control technology to realize unmanned driving, which has greatly improved the safety and efficiency at mining sites.
Source: SDLG