On November 24, the final check on the packages of a batch of Zoomlion aerial work platform products was performing in Yangshan Port of Shanghai. This batch of products will be cased and shipped to Europe in a while.
Zhang Guanyin, Manager of Zoomlion Aerial Work Machinery Company (Europe), said:
"These products of straight boom, articulating boom and scissor types are the aerial work platforms that our company will deliver to Europe, among which the electric drive scissor type of aerial work platforms is the most popular currently in the European market." 
According to the source, the year 2020 is the first year for Zoomlion Aerial Work Machinery Company to expand overseas in an all-round way. Under the impact of the global COVID-19 pandemic, Zoomlion Aerial Work Machinery Company has actively overcome adversity, deeply implemented the three major strategies of "channels, localization and intelligent service".
Liu Jiancun, who is responsible for the overseas market of Zoomlion Aerial Work Machinery Company, said:
"This year our European team has been sparing no effort to respond to the pandemic and shoulder important tasks. At present, our products, favored by top European companies leasing aerial work platforms, can be found in over 20 European countries. In addition, we have entered into agreements with a number of local agents, laying a good foundation for gaining more market share in the overseas market."
Europe is a mature high-end market where aerial work platform products were developed and used the earliest, and products and corresponding services acceptedby European marketare subject to rigorous requirements and standards. Low carbon, green and zero emission are becoming a prevailing trend in developed European countries and America, and electric-driven products,featuring high efficiency, low noise, strong endurance capacity, energy conservation, environmental friendliness, zero emission and other advantages, win the good graces of more and more leasing companies. Electric drive products, meeting the rigorous requirements of Europe, America and other developed countries and regions for environmental protection.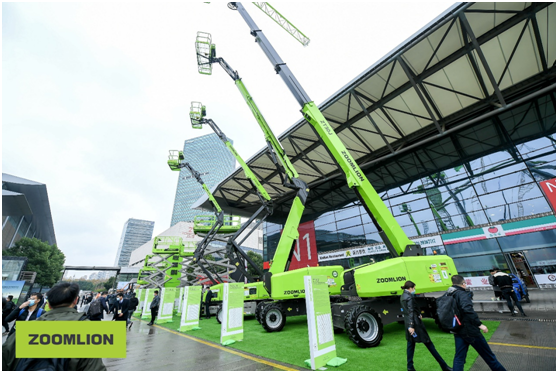 Liu Jiancun said,
"Europe is the important market and region benefiting Zoomlion's overseas development and our products successfullymeet the requirements of local markets, so we are dedicated to providing safer, greener, more reliable and environment-friendly products for European and even global customers. We strictly abide by international standards in every aspect from product design to assembly and production and to quality inspection, and commit ourselves to satisfying the requirements of markets and users from home and abroad."
According to the information provided by the source, Zoomlion aerial work platform products have received product safety certifications from CE of Europe, ANSI of the U.S., CSA of Canada, EAC of Russia, KC of South Korea, Australia and the like, with which, as the name cards of "safe, reliable, green and environment-friendly" products, Zoomlion's products have gained wide recognition from leasing companies and customers in this industry.
Relevant data shows that Zoomlion Aerial Work Machinery Company has quickly developed in terms of production, product R & D and marketing and made new achievements without cease since Zoomlion aerial work machinery entered the new blue ocean.
Aerial work machinery is one of Zoomlion's important categories for its strategic arrangement:
"Thanks to the innovative growth over the past few years, Zoomlion has been listed among top ones in the domestic market. We will continuously blaze new trails, push ourselves to be better, earnestly put the company's overseas development strategy of localization into practice, speed up the extending of its overseas market with incomparable products and services, and strive for the goal of being placed among the world's top three," said the person responsible for the relevant business of Zoomlion Aerial Work Machinery Company.
Source: Zoomlion