Leica Geosystems, part of Hexagon, extends the Leica Cyclone FIELD 360 mobile-device app to all Leica Geosystems 3D terrestrial laser scanners for in-field data acquisition and visualization, enhancing the existing and well-established 3D reality capture workflow.
With the simple push of a button from the mobile-device app, all Leica Geosystems' laser scanner users can capture high-quality data and verify registration directly in the field with a few simple clicks, saving valuable time in the office. The Leica ScanStation P-Series, the versatile, high-speed, and survey-grade 3D laser scanners, now benefit from the existing workflow and proven productivity gains of the Cyclone FIELD 360 mobile-device app.
"With the integration of the ScanStation P-Series and Cyclone FIELD 360, Leica Geosystems continues to innovate and introduce seamlessly integrated workflows to provide increased offerings to their 3D Reality Capture workflow,"
said Joost Assendelft, team leader at Geodata IV-Infra, an already-existing ScanStation user. "We're confident that this workflow enhancement will be recognized across a wide variety of our future laser scanning projects."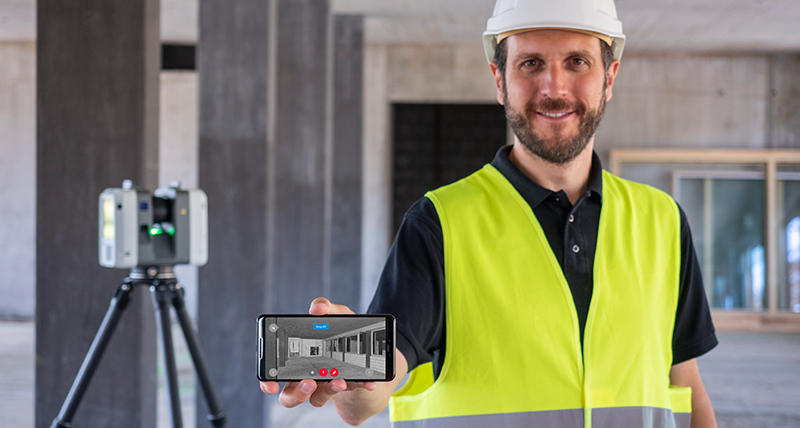 A complete Reality Capture registration workflow
With the integrated Cyclone FIELD 360 mobile-device app, users can capture and document projects quickly and accurately, view all field workflows, quality control, and prepare scan data for downstream use. The workflow in the field seamlessly brings the captured scan data into the Leica Cyclone ecosystem in the office, providing the most streamlined service for registering and publishing data.
"Integrating the ScanStation P-Series laser scanners into the Cyclone FIELD 360 mobile-device app workflow adds in-field visualization and dataflow benefits, directly linking in-field projects to the Cyclone ecosystem,"
said Gerhard Walter, senior product manager at Leica Geosystems. "Customers who own our entire laser scanning portfolio will find it much easier to combine their scan data and not have to buy more equipment as the app can be used on their chosen mobile device to operate the scanners."
More about Leica Geosystems
With more than 200 years of history, Leica Geosystems, part of Hexagon, is the trusted supplier of premium sensors, software, and services. Delivering value every day to professionals in surveying, construction, infrastructure, mining, mapping, and other geospatial content-dependent industries, Leica Geosystems leads the industry with innovative solutions to empower our autonomous future.
Hexagon is a global leader in sensor, software, and autonomous solutions. We are putting data to work to boost efficiency, productivity, and quality across industrial, manufacturing, infrastructure, safety, and mobility applications.
Our technologies are shaping urban and production ecosystems to become increasingly connected and autonomous — ensuring a scalable, sustainable future.
Source: Leica