Massey Ferguson announces the introduction of five new models from 105hp to 145hp in the MF 5S Series, which continues its striking new era design and enhanced operator experience introduced on the advanced, new MF 8S Series.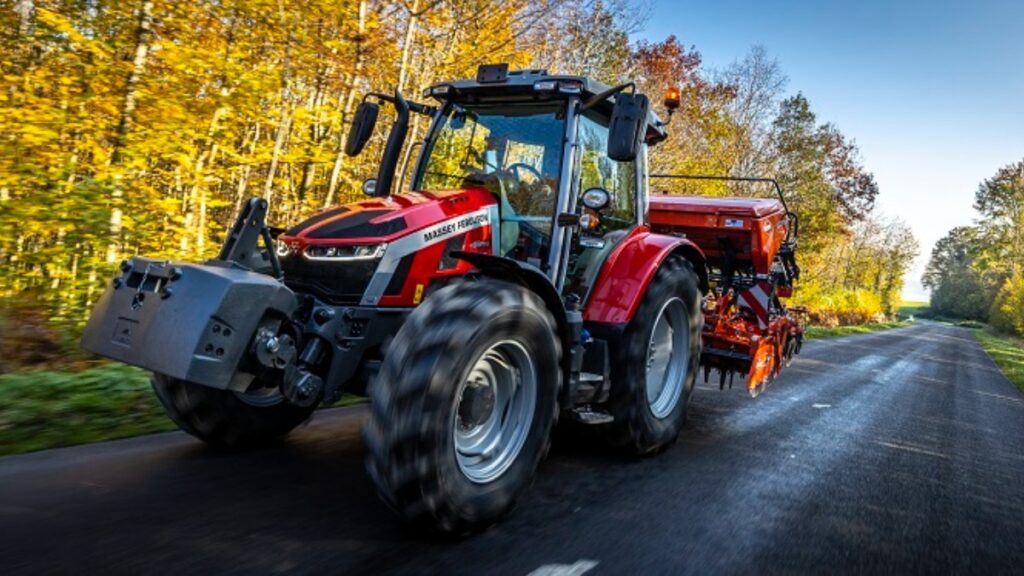 All models are equipped with four-cylinder engines, offering maximum powers from 105hp up to a new range-topping 145hp model. There is a choice of three levels of specification – Essential, Efficient, and Exclusive, plus a range of options including outstanding control from the latest state-of-the-art, easy to use Smart Farming technology.
"The versatile MF 5S Series combine high performance, comfort and agility with best in class visibility and special features that make them the ultimate loader tractors," says Francesco Murro, Director Marketing Massey Ferguson Europe & Middle East.
"True multi-purpose tractors, the MF 5S Series offers the right choice of power and specifications to suit all applications. Building on the success of the MF 5700 S Series, these modern tractors deliver straightforward operation and enhanced features with low ownership costs. The MF 5S blends together the compact dimensions required by livestock and mixed farmers with the performance and power needed for arable work," he adds.
With its compact dimensions, 2.55m wheelbase, superb visibility, high hydraulic flow and control, the MF 5S further builds on Massey Ferguson's renowned reputation as the leading loader specialist. All models can be supplied loader ready, or now come equipped with a factory-fitted loader from the Massey Ferguson MF FL Series.
For arable and mixed farming operations MF 5S tractors offer a host of output enhancing features. Rear linkage lift capacity is increased to 5,700kg across the range, and up to 6,000kg in some specific circumstances, while the new, stronger front linkage capacity is increased from 2,500kg to an impressive 3,000kg. Coupled with a higher, 9,500kg Gross Vehicle Weight (GVW), this allows the tractors to safely handle wider implements to improve workrates.
Latest Smart Farming technology further improves output and efficiency with easy to use precision farming features, including MF Connect telemetry, MF Guide auto-steering, MF Section Control and MF Rate Control.
"Whether it's working on an arable farm or with a contractor, on a livestock or dairy farm these straightforward, dependable, comfortable, versatile and well-equipped tractors deliver the performance modern farmers need with low operating costs," adds Mr Murro.
Massey Ferguson MF 5S Series specifications
MF 5S.105
MF 5S.115
MF 5S.125
MF 5S.135
MF 5S.145
Engine
AGCO Power 4 cylinder / 4.4 litre Stage V
Transmission
Dyna-4 with Speedmatching or Dyna-6 semi powershift with AutoDrive
Max. power
105hp
115hp
125hp
135hp
145hp
Max. torque*
440Nm
460Nm
520Nm
540Nm
550Nm
Rear lift capacity
 5,700kg
Front lift capacity**
 3,000kg
Wheelbase
 2,550mm
*Max torque at 1,500rpm; **Front linkage option
MF 5S series features
• Straightforward choice of three specifications – Essential, Efficient and Exclusive to meet all requirements and different applications. Further options tailor tractors to specific needs
• A new factory-fitted loader specification includes a wide range of features to enhance ease of fitting, operation and control
• Industry-leading visibility and manoeuvrability
• Quiet, cooler cab improves operator comfort, with new ergonomic armrest and controls and suspension options
• Latest AGCO Power 4.4 litre, four cylinder engine meets Stage V emissions regulations with straightforward 'All-In-One' technology designed for the life of the tractor. Optimised airflow improves cooling
• Choice of renowned Dyna-4 or Dyna-6 transmissions with standard Brake-to-Neutral functions and Speedmatching or AutoDrive automatic changing options
• New, higher capacity suspended front axle design
• Stronger three-point linkage provides 5,700kg lift capacity across the range, while the optional front linkage handles up to 3,000kg. Gross Vehicle Weight (GVW) increased to 9,500kg
• New intuitive Datatronic 5 and Fieldstar 5 touch-screen terminals with Smart Farming technology helps optimise operations and improve accuracy and profit
Choose the specifications to suit all tasks
All five MF 5S Series tractors are available with the choice of Essential, Efficient or Exclusive specifications. These packages include a range of performance and comfort enhancing features to suit a range of applications. Typical equipment variations include hydraulic pump output, spool valve control, AutoDrive, joystick controls and cab suspension.
Exclusive models are 'fully loaded' including, among other options, 110 litre/min hydraulics with up to eight electric spool valves, hydraulic joystick, Multipad control, AutoDrive transmission, auto air-con, cab suspension, Superluxe air-suspended seat, and Datatronic 5 touch-screen terminal.
The efficient specification is similar, but has two electric and two mechanical spools at the rear, standard air-con, and an air-suspended seat, while the Datatronic 5 terminal becomes an option.
Essential models switch to using a T-lever gear control in place of the Multipad, with the hydraulic joystick an option and AutoDrive replaced by Speedmatching on the Dyna-4 transmission. It has a 58 litre/min hydraulic pump and two rear mechanical spool valves – up to four as an option.
Renowned loader specialist
The new MF 5S Series tractors are supreme loader tractors – offering industry-leading manoeuvrability, excellent visibility over the slim, steep nosed bonnet and efficient high-flow hydraulics. Loading operations are made much easier using the excellent transmission controls as well as Brake-to-Neutral and joystick. Visio roof options also provide a clear view of the attachment through the whole lifting range.
As well as being supplied 'loader ready', the MF 5S is available complete with a factory-fitted loader. A new quick coupler now connects both the hydraulics and electrics together, which eases attaching and removing the loader in the farmyard or field.
Massey Ferguson not only supplies a wide range of parallel and non-parallel lifting loaders in its MF FL range, but these can also be supplied factory fitted to the MF 5S. This useful option includes a sub-frame, dedicated pipework, and mechanical or electronic joysticks to fully integrate the loader into the tractor. This helps maintain the outstanding manoeuvrability even when fitted with the optional front linkage.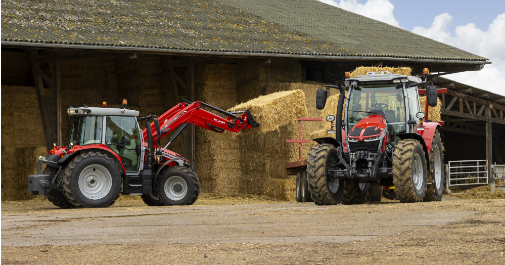 Cooler more comfortable cab with refined and easy to use controls
All MF 5S Series models are equipped with a high specification cab, which keeps operators in optimum comfort. A new HVAC air system enhances air distribution, enabling operators to not only set and maintain the most comfortable temperature, but it also reduces demisting and defrosting times.
On Exclusive and Efficient tractors a new armrest, as used in the recently launched flagship MF 8S range, houses the Multipad joystick. This provides control of a number of functions including forward/reverse shuttle, linkage, and spool valves.
The Multipad can also be equipped with a micro joystick to operate two rear spool valves (or any other spool valve when Datatronic 5 is fitted). Loaders are operated by a separate joystick that sits alongside the Multipad. While on tractors with Datatronic 5, the screen is placed conveniently to the right of the console.
Essential tractors come with a shorter armrest, with the transmission operated by a small T-lever to the side and separate levers for the spool valves. On loader tractors, the joystick is mounted at the front of the armrest.
Power with the economy
Latest AGCO Power 4.4 litre, four cylinder engines meet Stage V emissions regulations with straightforward MF All-in-One technology. This elegant answer is designed for the tractor's lifetime, helping to cut maintenance costs.
Developed by AGCO Power, it contains the SCR system, DOC, and soot catalyst in one compact unit, all neatly housed under the cab, maintaining the industry-leading forward visibility over the low, slim bonnet.
Longer service intervals now extend oil and fuel filter changes to 600hr, which further helps reduce running costs.
A new, optimised airflow system improves engine cooling, which increases performance and efficiency.
Renowed, reliable transmission
All MF 5S Series tractors are available with a choice of Massey Ferguson's highly regarded 16×16 speed, Dyna-4 or 24×24 Dyna-6, semi-powershift transmissions. Highly efficient and easy to use, both come with the useful Brake-to-Neutral function.
On Exclusive and Efficient models the transmissions come with AutoDrive as standard and are controlled via the Multipad joystick. AutoDrive provides automatic changing of the four or six steps in fieldwork, as well as the ranges when in transport Essential versions with Dyna-4 have T-Lever transmission control with Speedmatching, which automatically selects the most appropriate powershift ratio for the speed when gears are changed. Dyna-6 models come with AutoDrive.
Creeper gears are an option on all models, offering speeds down to 70m/hr with 34" tyres or 80m/hr on 38" tyres.
Strong suspended front axle
A new, stronger suspended front axle offers an industry-leading 4m turning radius. Working with the new 3t capacity front linkage, which can now lift an extra 500kg, it helps improve efficiency, enabling the tractors to use larger front-mounted equipment.
Extra comfort is offered by the electronically-controlled hydraulic suspension, which uses two longer stroke cylinders and three accumulators to absorb shocks.
Strong linkage lifts heavier loads
Redesigned to handle heavier loads, three-point linkage lift capacity is increased to 5,700kg – 7% more than its predecessor. In certain circumstances, it can lift up to 6,000kg. The linkage is constructed from new components to provide more strength and mounting flexibility. A hydraulic hook top link is now an option.
Developed for mounting with the new suspended axle, the latest front linkage is an integrated design that helps maintain the industry-leading 4m turning radius. With capacity increased from 2,500kg up to 3,000kg, this enables operators to improve efficiency by carrying out two operations at the same time with larger, wider implements.
The linkage comes with an updated Front Pack installation, which includes two spool valves as standard, with the option of up to four. In response to customer demand, the linkage is now also available without front couplers or with two, electrically operated front couplers. All versions are controlled with the same joystick lever in the cab.
Touch- screen control and smart farming available from 105HP
MF Connect telemetry is an option on all MF 5S Series, allowing users to monitor their entire machinery fleet, showing the machines' current positions, routes traveled as well as a range of operating information.
Datatronic 5 offers intuitive operation and is standard on Exclusive models and an option on others. This ISOBUS compatible touch-screen operator information station monitors all the tractor functions and controls any ISOBUS compliant implement.
All the elements in the MF Technologies/Smart Farming Suite run through Datatronic 5. These include MF Guide automatic steering, as well as MF Section Control and MF Rate Control, which can now handle up to 36 sections and five products.
Datatronic 5 is pre-installed with MF TaskDoc software to create field records, as-applied maps, log fuel use, make job reports as well as keep an accurate account of all inputs to every hectare.
Further easing operations is MF TaskDoc Pro that enables this data to be transferred, via Agrirouter, to the user's farm management software or Next Machinery Management. Alternatively, these functions can also be controlled on an optional Fieldstar 5 touch-screen terminal.
Better by design
With the introduction of the MF 5S, Massey Ferguson continues its striking new era design first seen on the advanced, new MF 8S Series, following the same 'neo-retro' livery with modern headlights and LED signature. This design pays tribute to the brand's heritage, incorporating an interpretation of the iconic MF grey sabre stripe on the side and horse headcollar motif on the bonnet, which dates back to the MF 100 series.
Source: Massey Ferguson