The first electric compact wheel loader from Volvo CE – the Volvo L25 Electric – has been proving it can weather any storm by helping to keep the icy streets of Cologne, Germany, clean and clear during the long cold winter.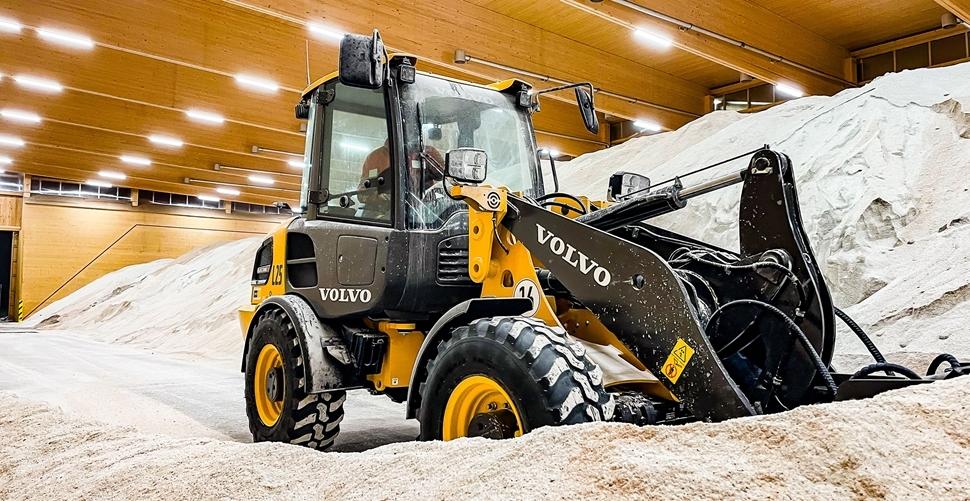 The responsibility for keeping Cologne, Germany's fourth largest city, looking its best falls to AWB Abfallwirtschaftsbetriebe Cologne. Its vital work in street cleaning and waste disposal ensure that not only is this cathedral city kept clean and safe, but that the surrounding Rhine area and its network of highways are kept open and safe for travellers all over the region. Around 700 employees are on hand to keep some 2,000 km of main road, 600 km of access road and 500 km of residential street free from snow and ice.
Zero degrees, zero emissions
For such a substantial task during the most challenging months of the year, AWB needed a partner that could play a vital role in its operations – one that could not only work with power and performance no matter the conditions, but also one that would limit its environmental impact with zero emissions. Which is why AWB chose the L25 Electric, through Volvo partner and dealership Swecon Baumaschinenen, to help in keeping its winter service provision moving from its new depot in the heart of the city. As well as being reliable, efficient and good value for money, the electric wheel loader was picked for the task because it produces zero exhaust fumes, low noise and low vibrations, making it an ideal solution for work inside a depot, without the need for a ventilation system.
Sustainability has been a core objective at AWB for some time and the company is recognized as a pioneer of environmentally responsible initiatives within its industry. In addition, the company regards itself as a partner to the City of Cologne and is committed to continuously improving the quality of life for its citzens. As such, care is always taken to only employ vehicles and machines that are low emission.
"The wheel loader is an important milestone in our journey to introduce more electric mobility at AWB Cologne and is certainly fulfilling our expectations," says Dr. Bert Schröer, Head of Mobility and Sustainability at AWB Cologne. "We are managing well with the electric power – even in the cold. Capacity, handling and shovel size – everything fits. So far, there have been no aspects that would make us question our decision. It was definitely the right choice."
A machine with the grit to succeed
As the first Volvo L25 Electric to be delivered to a job site in Germany, it has aleady proved a success since it started work back in December. And this new addition to the fleet has an important role to play. Its main task within the 1,700 sq m depot is to feed the screw conveyor which transports the material to the silos, which in turn fills AWB's grit spreaders. "If the wheel loader doesn't transport the grit to the silos, then there would be no grit on the streets of Cologne," comments Schröer. "Maximum reliability and availability are therefore an absolute must."
As the wheel loader is in continuous operation over three shifts throughout the winter service period, a four-year service agreement was signed. This includes the maintenance of the machine and its components. Fast charging infrastructure was developed at AWB's depot to enable the L25 Electric to work independently. Swecon places great importance on training its employees, especially to aid in the transition towards electric construction machines, so that they can provide the best possible service to its customers.
During the summer months, the L25 Electric will still be in demand when it is deployed as an 'allround loader', providing support for AWB's transport works across its 36,000 sq m territory, such as transporting arboreal waste to loading a variety of bulky goods.