Despite all the recent advances made in vehicle technology and safety, the issue of wheel detachments is still contemporary. With the wide range of products available on the market, this issue can be tackled, ensuring they are used effectively to minimise risks. Checkpoint is experts in this field and has been working to educate fleet operators and drivers alike on the best practice to wheel safety.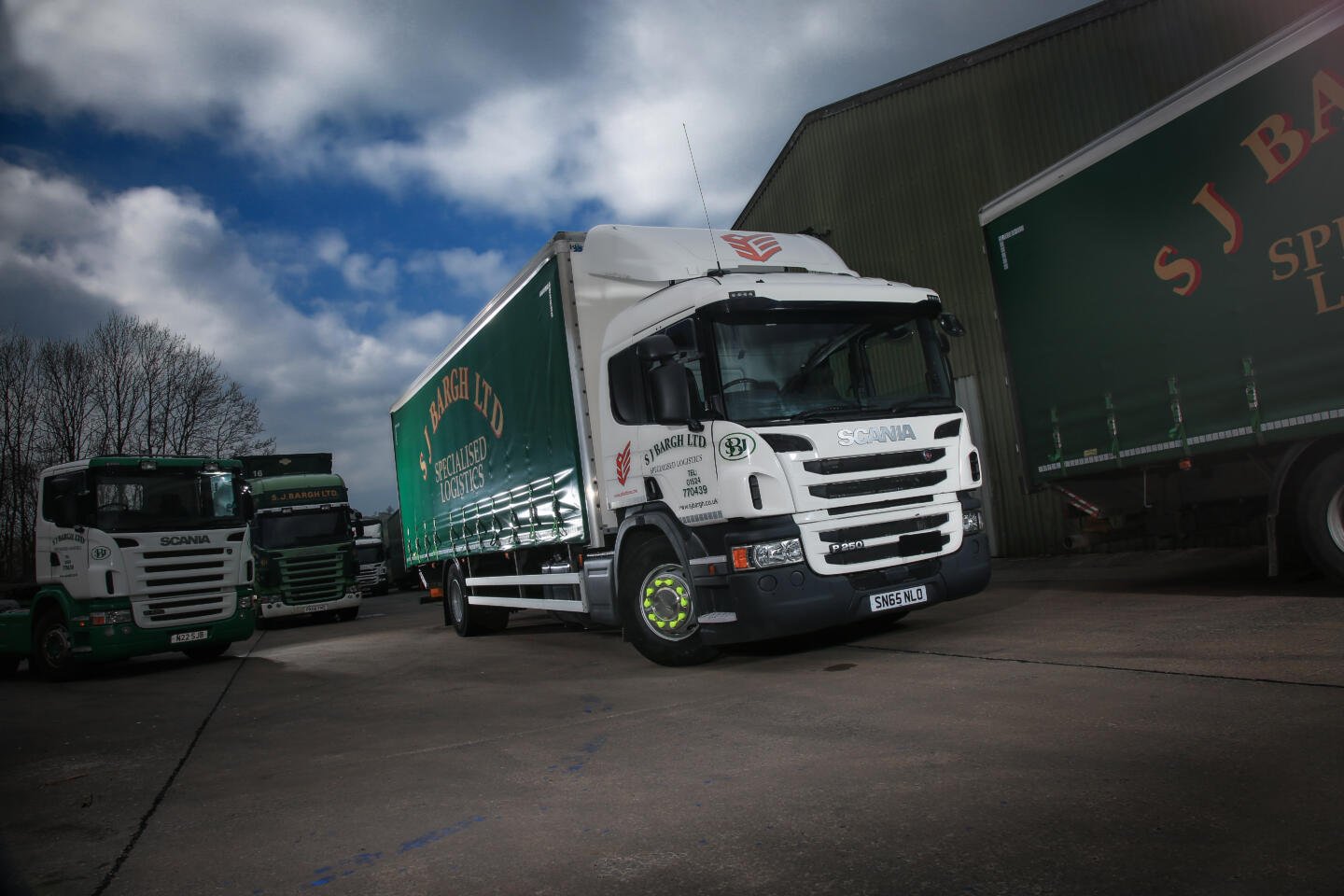 Checkpoint was founded over 30 years ago by the inventor and CEO Mike Marczynski. Mike, who at the time led a fleet of commercial vehicles, had an issue concerning loose wheel nuts on one of his vehicles. After doing his research and finding no suitable solution to help prevent the wheel nuts from loosening, he started work on the design for what would be the Checkpoint Original, and the world's first loose nut indicator.
Checkpoint was founded on a vision to provide a product that was simple to implement, whilst providing considerable safety benefits to all road users. This would eventually lead to the launch of Checkpoint across various fleets around the world.
Over the years a whole range of innovative products followed, all with the common theme of visual safety and preventative maintenance, for a wide range of safety-critical nuts and bolts, not just on vehicles, but for machinery across many industry sectors.
Today Checkpoint is an international success with production sites on 4 continents and distribution in over 70 countries. Thanks to a dedicated multilingual workforce, Checkpoint provides not only the highest quality products, but sales and marketing support along with highest quality customer service.
Global Leaders in Wheel Safety
With a team of in-house experts, Checkpoint's intelligent range of safety solutions continues to expand and evolve, meeting the requirements and constraints of each industry. Additionally, an ever-growing catalogue of supporting materials is readily available for drivers and fleet operators alike providing a fount of knowledge on wheel safety.
Alongside a range of world class safety solutions, Checkpoint provides an excellent level of service. Giving great care to listen to the market and ensure their needs and wants are met, Checkpoint's exhibition-favourite 'Best Practice Guide to Wheel Safety' has been made available both online and in a range of languages. Designed to promote wheel safety, the Best Practice Guide helps readers identify the telltale signs of poor wheel safety, wheel loss and more. Encouraging roadworthiness, instructions are also given on how to apply products from the Checkpoint Safety range to maximise wheel safety.
What Causes Wheel Loss?
Did you know that each year, on average, there are 11,000 road incidents involving wheel defects? The results of which include 400 wheel detachments ( Source: Transport Research Laboratory). With only 68% of drivers operating daily safety checks and 5% never checking their wheels, the dangers surrounding wheel safety are very real. The common causes of wheel defects include:
Excess Vibrations: Poor road conditions or overloaded vehicles can lead to movement between the mating faces, this can gradually work a wheel nut loose.

Worn/damaged studs: Studs can be damaged over time and need to be inspected and replaced. Damage to studs can lead to stresses, resulting in the shearing of the stud.

Stud hole elongation: Stud hole elongation is caused by the poor fitment of the wheel. This can be enhanced by excessive acceleration, braking and cornering forces.

Incorrect†torqueing: Under or over torqueing and the incorrect torqueing sequence can result in a loss of clamping force. Over torqueing can result in stretched threads and potentially the shearing of studs.

Inaccurately calibrated torque wrench: Torque wrenches need regular calibration to avoid false values of torque being applied to a nut.

Incorrect use of air impact tools: Torque is not measurable using these tools and is often excessive, causing damage to the studs, nuts and washers.

Inconsistent safety inspections: A lack of regular visual checks for wheel damage or loose wheel nuts can lead to a vehicle being operated with unknown defects. This can present a serious safety risk and lead to further damage of the vehicle components.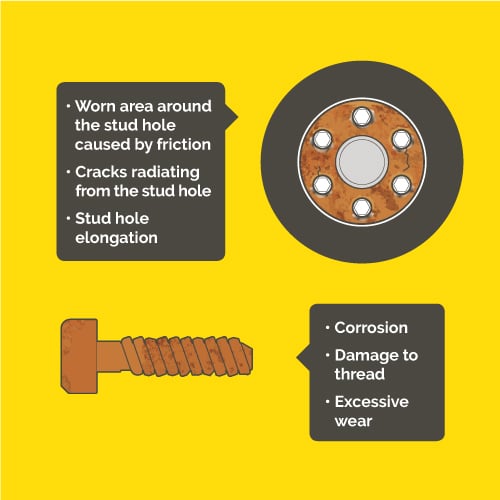 The Importance of Daily Checks
It is a legal requirement for drivers to ensure their vehicles are free from visible defects. For those that see frequent use, this often means performing daily checks to ensure the integrity of the vehicle. Despite all this, it was found that 32% of drivers admit to not checking the wheel nuts of their vehicle, risking the possibility of wheel loss and more (Source: Transport Research Laboratory).
Sharing this responsibility, it is also the duty of the fleet operator to guarantee the roadworthiness of every vehicle. This highlights the importance of having a robust procedure in place to prevent wheel loss. A very real financial risk for businesses exists too whilst Traffic Officers and the DVSA have the power to carry out roadside checks and issue fixed penalty notices.
The Checkpoint Safety range encompasses a range of solutions, all with the common theme of visual safety and preventative maintenance, providing businesses with:
● Increased safety awareness
● Reduced maintenance costs
● Decreased vehicle and equipment downtime
● Simple and efficient tools to install
● Highly visible heat detection and defects
Checkpoint Safety Best Practice Guide to Wheel Safety
1. Check
● Wire brush the base and threads of each stud to remove any rust or dirt that could compromise the wheel nuts
● Ensure the studs and nuts are free of dirt and grease
● Use a Checkthread kit to check for any damage to studs and threads
● Replace any parts that are worn or damaged
● Ensure correct replacement studs are used to prevent stud breakage
2. Fit
● Attach the wheel
● Torque the wheel nuts to the manufacturers' specification using a correctly calibrated torque wrench
● Ensure the nuts are torqued in the correct sequence as shown in the above image
3. Apply
● Fit a product of your choice from the Checkpoint range
● If you are using a Checkpoint Original, Dustite, Dustite LR or Checklink we recommend fitting one in red as a reminder to re-torque this wheel
● Fit the indicators in a recognisable pattern, we recommend point to point as in the image below
4. Re-torque
● It is recommended that the wheel is inspected and retorqued after either 30 minutes or 40-80 miles
● If movement has occurred, a second retorque is necessary. Continue using the red product until this process is complete
● If on the third inspection any further movement is visible the wheel should be removed and a full investigation carried out
● If there is no movement, replace red products with yellow
5. Inspect
● Carry out daily checks as part of your standard maintenance procedure
● Ensure periodic retorques are completed in line with maintenance procedures
● Report any movement of the indicators directly to the fleet manager and ensure retorque is completed
● Report any melting of the indicators directly to the fleet manager as this could be a sign of faulty brakes or bearings
The Road Ahead…
With a dedicated team of innovators and 30 years of industry excellence behind them, Checkpoint continue to develop new and inventive methods to promote wheel safety. Today, the Checkpoint Safety range encompasses solutions beyond that of indicating and retaining wheel nuts against unwanted movement, including options for maintenance and security too.
So far, 2019 has been an incredible year for Checkpoint and has shown great promise. January saw the introduction of the Stud and Hub Cleaning Kit, the latest addition to the maintenance range. And in February, the launch of Checkpoint's brand new website took place, providing a platform to help users put safety into motion.
Far from being out of ideas, Checkpoint have a collection of projects and ventures in progress, which will come to fruition throughout the year. Currently, their able team are focussing their efforts on a recycling campaign that will see Checkpoint reducing their impact on the environment.