The exclusive dealer for the Bobcat range in the Czech Republic, Bobcat CZ has announced it has won a new order comprising 71 mini-excavators and loaders from construction materials company, Stavebniny DEK, which currently has a fleet of over 200 Bobcat machines available for hire through its DEK Rental business. Taken together with other orders in this sector, Bobcat CZ has supplied more than half of all machines for rental in the Czech Republic and is a leader in this segment of the market.
In the latest purchase, Stavebniny DEK has ordered 56 Bobcat mini-excavators in the weight category from 1-5 tonne (including the E10z, E19, E35z and E55z models) and fifteen S530 skid-steer loaders.
"The rental segment is key for the entire construction machinery market in the Czech Republic. Thanks to its long-term co-operation with Stavebniny DEK, Bobcat CZ has confirmed its position as the market leader in compact machines. We greatly value the trust placed in us by this customer, who has returned to us repeatedly and reflects our commitment to providing a perfect service for our clients"
says Vladimír Hes, Sales Director of Bobcat CZ.
Stavebniny DEK has many years of experience with the Bobcat brand and the Bobcat CZ service – in 2017, their first purchase included 10 Bobcat mini-excavators, followed two years later by another 51 mini-excavators and thirty skid-steer loaders. Last year, the company bought a further 76 mini-excavators. Overall, a fleet of more than 230 Bobcat machines is now available in the colours of Stavebniny DEK.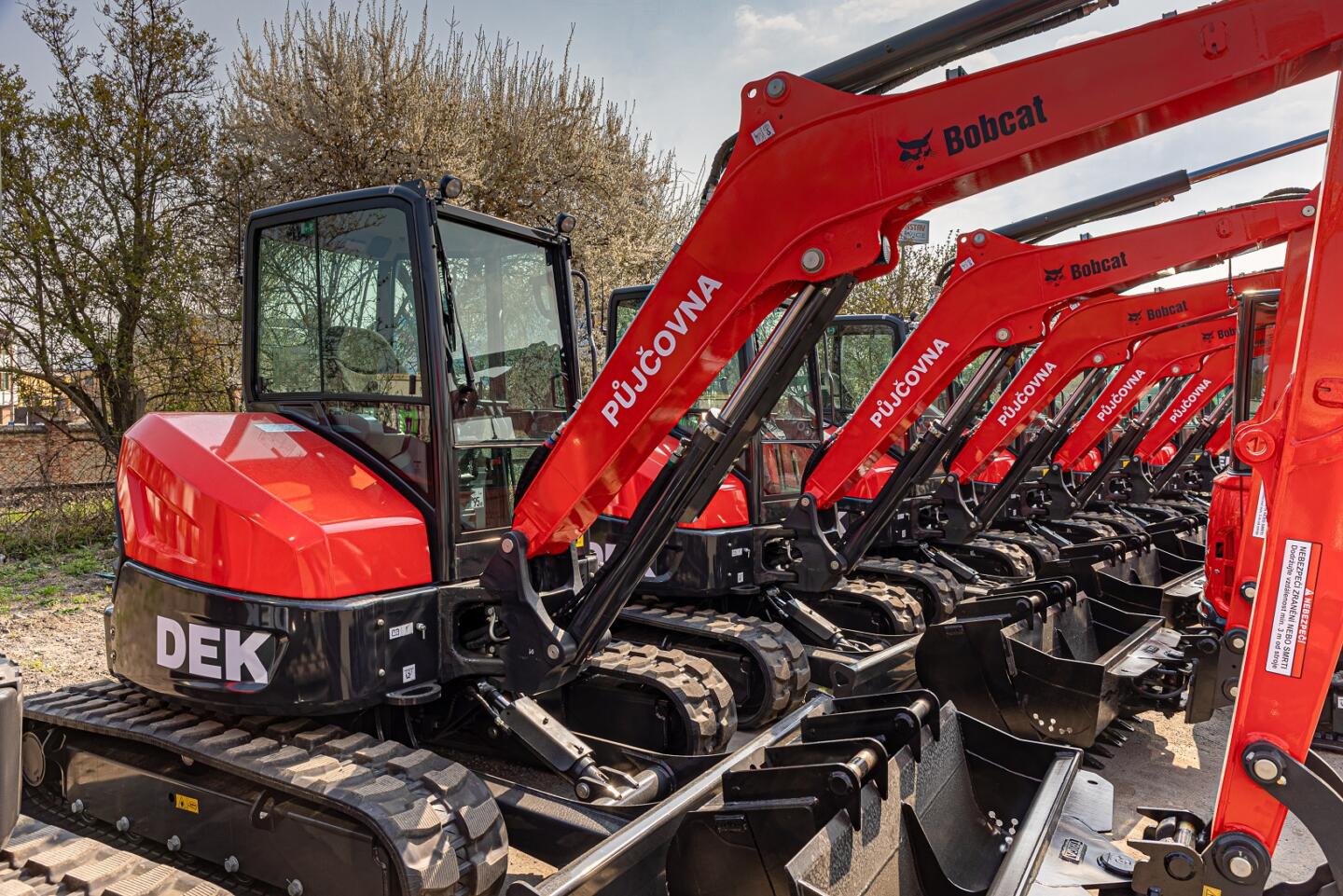 First Bobcat E55z Mini-Excavators in Czech Republic
In addition to bestsellers such as the E10z mini-excavator, Stavebniny DEK also took delivery of the first thirteen E55z 5-tonne mini-excavators in the Czech Republic. Part of the R2-Series from Bobcat, the Stage V-compliant E55z offers many new state-of-the-art features and options such as Bobcat's unique award-winning Advanced Selectable Auxiliary Control (A-SAC) system and the innovative Automatic Track Tensioning System (ATTS) technology.
In the E55z, Bobcat's unique Zero House Swing (ZHS) feature adds another level of protection to the standard zero tail swing design, providing full peace of mind when operating the machine near walls. The E55z is a premium performance model and it is the largest and most powerful Bobcat machine with the ZHS design.
A Successful Twenty-Year Span as a Bobcat Dealer
Bobcat CZ has been the exclusive and Authorized Dealer for Bobcat compact loaders, mini-excavators, telehandlers, attachments and spare parts since 2000. The company has a comprehensive rental fleet of machines and attachments, with a network of 10 sales and service centres spread throughout the Czech Republic.
Bobcat CZ provides sales, warranty and post-warranty service, rental, operator training and the supply of spare parts and attachments for more than 3500 customers.