The Wacker Neuson Group is building a new logistics center at its Reichertshofen site, home to its competence center for compaction. The move will enable the Group to significantly accelerate warehouse turnaround times by cutting down on former transport journeys and digitalizing processes. Construction work is scheduled to be completed and the logistics center up and running in the summer of 2022.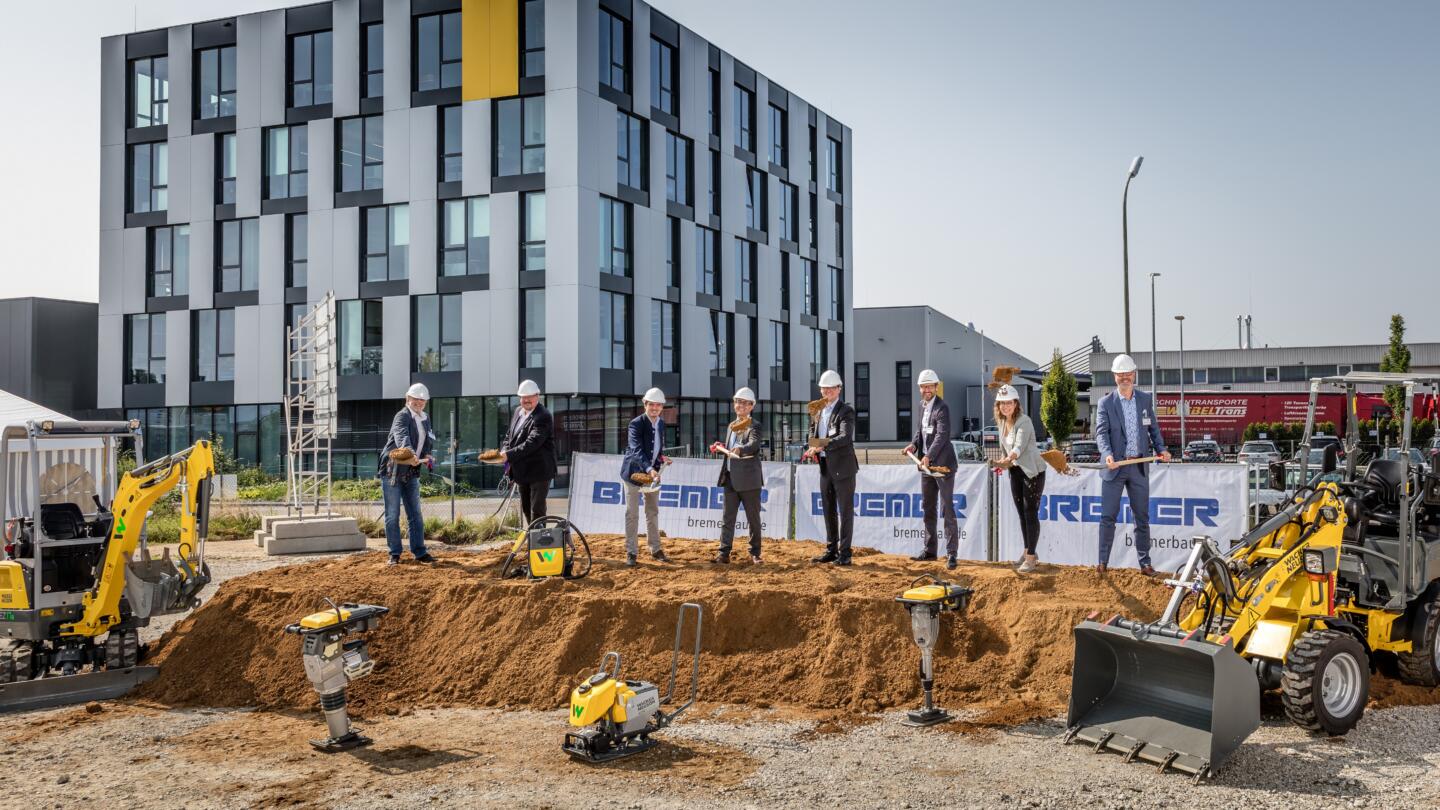 On July 20, the groundbreaking ceremony for the new logistics center was attended by Stefan Pfetsch, Managing Director of Wacker Neuson Produktion, President of the Chamber of Commerce run by local Pfaffenhofen government Johannes Hofner, the mayor of Reichertshofen Michael Franken, project manager Harald Günthner and representatives from the construction contractors. The new building will be located right next to the production facilities where the Group manufactures its concrete and soil compaction products, including internal and external vibrators, vibratory plates and rammers. In future, the equipment will be delivered even more rapidly to customers from the new logistics center.
"The new logistics center here in Reichertshofen marks the next step in our strategy to focus our entire process chain at one hub," explains Helmut Bauer, Managing Director of Wacker Neuson Produktion "We started on this journey back in 2017 when we relocated the research and development department for light equipment from Munich to Reichertshofen. Now, the entire process chain will be based here – from development through production to delivery to customers. This concentration gives us greater speed and agility. At the same time, we will be reducing our carbon footprint by cutting the distance our products have to travel."
The 12-meter-high hall covers a total area of around 10,000 square meters, providing space for shelving, picking areas and offices as well as a fully automated high-bay warehouse. Eighteen loading docks for trucks will ensure construction equipment can be rapidly transported to and from the site. The construction work is scheduled to be completed in the summer of 2022.
"This groundbreaking ceremony marks more than the beginnings of a new building. By the time our logistics center opens its doors in around a year, we will have fundamentally modernized our logistics processes,"
adds Stefan Pfetsch. "In future, all of our workflows will be software-driven with zero paper trail. Combined with our fully automated high-bay warehouse, this will significantly reduce turnaround times, enabling us to deliver products to our customers even more rapidly."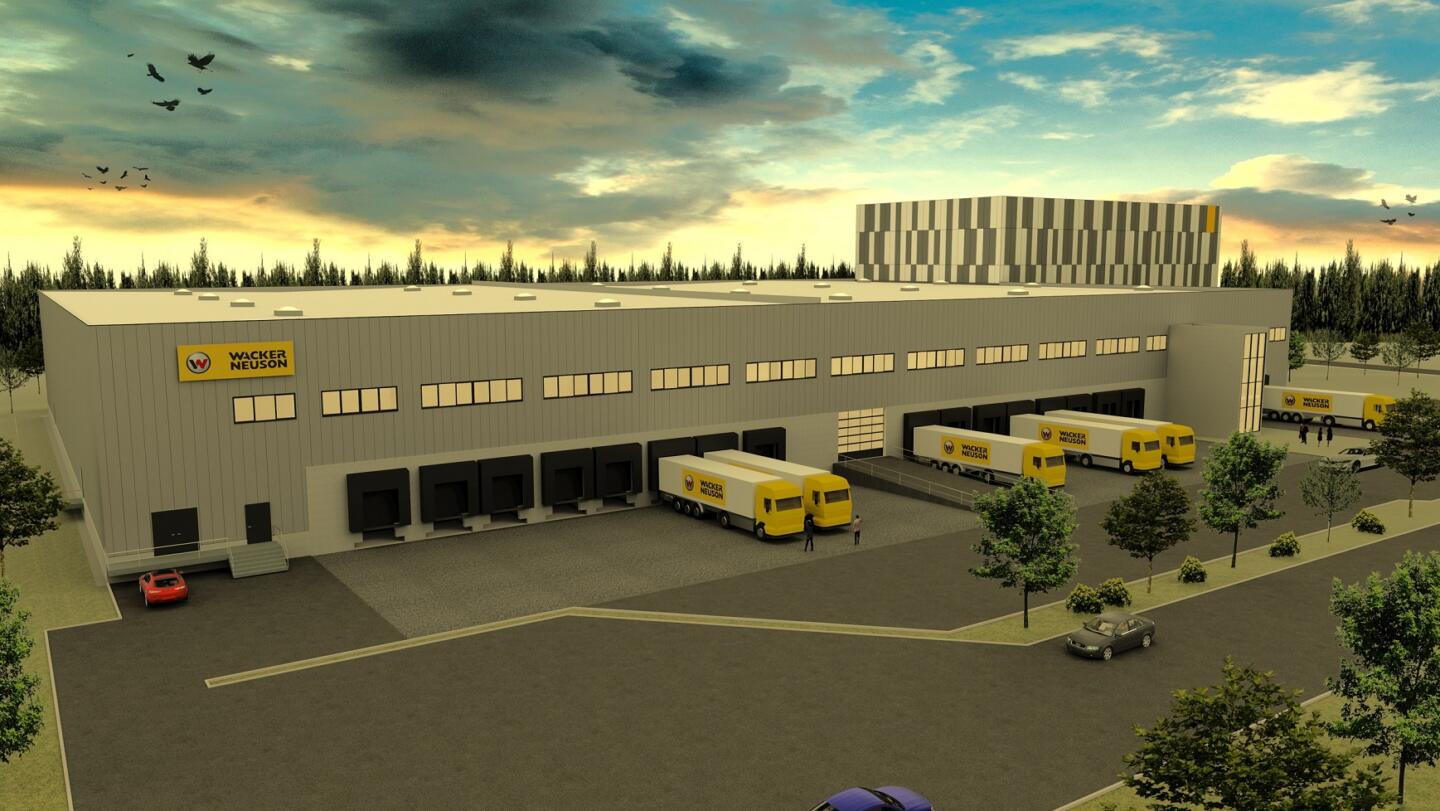 Wacker Neuson in Reichertshofen
The Reichertshofen site is home to the Wacker Neuson Group's global competence center for compaction technology, a market segment in which Wacker Neuson is a world leader. Vibratory plates and rammers for soil and asphalt compaction are developed and manufactured at the site. The portfolio includes Wacker Neuson's battery-powered rammers and battery-powered plates for emission-free construction sites, products that resonate with the market for their high levels of environmental and user protection. At this site, Wacker Neuson also manufactures internal vibrators, external vibrators, and inverters for the concrete technology sector along with breakers. The company has been manufacturing its equipment at Reichertshofen since 1964. In 2008, the Group built a training center at the site and then relocated its research and development activities for handheld light equipment there in 2017. Trainees can complete certified apprenticeships in industrial mechanics or tool and die machinery at the site's modern training workshop.