It looks like the classic SPX1280, with its compact dimensions, cutting edge stabilisation and hydraulic system, a maximum lifting capacity of 8 tons, and a 2-ton Pick&Carry. But this shiny-yellow mini crane hides special features that make it a military-grade machine, fitted for air transport and parachuting.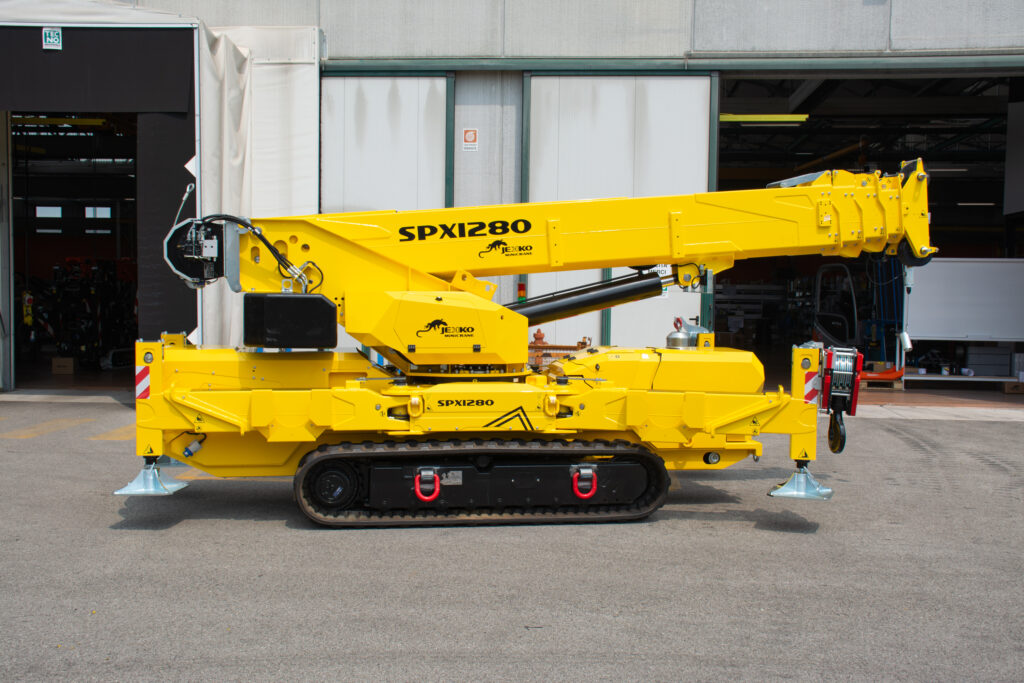 Jekko technical department, in partnership with their Belgian dealer Rentalift and the Belgian Defence Forces – Air Component, has developed in the last two years the first and only mini crane in the world designed for air transport.
The main element of this mini crane is its reinforced chassis, which follows the STANAG conditions and procedures.
This frame offers several anchor points to be secured on a plane and get parachuted if needed. It also presents an anemometer to keep an eye on the wind condition on the working site, a cold-weather kit for starting the engine and filters for working in dusty or sandy environments. To provide a quick response to the needs of the soldiers and respect the tight schedule, Rentalift was always in close contact both with the army and Jekko. This SPX1280 will work everywhere: from the artic-cold to the desert-hot, under the scorching sun and the showering rain.
"We are excited about this new military-grade Jekko crane!" comments Davy Bintein, Rentalift Sales Manager. "The Belgian Defence Forces first approached us in 2018 at MATEXPO exhibition, looking for a crane able to fly on an Airbus A400M and working on the aeroplane maintenance. Of the four companies contacted, Jekko met all the army expectations and was the only competitor able to build the cranes in a short time, managing to win the contract. The standard SPX1280 already had the main features they were looking for: its balance between size/weight and lifting capacity, the Pick&Carry function, the automatic stabilisation, the fully radio-controlled crane, and the many customisations available. It possesses a natural sturdiness and reliable stability, and the outcome is a special model for special OPS that embodies the most advanced technical solutions!"
Jekko, already present on the military market, is a landmark in the new lifting technologies and a trustworthy partner, able to offer customised solutions to make every lift possible.