Engineered for the future, the Cat Next Generation Hydraulic Mining Shovel cab display at MINExpo 2021 shows the latest optimized electronic architecture. The design fully integrates Cat Electronics and provides a platform to support innovation and technology expansion. Next generation shovels will feature five standard technologies, including Hydraulic Optimization, Operator Assist: Enhanced Motion Control (EMC), Product Link Elite, Vision 360 and Payload.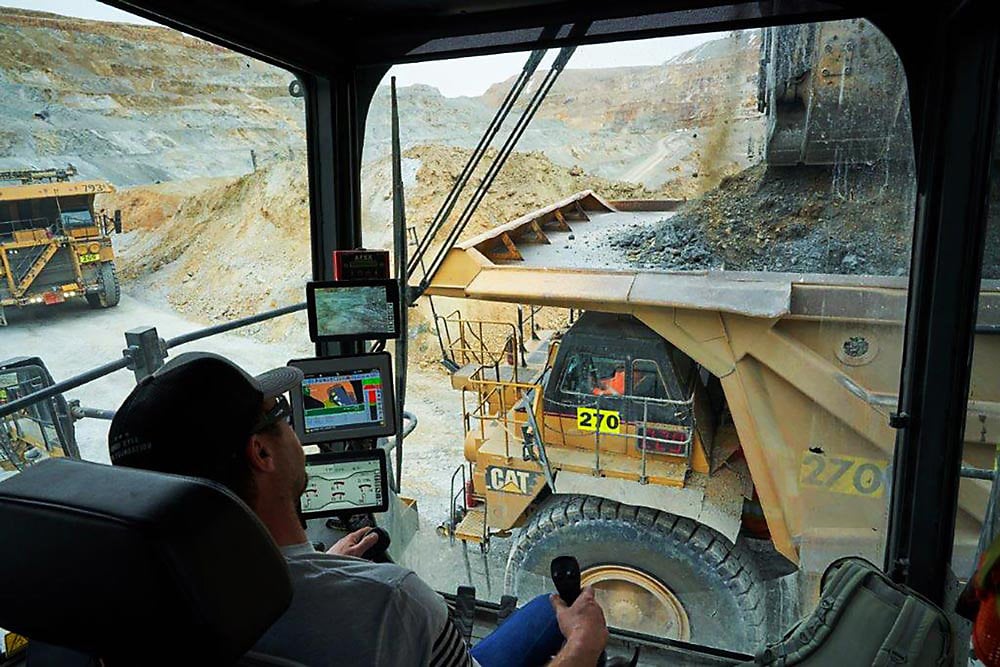 Next generation technologies
Cat next generation shovels include Hydraulic Optimization, which creates significant fuel efficiency savings. Conventional hydraulic systems operate all pumps at the maximum required flow and pressure, resulting in metering loss and excess heat and waste. Cat optimized hydraulics deliver the exact flow and pressure required for each hydraulic function, improving efficiency by up to 15%, reducing heat, mitigating waste and prolonging component lives.
Operator Assist: EMC incorporates angle sensors on the linkage to calculate boom and stick positioning. Reducing pressure spikes and shock feedback to the operator, the control system slows stick/boom movement as it nears the end of the cylinder stroke. This prevents hard stops and metal-to-metal contacts, improving the service life of these main structural components.
With the new Product Link Elite hardware as standard, all next generation shovels ship from the factory Cat MineStar Solutions ready. Product Link Elite improves condition monitoring and enables the machines to quickly integrate the industry's most comprehensive suite of operational technologies.
This includes MineStar Guide, a new technology platform for high-precision on-board guidance featured in the cab display. Guide offers 3D grade control and design visualization of the site, loading material and block identification, operator and production key indicators, surface management, and equipment tracking. Both Product Link Elite and Guide are installed on the Next Generation 6060 cab displayed at MINExpo.
Retrofit strategy for current shovels
A vital part of Caterpillar's expansion strategy to bring technology to existing shovels. This strategy ensures existing shovels can benefit from innovation and technology advances that help customers increase safety, reliability, and productivity. Vision 360 serves as the foundational technology for the scalable retrofit architecture. The Vision 360 kit includes cameras with harnesses, an electronic control module (ECM), and a 254-mm (10-in) high-definition, color technology display with harness.
Vision 360 increases situational awareness by stitching together four camera views to provide the operator a 360-degree surround view on the technology display. The touchscreen display allows operators to toggle between views and the ability to focus on specific areas to increase safety or productivity. Vision 360 reduces blind spots and repositioning, alleviates potential safety hazards and lowers cycle times. These benefits increase operator confidence and efficiency, while reducing operator fatigue.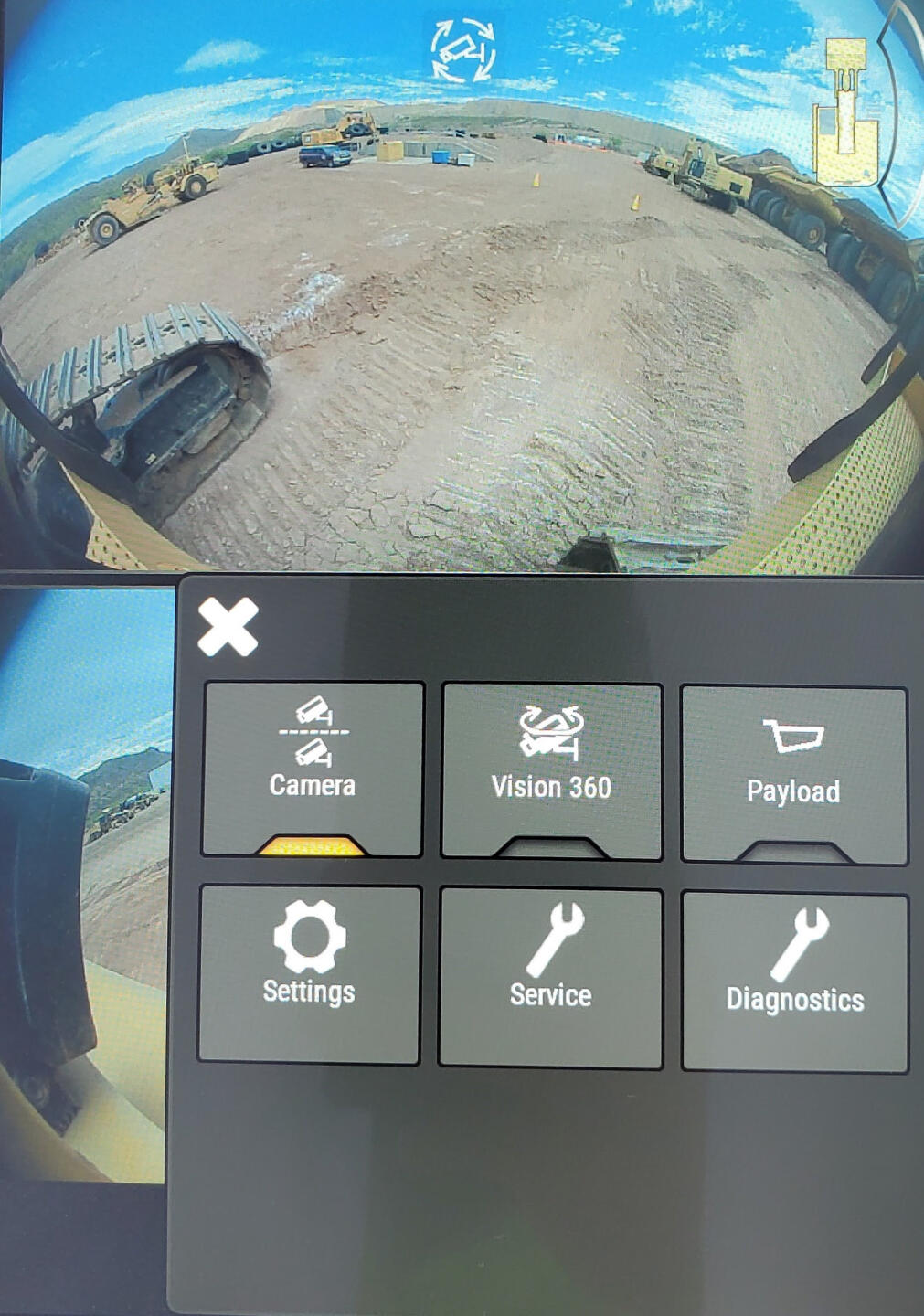 With Vision 360 installed, integrating future technology upgrades, such as Cat Payload, will be seamless. Cat Payload optimizes truckloads when being loaded by Cat hydraulic mining shovels. Sensors on the boom and stick measure the weight of the material in the bucket and send the data to the Vision 360 technology display in real-time. Payload automatically calculates the total amount of material loaded into each truck, preventing overloading and underloading.
Also available for existing machines through the expansion strategy, new Product Link Elite gives mines a gateway for efficient integration of Cat MineStar Solutions. The scalable suite of MineStar technologies provides the ability to track, monitor, and manage the mining shovel. MineStar can be deployed as a single technology or as a multipurpose solution to increase operating efficiency.