In September and October, customers from all over Europe travelled to Northern Germany to be part of Grove's all-terrain crane events. Staged at Manitowoc's Wilhelmshaven facility, guests were treated to factory tours showcasing the latest operational improvements, live demonstrations and presentations of the company's all-terrain crane range. They also witnessed the launch of two game-changing all-terrain cranes – the Grove GMK5120L and the Grove GMK5150XL.
Grove GMK5120L
The 120 t capacity Grove GMK5120L offers long reach with its extraordinary 66 m main boom. With this versatile all-terrain crane, Grove expands its all-terrain range with another outstanding taxi crane. Customers benefit from greater flexibility and low transportation costs. The all-terrain crane can easily carry a class-leading amount of counterweight – no matter if counterweight configurations for 10 t, 12 t or 16.5 t per axle are required.
With compact dimensions of just 14.195 m overall length and 2.75 m width, the GMK5120L offers superb access to jobsites, complemented with great maneuverability resulting from Grove's MEGATRAK independent suspension.
Grove GMK5150XL
The Grove GMK5150XL all-terrain crane provides increased capacity and a boom length that surpasses most 220 t machines in the market. This new model is redefining the five-axle, 150 t class by offering almost 69 m of main boom.
At 68.7 m it can handle 8.1 t, at 66 m it lifts 9.4 t and at almost 60 m it lifts an incredible 12.7 t. These load charts are truly unmatched in the market. The GMK5150XL crane's taxi charts are also best in class, ensuring easy roadability and transport savings. In addition, interchangeable counterweight slabs with the GMK5120L, and all Grove 150 t cranes simplify logistics and handling.
Furthermore, its flexible range of counterweight configurations enable setups tailored to different customer needs. Taxi configurations start from just 1 t of counterweight. For configurations maintaining 12 t per axle, the GMK5150XL can carry up to 10.2 t of counterweight. Also, the heavy roadable counterweight configuration (16.5 t/axle) makes it possible to drive with an outstanding 30.9 t of counterweight on board.
The new Grove model boasts compact dimensions that other five-axle cranes can only dream of. At just 2.75 m wide, it can effortlessly access the narrowest of jobsites, and with MAXbase, optimizing crane setup and lifting position is efficient and easy.
Both the GMK5120L and the GMK5150XL come with the new generation of Grove carrier cabs, providing increased operator comfort and convenience. The new carrier cab design seats the operator an extra 235 mm away from the centerline, enhancing visibility and maneuverability.
GMK6400-1
During the Grove all-terrain events, customers were able to get their first glimpse of the new GMK6400-1 after its virtual launch at CONEXPO 2020. Able to take on jobs that would usually require a seven- or eight-axle model, this outstanding 400 t all-terrain crane features an improved hydraulic system with faster flow to provide quicker operating speeds and even smoother movements.
As an upgrade to the GMK6400, its implementation of Manitowoc's CCS ensures that performance is optimized and operation can be boosted to a whole new level. Furthermore, with the addition of MAXbase variable outrigger positioning, capacities on the main boom are increased. The GMK6400-1 now offers unmatched flexibility on jobsites – just like all other Grove all-terrain cranes.
With the introduction of EUROMOT 5, all Grove all-terrain cranes can be operated with HVO diesel that enables CO2 emission reductions of up to 90%. New opportunities to tender for eco or government projects where impeccable green credentials are often required are now possible.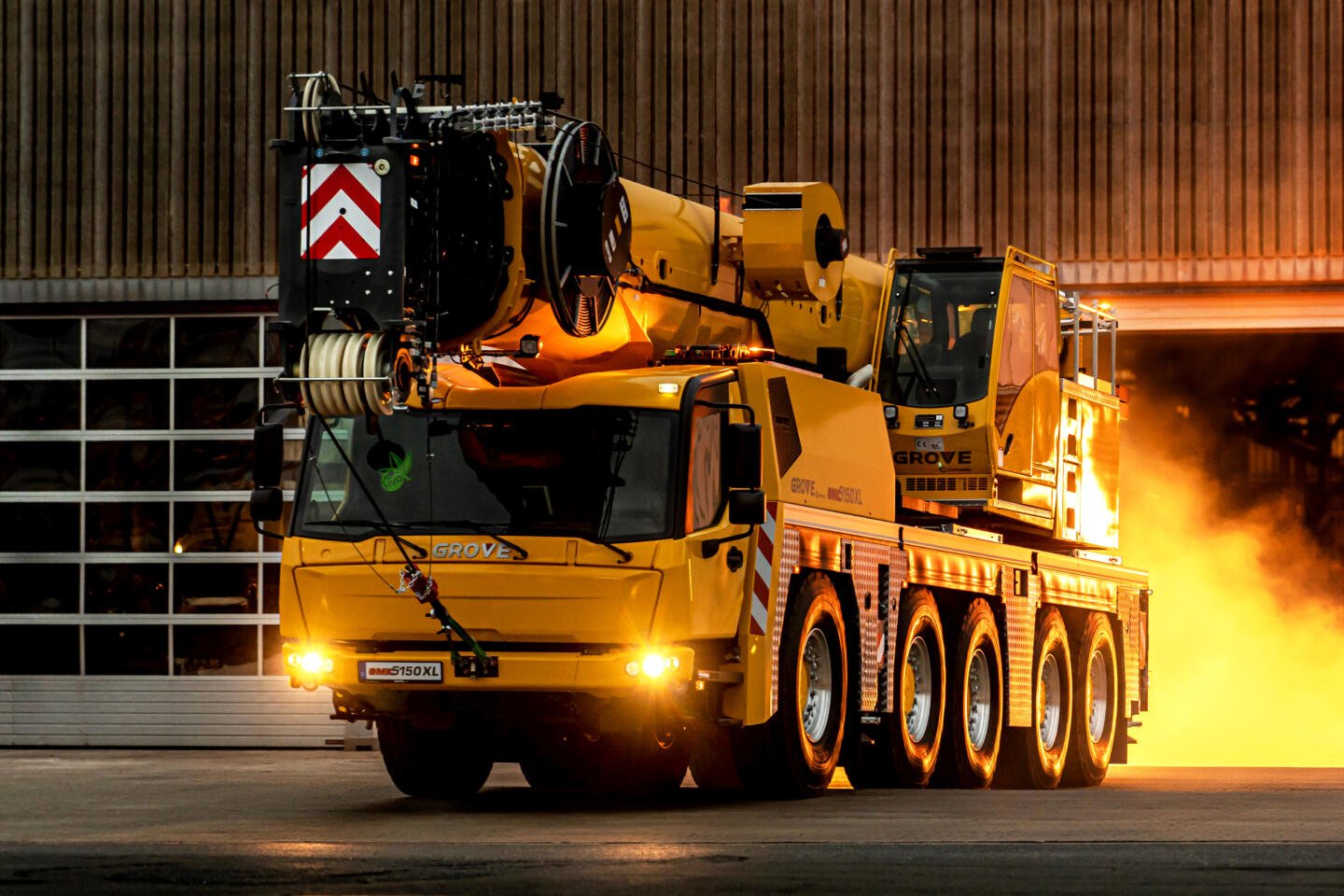 "These new Grove cranes deliver a level of performance that was not previously thought possible from cranes in this class, and we can't wait to get the first orders to our customers,"
said Andreas Cremer, Vice President Product Management Mobile Cranes.
"It was wonderful to finally be able to welcome so many valued customers and friends back to Wilhelmshaven, show them these exciting new cranes and hear such positive feedback – especially when our Voice of the Customer program plays such an important role in how we design our cranes."