Washing, brushing teeth, applying lotion to the skin – everyday morning activities in many bathrooms. Thumbing through the daily newspaper at breakfast, a little sugar in the coffee or tea, enjoying a boiled egg for breakfast and sliding into a pair of leather boots before leaving the house. Taking a look at the car's tires – sometime in the coming days, the winter tires should be put on. All of these things have something in common: they involve lime.
Lime is as common as it is indispensable. We come across it thousands of times a day without even noticing it. The basic product limestone is mined at the Oetelshofen quarry in Wuppertal. Heavy machinery, excavators and dump trucks are used on a daily basis here. Precise schedules are crucial for a smooth mining process. If one of the machines fails due to tire damage, this will have expensive and sustainable consequences. To prevent this from happening, tire manufacturer Continental and Schlüter Baumaschinen GmbH are using digital tire management with Vodafone.
"Today's mobility is connected and digital. It enables us to create greater safety and efficiency on the roads, on industrial sites and at many extraordinary workplaces such as the lime quarry in Oetelshofen. This requires fast networks that transmit data safely and quickly. Digital mobility is already part of everyday life at the Oetelshofen quarry. Together with Continental, we are creating the greatest possible safety for drivers and enabling an efficient and smooth process flow thanks to digital tire management,"
explains Michael Reinartz, head of innovation at Vodafone Germany.
Safety for humans and machines
Another full excavator bucket and then the fully loaded 40-ton dump truck moves at walking speed to haul away the mined stone. It is one of seven vehicles at the Oetelshofen lime quarry, where more than 1.3 million metric tons of lime are mined annually. Long service life of the vehicles and low idle time in the event of damage are crucial in this environment controlled by giant machines. If a dump truck breaks down on the road due to a flat tire, the entire process flow in the quarry is disrupted and operations may come to a complete standstill. If one of the machines fails, this too costs time and money. Up to several tens of thousands of euros daily. This is why Schlüter Baumaschinen GmbH is using Continental's digital tire management. It sends out early warning messages before tire damage could even occur, thereby offering the greatest possible safety for employees and machines as well as efficiency for process flows.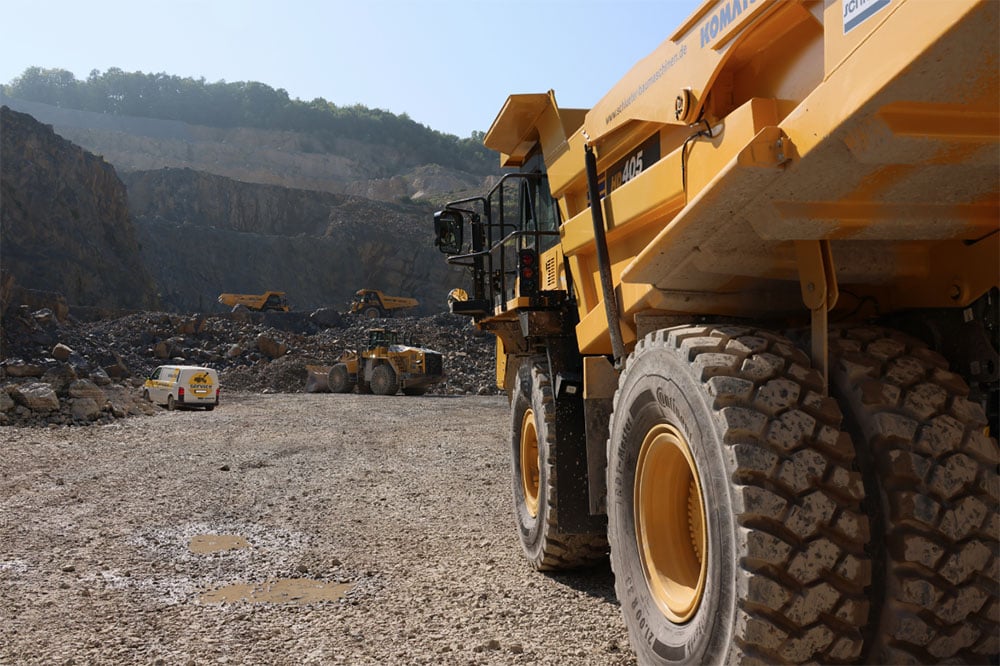 Digital planning for the future
With the ContiConnect digital tire monitoring system, a sensor installed in the tires continuously monitors tire pressure and temperature. The data is sent every two minutes via mobile communications to selected recipients such as the driver and head office staff, as well as to a central web portal. This way, the driver always has an overview of the condition of the tires. In critical situations, ContiConnect automatically sends a warning message – to the display of the driver's cab, to the web portal, or via text message and email to defined recipients. The tire data is securely protected and reliably sent to the Continental cloud using the Vodafone data card and from there to the ContiConnect web portal. This gives fleet managers in the quarry and service partners such as Schlüter an overview of the tires of the entire fleet at all times. Using digital tire management thus prevents expensive tire failures in heavy and large vehicles (dump trucks).
"Continental has continuously refined its digital tire monitoring system. Continental has been supplying its radial ply tires for heavy earth moving vehicles with digital sensors ex works since 2016. Today's ContiConnect enables tire monitoring of vehicle fleets continuously and location-independent. This means that the tire pressure is constantly maintained at the correct level, thereby saving fuel. Thanks to continuous tire monitoring, the tires also have a longer service life. Tire maintenance work can be carried out proactively (predictive maintenance) thus avoiding idle times,"
says Reinhard Klant, expert in earth movement and product line manager at Continental Commercial Specialty Tires.
The fast and secure data transfer, even in remote places such as quarries and construction sites, secures lime extraction and makes digital tire management a pioneering system for raw material extraction.