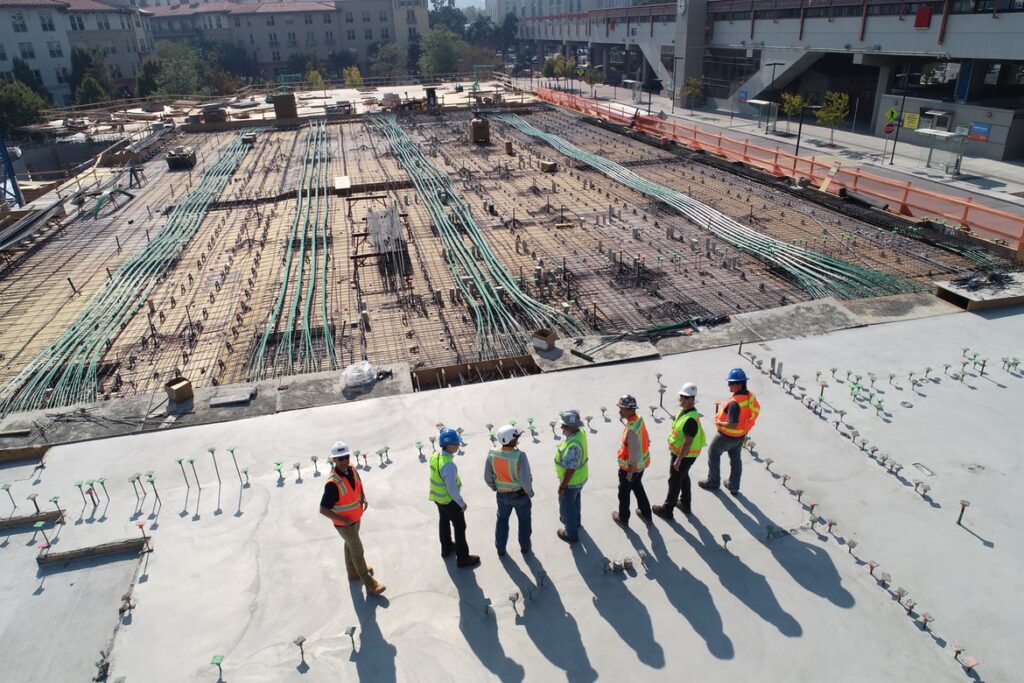 The 2022 edition of World of Concrete, the largest annual international event dedicated to concrete and masonry professionals, is just around the corner. Among the 1,500 exhibiting companies expected to join the event, Italy will be present with a 6000 square foot dedicated Pavillon organized by the Italian Trade Agency. The Italian booth will feature 12 Italian Manufacturing Companies, representing the excellence of "Made in Italy" solutions for the construction equipment industry.
The Italian companies represented by Italian Trade Agency that will be present in Las Vegas, represent the flagship of the Italian specialized manufacturing industry in the construction sector. The variety of their offer underlines the heterogeneity, craftsmanship, professionalism and precision of Italian manufacturing, comprehending a wide range of specialties that includes all products and equipment for the construction industry.
Here below a more in-depth presentation of the Italian companies attending World of Concrete.
Cosben
Click here to visit Cosben website 
Cosben, is an Italian company that has been operating in the earthmoving machinery sector for over 50 years. The company deals with the production of equipment for earthmoving machines, characterized by exceptional lightness.
Lightness that doesn't mean weakness: Cosben's products, and in particular its telescopic boom, guarantee 30% more solidity and superiority than the rest of the equipment on the market. The company will be present in Las Vegas with its telescopic boom "TA" and extension "PBS", suitable to equip excavators of all brands on the market. In the wide range of Cosben there are also tools for agriculture, suitable for telescopic machines or wheel loaders.
This means less cost on final maintenance. Cosben products are also stronger if we can reduce the weight of the attachment by about 35% compared to the competition. And finally, our products but especially the telescopic boom is the fastest: 30% faster than competitors.
GBM Building Equipments
Click here to visit GBM Building Equipments website
With more than seventy years of experience in the production of building equipment, GBM Building Equipments is one of the largest manufacturers of building props and scaffoldings in Italy. For years, GBM has been exporting its props and scaffoldings across the world for construction and maintenance works. Its wide range of accessories will help solving any challenges at the worksite including external brackets for cantilevered solutions and unloading decks at different heights of the building.
Providing customized solutions (new products as well as second-hand ones) the GBM line of scaffolding and props comes with diversified scaffolding designed to meet every constructor's needs.
Top quality row materials, high durability standards and harsh conditions-resistance, guarantee the fulfilment of safety conditions by providing anti-shearing and anti-slip-off systems.
However, GBS is much more than manufacturing top-quality and supreme durability props: working alongside professionals in a variety of international market, has made the company a synonym of reliability and a strong example of typical Italian made in Italy manufacturing.
Condor
Click here to visit Condor website
Condor is one of the main European companies active in the production of scaffolding, formwork and shoring that find many applications in the building industry as well as in restoration, entertainment sector, naval industry, industrial maintenance and Oil&Gas. The modularity of Condor scaffolding and formwork makes possible extreme design solutions and complex geometries that meet with increasing consensus worldwide. The continuous attention, by the Condor Research and Development Centre, towards the safety of operators at height has led to the development of RISK FREE scaffolding.
To learn more about Condor scaffolding and formwork at work on a construction site see the below video:
CSG Engineering Italy
Click here to visit CSG Engineering Italy website
With over 40 years of experience, CSG Engineering is specialized in outsourcing design services for precast. CSG has technical skills on precast structural solutions, Project Management. This includes the start-up of new plants, with the design of the factory, the startup of the plant including management tools and methods, the construction management, the design of new construction systems (performing features for performing elements), and the implementation of business improvement plans.
The great precast concrete knowhow is provided by CSG with a specific BIM-ERP solution for the design of precast constructions. A fully integrated system for the automation and coordination of all the activities of modern precast industries allows the estimation, design, drafting, calculation, operations planning, production management and cost control: BIM LegoCad-P2000 is the cutting-edge technological tool that ensures automated control and effectiveness to the precast concrete industry.
Nettuno Sistemi
Click here to visit Nettuno Sistemi website
Nettuno Sistemi manufactures Hotwire foam cutting systems. At the core of its business it lies the production of CNC hot wire foam cutting machines that can be used for cutting cornices, panels, balusters, symmetrical or asymmetrical objects, spheres, sculptures, columns, false ceilings, frames, molds, matrices, decorative elements, preformed swimming pools and spas, formworks as well as any other 3D objects. This is the first time the company takes part to World of Concrete and present their large range of CNC hotwire foam cutting machines.
In particular, Nettuno Sistemi will showcase Infinity22, expanding the range of Infinity series. Thanks to the heavy-duty structure made of steel, the new machine guarantees extreme precision during the cut, being able to hold the weight of full Styrofoam blocks with any density at the same time.
Nettuno Sistemi machines, apart from the construction industry, can be used also in many other areas such as visual communication, events, scenery, furniture, packaging, thematic/ amusement parks, etc.

Amadio & C.
Click here to visit Amadio & C. website
The core business of Amadio & C is to design and produce equipment for the construction industry, which are fast, economical and safe for any type of construction site. Amadio & C. is specialized in shoring (props, shoring towers, and horizontal formwork), vertical formwork and scaffolding solutions, whose main features combine technological innovations, performance and environment committment, with technical solutions that help workers in the most demanding tasks.
Among them, there is the EvoProp post shores, the company best seller product made with pre-galvanized pipe. All Amadio products are certified and designed to guarantee safety to its users. By choosing Amadio products on construction sites, companies would benefit the speed that systems like RapiDeck allow, being able to cast a concrete deck every 7 days.
The company has been serving the US market for over than 20 years, but this is the first time it takes part to World of Concrete. Thanks over thirty years of export experience, as well as the strong net of international dealers, the company is able to guarantee punctual and fast delivery for any foreign market.
Novatec
Click here to visit Novatec website
Novatec, a long established and affirmed company in the production and design of custom formwork for precast concrete, will also take part to Italian Trade Agency Collective in Las Vegas.
Since 1993 Novatec has provided its customers with high-value products, customer-care solutions, suitable for the civil, industrial and infrastructural construction industry.
The total and complete design made on the basis of each customer's needs and the high degree of automation that allows to reduce manpower and downtime, are the striking features of the company's products, all proudly made in Italy. Over the years the company has reached very high levels both in terms of quality and in terms of applicable solutions. The advantage of choosing Novatec products lies in the ability to offer extremely innovative solutions together with the quality of materials and design.

Boat Lift
Click here to visit Boat Lift website
Boat Lift is a company born ten years ago and specialized in the production and design of lifting and handling systems, with a particular focus on nautical, marine and industrial industry. The corporate philosophy is to evaluate the needs of the customers in order to satisfy their requests for designing and realizing custom made machines that help the lifting process.
With this modern and future-oriented imprint, as well as with the new materials, machinery and advanced technologies, Boat Lift is able to realize a product of undisputed quality. Boat Lift travel lifts can be used in all docks for hauling and launching boats ensuring maximum safety and reliability. In order to meet the needs of the operators, all the machines are equipped with an electronic steering control system that allows the perfect alignment of the wheels in all conditions, without forcing the operator to make frequent manual alignments necessary with conventional systems. The 90° steering system (optional) ensures excellent manoeuvrability of the machines with very small turning radii, allowing perfect functionality even in very narrow spaces.
Icaro Machinery
Click here to visit Icaro Machinery website
Icaro Machinery is a company founded in Bergamo (northern Italy) in 1976. Since the very beginning Icaro has been able to set itself apart in the small and medium-sized enterprise industry thanks to its high-quality machinery. Its range composed of cutters, benders, spiral and combined machines, all of the highest quality, has allowed the company to increase its position internationally, creating a dense network of dealers ranging from Asia to North Africa, and as partner of ambitious projects such as maintenance works at the Burj Khalifa (Dubai), the International Airport of Bahrain. Icaro has been present for years in the United States, in particular in Alabama, but with WOC the company hopes to strengthen its local position creating a new and strong network of local exhibitors.
Among the advantages of using Icaro machines we may find:
Safety. Starting off with the engineering plan, down to the selection of both materials and treatments, until the final assembly of each machine;
Innovation and know-how: As the market keeps on evolving, so does Icaro. The company is able to satisfy requests that become more and more demanding everyday thanks to its capacity to combine new technologies and the Italian manufacturing know-how.
Respect and fast delivering commissions: Working with respect means being honest about the consequences of our actions and activities: therefore, thanks to its specialist operators Icaro is able to assist all internationally based customers in every phase of the decision making process, from the order to the production of the machines.

Dmat
Click here to visit Dmat Linkedin page
DMAT is a material science startup specialized in concrete. The company main aim is to discover, develop, and commercialize innovative solutions based on complex science and simple ingredients. It has recently developed its first product: a patent-pending durable, universal, and sustainable concrete aiming to become the new global standard for the construction industry. Being a new startup on the market, has not to be understood as a weakness: the company is competitive and ready to strike the American market and meet US potential construction customers at World of Concrete.
Penta Automazioni Industriali
Click here to visit Penta Automazioni Industriali website
Penta Automazioni Industriali was founded in 1991 with the aim of offering solutions to automate the production of paper, aluminum, ceramics, natural stone and concrete products.
Since that, the company has focused on the extreme flexibility of its plants. Every handling, secondary processes, stacking and packaging plant for concrete and natural stone products has been designed and built according to the different needs of each customer like a tailor-made suit, so every installation is a rare example.
This has always been the lead value and the key to success for Penta.
Built in Bologna, Penta Automazioni Industriali represent the true essence of Made in Italy: unique design and high quality, attention to detail, innovation in connection with tradition.
The flexibility of Penta's handling, secondary processes, stacking and packaging plants for concrete and natural stone products is completed by a wide range of customized services.
Xsule
Click here to visit Xsule website 
XSULE is a young and innovative Italian company which thanks to continuous research and development, has developed a cutting-edge technology heating system. XSULE is an innovative heating cream designed, developed and produced in Italy that completely replaces any heating system. Invisible once covered, electrically powered, efficient, fast, environmentally friendly, easy to apply, ultra thin, applicable on walls, on the ceiling,
the floor, in corners, everywhere. Basically coverable with the vast majority of products products on the market, XSULE is electrically powered (24v) and does not require pipes, water boiler, approvals, gas, oil, heat pumps, radiators etc.
The materials used at XSULE determine the function and feasibility of the product, and reduction of cost and environmental impact.
The heating cream is just the first of a series of innovative products that aim at improving the quality of life while preserving the environment.
The company's goal is to produce solutions that can improve the quality of life while preserving the environment.
---
Italian Trade Agency will be present at World of Concrete with a dedicated Pavilion located at Central Hall Booth C5377, C5477, C5383: a 6000 square foot space with a primary objective to display the true value and excellence of "Made in Italy" solutions for the construction equipment industry. Make sure to step by and do not miss the opportunity of meeting any of the Italian Companies there!
The post Light Shed on Construction Technology: ITA Trade to Showcase 12 Companies at WOC appeared first on USA HeavyQuip Journal.