Béziers, a picturesque French town located near the border with Spain, has recently allocated considerable funds to restoring and modernizing its famous arena. For this type of renovation, preservation, restoration, and redevelopment, it is absolutely essential to use highly versatile vehicles capable of carrying out diverse tasks in order to make the best use of time and space and to overcome any eventuality.
Telehandlers are ideal for restoring architectural heritage
The arena's design is modeled on Spanish arenas, with a circular stepped amphitheater surrounding a central space where events are staged. The top of the arena is surmounted by a covered portico and the only point of access to the worksite is a large portal leading into the central space. It is here that all the building materials are deposited prior to being lifted to the upper levels.
Thanks to their flexibility and reliability, telehandlers can simultaneously perform the role of a forklift, aerial platform, and crane. In addition, the telescopic boom can reach higher and further than a forklift truck, ensuring accessibility even on rough terrain and diversified uses thanks to the many accessories available.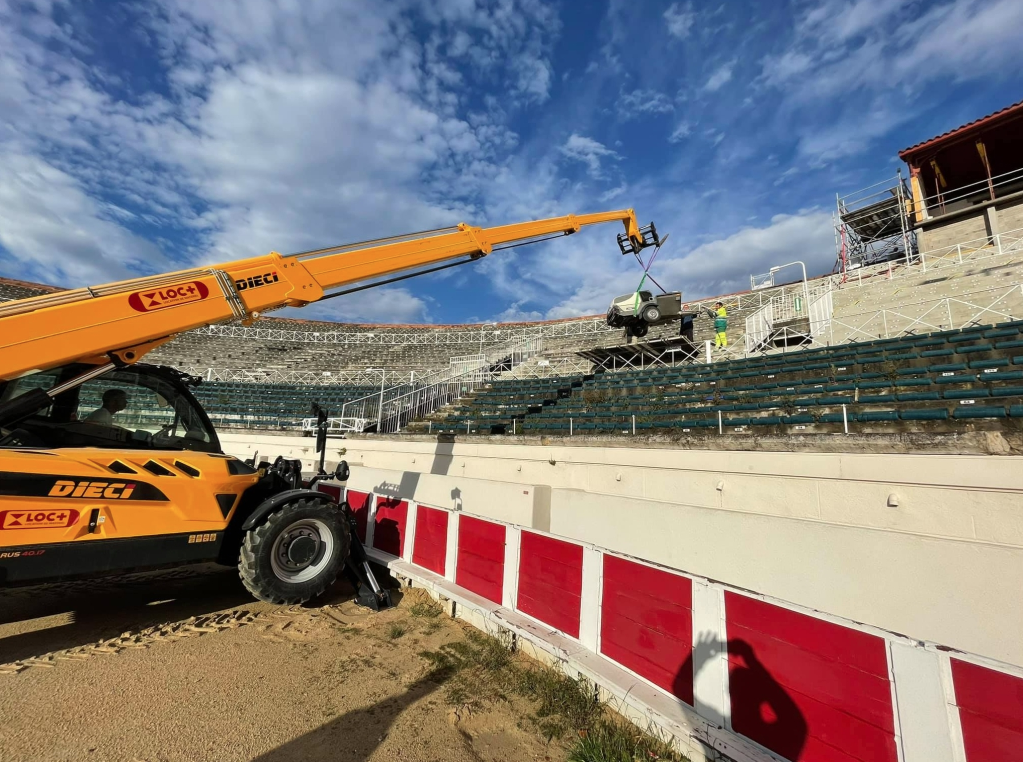 Why Icarus
The entire range of DIECI telehandlers is easy and intuitive to use and meets very stringent safety standards, enabling operators to work with peace of mind. In selecting machinery to be used for renovating the Béziers arena, the contractor and executor immediately identified the ICARUS 40.17 telescopic handler. Among the various families of telehandlers, Icarus is one of the most suitable vehicles for construction work.
This model was chosen for two main reasons:
Lifting height: Icarus can reach up to 16.40 meters in height.
Maximum capacity: this telehandler can carry loads of up to 4000 kg.
Inside the arena, the vehicle has been employed in moving, carrying, and lifting materials including timber, concrete, scaffolding, precious tiles, sand, and water.
Since it is required to operate in a dusty environment, the Icarus family of telehandlers was always the obvious choice, as it is equipped with a  separator pre-filter applied to the air filter, which prevents the ingress of dust and abrasive particles, ensuring greater efficiency and longer engine life.
To enable working through the winter months, the project leaders opted for a telehandler model equipped with a comfortable cab and an air conditioning system that can be upgraded upon request.
Source: Dieci