The Mollo Group was founded in the Seventies as a warehouse for building materials and equipment in Alba, Northern Italy. Today it has over 300 employees operating in 43 centers directly managed and located in several Italian regions: Piedmont, Liguria, Lombardy, Veneto, Emilia-Romagna, Tuscany.
The Group's core business is rental, with a fleet of over 8000 units which includes aerial platforms, lifting equipment, construction cranes, trucks, earth-moving vehicles, construction machinery and equipment, motor generators and light towers, monoblocks and containers, mobile bathrooms.
It is one of the largest rental fleets in Italy, of extremely "young" machines chosen from the best brands in the sector, technologically advanced and with an average age of only 4.2 years.
The reason why Mollo has decided to rely on Palazzani Industrie, as stated by the President Mauro Mollo, is because:
"Palazzani is a professional, serious and reliable Company, with a complete range of products able to satisfy various types of customers, from private to public companies, to end users."
The range of Palazzani Aerial Work Platforms starts from 17 meters up to 52 meters. Thanks to the up to date technologies, the Spiders can operate in many areas, in fact, Mr. Mauro declares:
"The Palazzani spiders crawler platforms that we have included in our rental fleet complete the range of AWP to carry out specialized work at great heights, such as maintenance of telecommunication antennas, skyscrapers, towers, bell towers and aqueducts, pruning and green maintenance, forestry interventions."
Last month, 4 Palazzani Spiders were delivered to the Piedmontese company, and before leaving, the Mollo operators were trained in the factory.
He adds:
"Among the latest generation models included in our rental fleet, we mention the Hybrid TZ330+, with diesel + lithium batteries: ideal for use both outdoors and indoors, where there is no power connection electric and the use of polluting engines is not allowed, as well as in all those construction sites where zero noise emissions are required. And then there are the XTJ 37+, XTJ 43+ and XTJ 52+ models, which are already widely appreciated by our customers."
Lately, Mollo Noleggio has paid great attention and sensitivity to include "green" vehicles to their rental fleet, with zero or reduced emissions of polluting gases, which work with lithium batteries, 100% electric motors, diesel engines euro 6, or equipped with engines with technologies / systems to reduce the emissions of nitrogen oxides from the exhaust gases.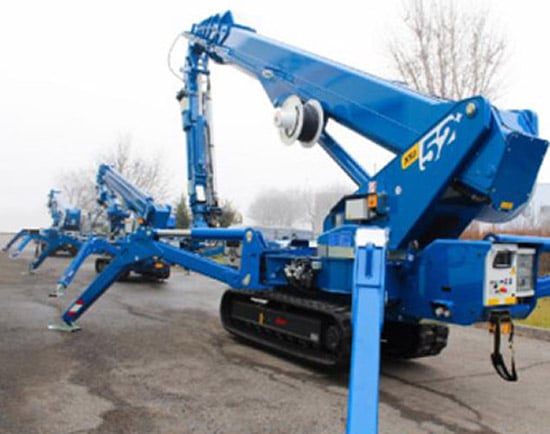 Mauro Mollo continues:
"Palazzani products are of very good quality and excellent performance, highly technological and innovative, capable to grant maximum safety and results."
Palazzani Industrie's goal is to provide high quality, construction, and technological products but also to educate operators; only in this way will they be able to get the best performance from their Palazzani Spiders.
Mauro Mollo concludes:
"In order to provide customers with a complete service and make the most of the potential of the Palazzani models, we rent them with our operators."

"These are qualified employees, with proven experience in the field, with training and deep knowledge of these machines, to carry out maneuvers on site in accordance with all regulations and needs."
Source: Palazzini Industrie