Böcker UK will be making the first international unveiling of the brand-new AK 42 truck crane, at Vertikal Days 2022 in Peterborough. Thanks to its boom profile made of high-strength fine-grained steel it scores with the best lateral stability for heavy loads, especially in the 1 t to 3 t range.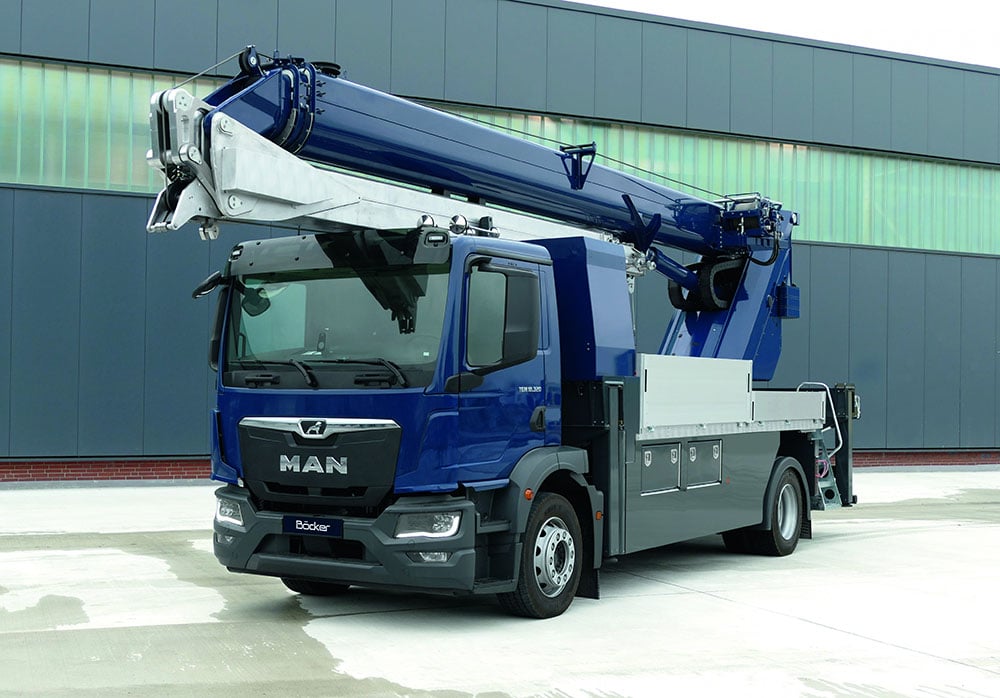 With a maximum lifting capacity of 6 t and extension lengths of up to 42 m, the crane, for example, lifts 1.5 t to a range of 18 m at a height of 24 m. Thanks to the performance of the powerful hydraulic system which has been increased by up to 70 %, the AK 42 operates at a significantly improved speed and is quickly ready for use, and several crane functions can be controlled simultaneously at a constantly high speed.
The AK 42 features a newly developed telescopic boom system that enables unprecedented geometry. Its aluminum jib can be extended hydraulically to a length of over 14 m at a high speed. For the first time, a truck crane of this class can raise its boom completely vertically at a 90-degree angle to the vehicle. This is an advantage not only when working close to the facade.
Another absolute innovation is the 180-degree position of the jib with the straight joint. It is ideal for picking up loads close to the crane or for working in platform mode in tight set-up situations. Furthermore, the straight jib position gives the crane additional height to reach distant locations across the building. The vertical positioning of the boom and the strong jib joint also enable the new tower crane function of the AK 42 to transport loads directly into the building. The jib can be telescoped out fully and at a substantially higher speed under loads of up to 1,000 kg.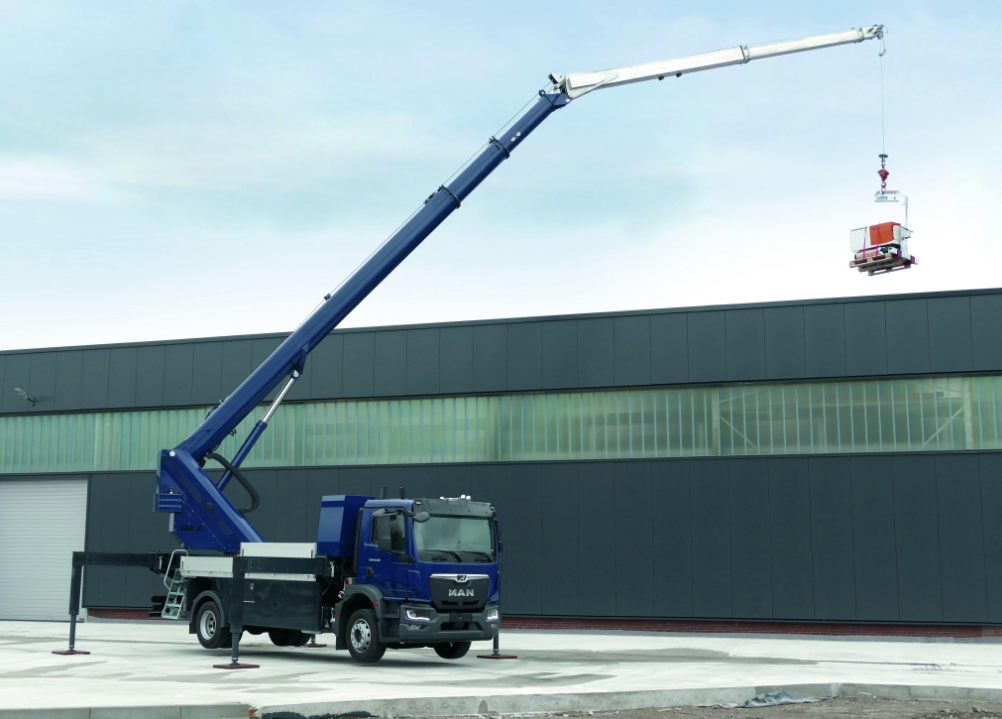 Mounted on an 18 t truck, the AK 42 is extremely compact thanks to a minimum footprint of 2.35 m and is available as a hybrid crane with a powerful electric motor. A short wheelbase makes it maneuverable and suitable for off-road use. Despite long extension lengths, the new truck crane has a comparatively short boom overhang. The low slewing radius of just 2.12 m makes it easier to choose a set-up site. The endless slewing range of the AK 42 opens up a circular working area within which the crane approaches any point at the shortest route.
The variable outrigger technology also offers a major advantage in confined spaces. Thanks to its stable boom system, the truck crane is compatible with the most powerful Böcker platforms with a load of up to 600 kg. Even in platform operation, the boom extends fully hydraulically and reaches the most remote angles during assembly or repair work.
The AK 42 is equipped with state-of-the-art control technology – including automatic set-up with auto-leveling and range indication in live mode, automatic rope tracking, switching between rapid and creep speed, rotation, and erection angle limitation, transfer control with two cameras, point-to-point travel and go-home function. The modern radio remote control, which displays all operations on the full graphic display in just one operating level, permits an intuitive operation.
For taking tools and building materials to the construction site, the AK 42 has a spacious loading area with completely foldable lateral walls, that can be easily accessed on both sides via extendable steps. The load is secured flexibly via lashing rails. Variably combined, e.g. with lashing straps with suitably sewn end fittings, the fixing system facilitates handling during loading thus saving time.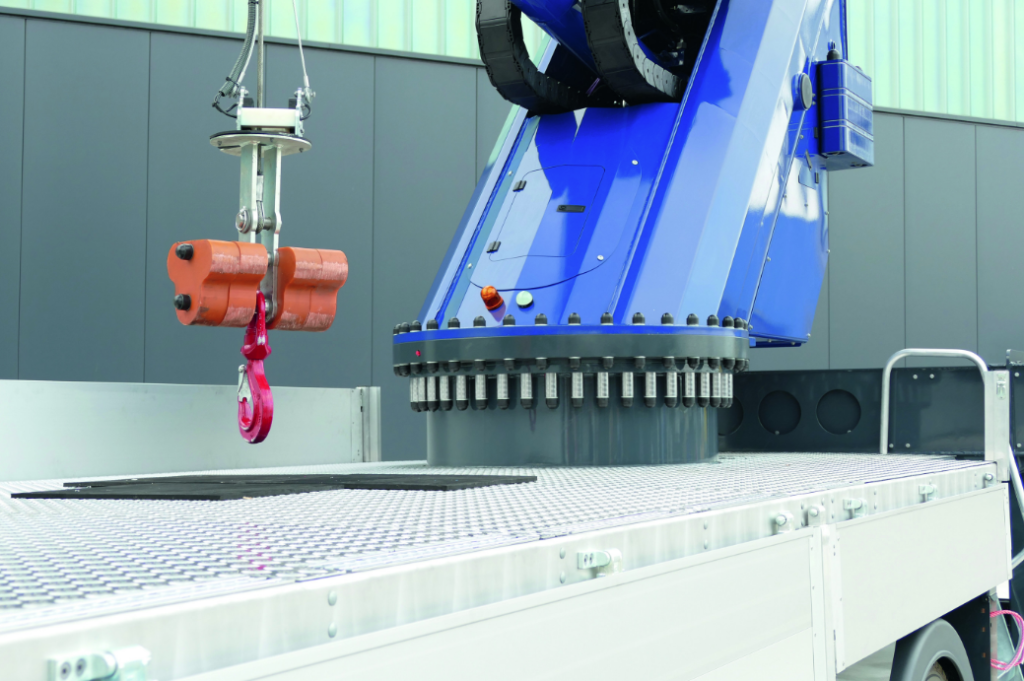 In addition to the new AK 42 truck crane, Böcker will be showing the RK 36/2400 on a versatile tracked chassis for any underground with the latest cutting-edge technology and safety features. It is accompanied by a Junior construction lift that has been designed for operation on narrow construction sites in particular. With minimum space requirements and strong performance data, it lifts a payload of up to 250 kg and reaches a maximum lifting height of 24 m. Carriage speeds of up to 48 m/min ensure efficient work operations. Visitors of the trade show can also take a look at the rack and pinion transport platform Super-Lift MX 2024. The complete Super-Lift MX series impresses in particular with its highly versatile modular platform concept. The base unit which is well-known for the single-mast lift having a surface area of 1.70 x 1.40 m can individually be extended for the dual-mast lifts.