The demolition company Ehlert & Sons. is an institution in Hamburg. This is not only due to its long tradition: the family business has been concentrating on demolition and dismantling since 1907, and has made many a prominent building in the Free and Hanseatic City of Hamburg and beyond disappear with media impact to make room for something new.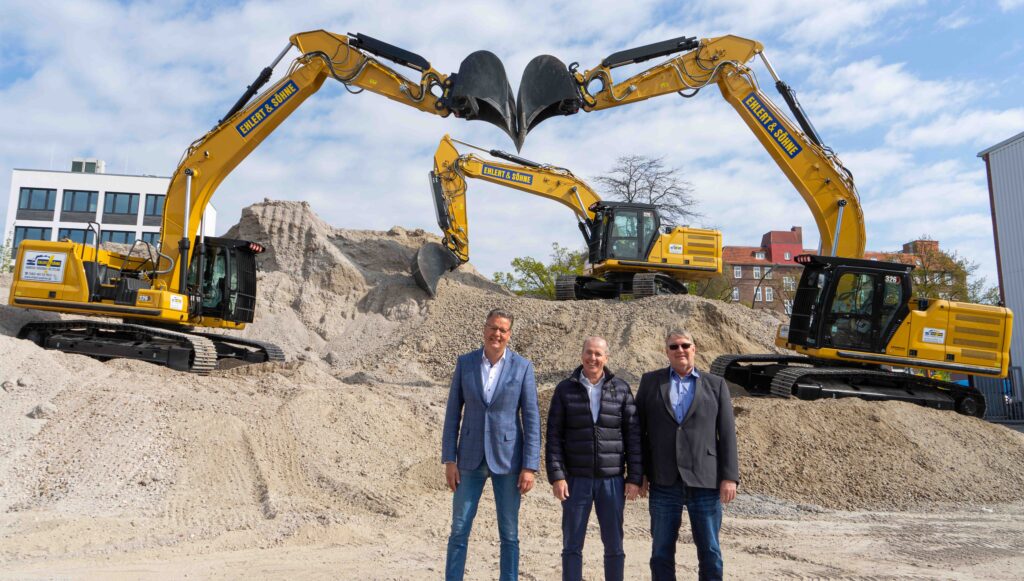 These include the Johann Kontor on Klosterwall in the middle of Hamburg's city center with four high-rise buildings to be demolished, each with a height of 40 meters and approximately 150,000 cubic meters of enclosed space, the demolition of the 45-meter high Messeturm tower, or the demolition of the former Dresdner Bank building on the densely built Jungfernstieg.
However, the demolition specialist is also responsible for the most complex projects, such as the partial demolition of Hamburg's Alster swimming hall, which had to be carried out with surgical precision, as the edge of the demolition, ran directly along a tension band that holds the listed building together.
Another project close to the heart was the thick brick walls of the 108-meter-long and 30-meter-high Kaispeicher for the Elbphilharmonie, which were to be preserved, but the interior had to be completely gutted and ceilings and interior walls had to be dismantled.
Just as in the past, Ehlert & Söhne again rely on Cat construction machinery technology: specifically, an entire cloverleaf of Cat 326 tracked excavators of the new generation of machines. They are to handle tasks involving demolition, dismantling, earthworks, and civil engineering for architects and general contractors, housing associations, private and industrial customers, and the public sector.
In addition, there is the removal of a wide variety of buildings down to their foundations. This is accompanied by recycling with meticulous sorting tasks to recover recyclable materials. This requires appropriate equipment, the four Cat crawler excavators supplied by Zeppelin's regional sales manager Stefan Groos from Hamburg are a perfect match. They complement the machine park, which consists of around 20 Cat machines.
If you want to implement complex projects, you need skilled personnel you can rely on. Ehlert & Söhne and its managing directors, the brothers Matthias and Christian Strauch and their brothers Matthias and Christian Strauch and their brother-in-law Hartmut Pieper, now employ over one hundred people. The new machine technology, which impresses with its user-friendliness and comfort turning construction machinery into modern workplaces. This is helped by large panoramic windows, but also technologies such as integrated assistance systems.
With the standard grading control system, the operator uses the excavator stick only to determine the working speed, while the bucket and boom are controlled automatically. The lift and E-Fence lift and swing limiters automatically stop the hydraulic excavator at predefined points. And the built-in weighing system ensures that trucks are loaded to their exact capacity.
But the new operator cabs are also impressive in other respects. Thanks to operator-specific programming of the drive mode and joystick settings, the operation is easier than ever before, resulting in more efficient work results. After all, this is also becoming increasingly important for companies: saving fuel. This is achieved, for example, by the boom float function, which allows the boom to be lowered freely without the need for pump flow. In addition, this function can be used during hammer operation to apply exactly the right force and to protect the hammer and boom- a major plus, especially for demolition work.
Excavators of the type Cat 326 are suitable for a wide range of attachments thanks to their auxiliary hydraulics. The construction machine technology also shows an improvement in bucket operation, which can be attributed to the high engine torque.
If you want to deliver good work results, you also need the right tools in various-sized classes. All construction machines are specially reinforced for demolition projects,  fully piped, and equipped with fully hydraulic quick-change devices, so that they can react
individually and flexibly to any situation. Depending on the application, the carrier
can be equipped with a backhoe bucket, grapple, shears, hammer, or crusher. In addition, the company has three special demolition robots that can be operated electrically and remotely, thus expanding the operational possibilities in indoor use and in risky areas.
It is not for nothing that investments in machinery are made with nice regularity at
Ehlert & Söhne in order to be able to fall back on the latest state of the art. This applies
not only to the Cat 326 crawler excavators but also to a new Cat 340 UHD long-front excavator. Such technology is required to handle a comprehensive range of tasks – especially when it comes to buildings with construction heights of up to 27 meters. The company has acquired extensive expertise in this area. But it also pays off when it comes to industrial and bunker demolition, the removal of fire damage, asbestos and pollutant abatement, blasting work, and earthworks and civil engineering work that the medium-sized, fourth-generation family business knows from decades of experience,
how to respond to the many challenges on the construction site.