Moldtech has extensive experience in supplying equipment for infrastructure projects around the world, among which bridge and highway construction projects stand out. Due to the high logistical cost and in many cases the impossibility of transporting the oversized elements to places that are difficult to access, our clients bet on precasting on site. Therefore, more and more clients are requesting a system with these characteristics to produce large precast elements such as bridge girders.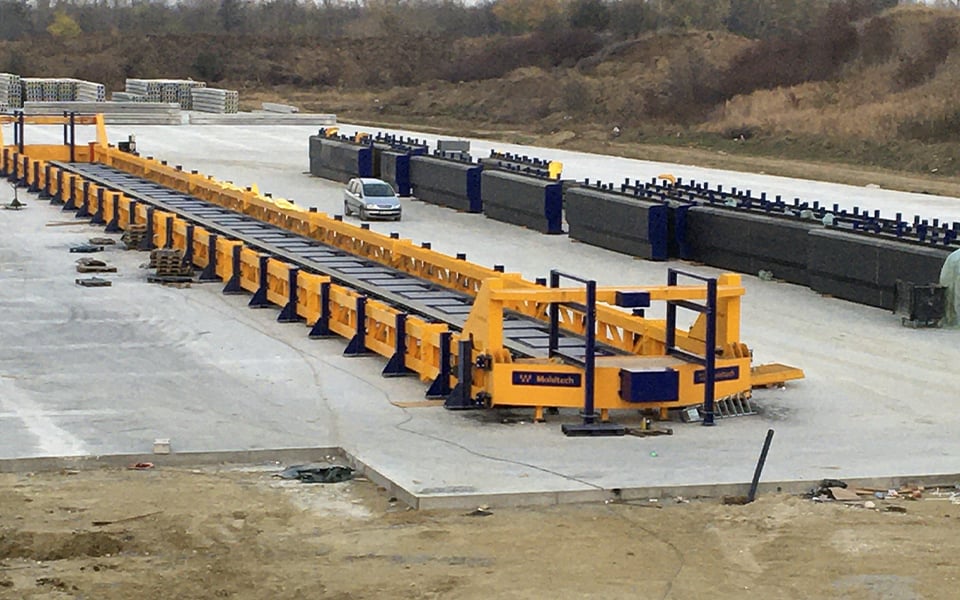 The equipment for the manufacture of bridge girders features a universal casting bed, which can be offered manual or hydraulic. And a self-reacting structure capable of withstanding the tensioning efforts derived from the prestressing loads applied to the girder during its casting without the need to construct expensive foundation pits.
Finally, two mould sides that reproduce the shape of the girder are modular in height, width, and length. These mould sides feature a quick fixing system. The opening and closing of the sides can be hydraulically activated, which is an operational advantage. Since the occupation of the lifting devices is reduced, the cycle time in the production of the girders is minimized.
This "mobile" system has a series of advantages that make it ideal to produce girders in temporary locations on site or where a dedicated pit foundation is not possible to construct. Our clients use this system to set up ephemeral factories dedicated to specific works in remote locations, drastically reducing transport costs.