Doosan Bobcat will be showing the company's new E19e two-tonne electric mini-excavator for the first time in the UK on Stand I40 at the Executive Hire Show from 8-9 February 2023 at the Coventry Building Society Arena in Coventry. Alongside the E19e, the company will also be presenting the popular 7/45 portable compressor from sister company, Doosan Portable Power.
The EHS is firmly established as the only annual national event aimed at tool, equipment and plant hirers and the suppliers serving this dynamic industry. The EHS enables hire professionals to not only see key suppliers they already do business with, in one place, but also to get in front of new companies from around the world who are looking to serve this important market.
Clean and Quiet Operations
Building on the success of Bobcat's smaller E10e, the world's first 1 tonne electric mini-excavator, the E19e adds to Bobcat's expanding range of electrically powered machines. As a true pioneer in the field of battery-powered equipment, Bobcat is driving an industry-wide shift towards electric excavators and other construction equipment such as the company's unique T7X model, the world's first electric compact track loader.
The Bobcat E19e features the same profile, external dimensions and comparable performance as the popular E19 mini-excavator, more than 10,000 of which have been sold worldwide. The E19e boasts the same stability, lift capacity and breakout forces as its conventional counterpart, while its constant torque curve (a feature of electric motors) ensures dependable and powerful operations. With a width of just 98 cm, the new electric model is easy to operate in even the most confined workspaces, making it ideal for tasks such as demolition as well as outside applications that require quiet, zero-emission operations.
The E19e features a 3.5-hour battery capacity and can be recharged quickly using a super-fast charger. This means that by topping up the power during work breaks, the machine can be used all day for the majority of typical applications. Thanks to the model's ergonomic design, its battery capacity and service codes are clearly displayed, making planning simple. The E19e is also immensely versatile, with a wide array of compatible attachments available. Bobcat's hydraulic clamp attachment, for example, is unique in the market for this size category.
Doosan 7/45 Stage V Compressor Continues Success in the Market
Designed with a focus on simplicity, durability, reliability and transportability, the 7/45 Stage V portable compressor provides 4.0 m³/min (140 cfm) of compressed air at 7 bar nominal pressure. Like all Doosan portable compressors, there is a wide range of options and customizations available for the 7/45 to meet customer needs.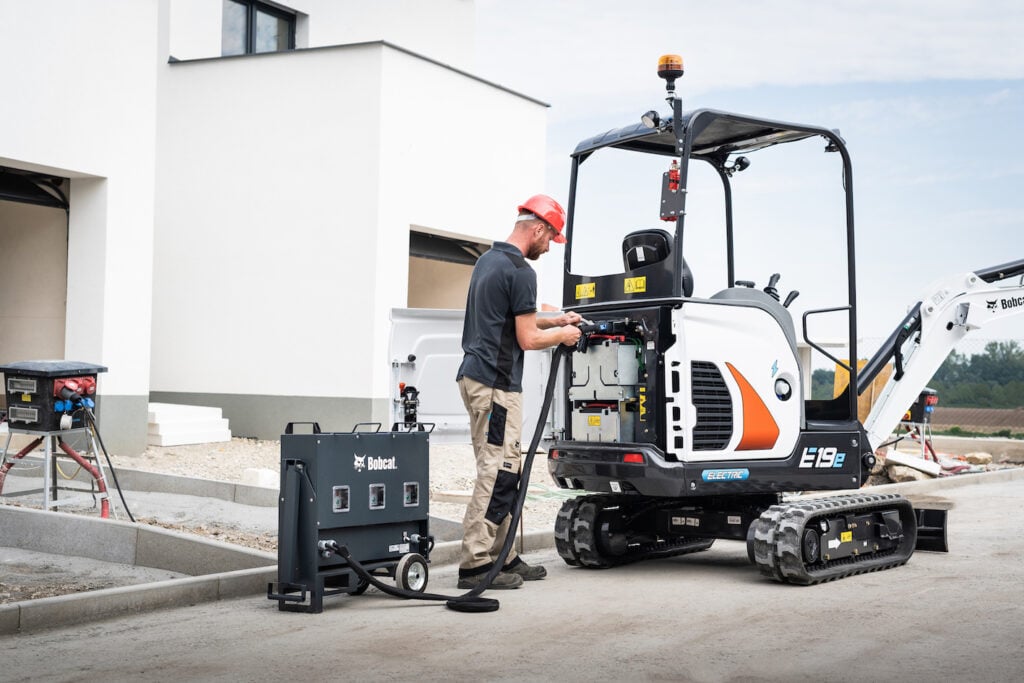 The 7/45 Stage V compressor on the EHS stand will feature a Tough Top (polymer) canopy, which is a standard feature on all the latest small compressors from Doosan Portable Power.
This easy-to-open canopy creates a fantastic line with the polymer mudguards and bumpers. Integrated LED lights are also offered as standard for all the machines as well as environmentally important bunded bases. The long-standing metal canopy versions are still available to customers as an option.
There are three more 7 bar Stage V compressor models in the small compressor range including the 7/20, 7/25 and 7/55, with outputs of 2.0, 2.5 and 5.0 m³/min (70, 90 and 180 cfm), respectively. The small compressor range is completed by the 14/35 higher pressure model providing 3.0 m³/min (105 cfm) of compressed air at 13.8 bar.
The E19e and E10e are part of a comprehensive selection of mini-excavators from Bobcat covering models from 0.8 to 8.5 tonne, alongside a full line-up of skid-steer, compact track and all-wheel steer loaders, telehandlers, compact wheel and small articulated loaders and attachments.
Also aimed at the tool and plant hire industry and the markets it serves, Doosan Portable Power offers a comprehensive range of portable compressors, generators and lighting products for the construction and rental industry.