In the course of climate change, recycling is becoming increasingly important in order to conserve resources. The motto is therefore to process recyclable materials for the circular economy with the greatest possible added value. Processes such as sorting, separating, chipping, shredding, crushing and screening determine how much waste wood, construction waste, soil, glass, metals, paper and plastic can be recycled. Zeppelin will be showcasing technologies that can support the waste and raw materials industry in recycling and processing to protect the climate at the upcoming dual trade fair "Recycling aktiv und Tiefbau Live" from April 27 to 29, 2023. Cat construction machines will be presented at the Karlsruhe exhibition center at booth F442.

Among the key material handling equipment on display will be a Cat MH3022 with an operating weight of 24.5 tons, which is predestined to perform sorting tasks. At the other end of the scale in terms of operating weight is the Cat MH3040 with a good 39 tons. It is thus considered a special heavyweight that wants to do justice to this role in heavy scrap handling. Visitors to the trade fair in Karlsruhe will also be able to see this machine.
Anyone who works in cargo handling knows that not only a robust design is important, but also high speeds and great endurance. This is what handling excavators have to demonstrate when they move many tons in shift operation, feed crushers and screening plants, and load recyclable materials onto skips, in containers, or onto tipping trailers. As representatives of the new generation of machines, they are characterized by low fuel consumption and lower maintenance costs, which helps customers to reduce operating costs. The heavy-lift mode of the MH Series machines enables them to handle heavy loads efficiently. The standard Smartboom function simplifies operation. Joystick steering is included as standard on all models. In addition, the new generation offers even more choices in equipment options, which visitors can learn about in detail at Zeppelin's booth.
The Cat MH3022 is available with a reach of up to eleven meters – its bigger brother, the Cat MH3024 with an operating weight of 27 tons, reaches a maximum of twelve meters. This benefits the loading of trucks, rail cars and ships, but also the feeding of shredder plants. The Cat MH3024 can be seen in a live demo handling scrap and metal. The practical demonstrations form the core of "Recycling aktiv und Tiefbau Live". There, the yellow iron is used directly to show what the machines are capable of. Specifically: Like all Cat excavators of the new generation, the handling excavators are also equipped with electro-hydraulic pilot control, which enables particularly sensitive control and allows the operator many individual setting options.
Tracked excavators such as the Cat 330 also use electrohydraulic pilot control. Zeppelin will also be demonstrating one of these, equipped with a P324 pulverizer, in live operation in the attachment arena. A generation change has also been heralded in the tools, so that concrete structures can be gripped faster with the jaws during demolition work, processed with more force and integrated reinforcements can be cut through. Because each material has different handling requirements, different equipment variants are available. There is also a wide range of equipment for attachments. Zeppelin staff will be on hand at the booth to present the different variants and go into more detail about the various options.
Even though the focus of the exhibits will be on excavators, the exhibitor will provide flanking information on the latest wheel loader technology. A Cat 950 or the compact version in the form of the Cat 908 in the Highlift version will be presented as representatives of efficient material handling. With solid rubber tires and metal mudguards, this is suitable for use in industry and in the waste sector. In combination with the optional reversible fan, it is even suitable for operations in a dusty environment.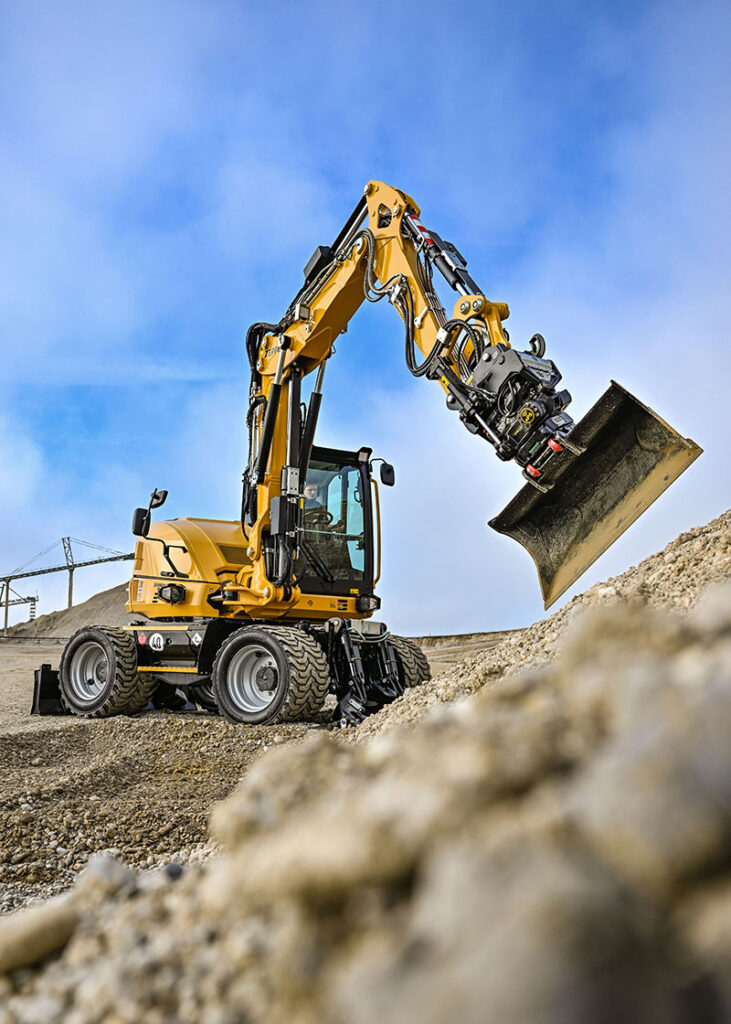 The ZM 110, which is also on display, falls into the "latest development" category. With this new wheeled excavator and its numerous optional features, Zep-pelin is competing against a wide range of tasks in civil engineering. These include joystick steering or a trailer pre-equipment. There is also the option of moving the wheeled excavator at 40 km/h on the road. What other new-generation wheeled excavators can already boast, the new ZM110 can now also offer: attachment management. The operator can save different attachments with defined parameters and define a maximum pressure. This makes it possible to handle a wide range of different tasks in civil engineering, but also to move material quickly.