Liebherr has delivered two new mobile construction cranes to Wasel: an MK 88-4.1 and an MK 140 Plus. Based in Bergheim near Cologne, the crane company plans to expand further in the next few years. To achieve this, Wasel, a company of the Hagedorn Group, needs reliable and modern machines to meet the exact requirements of customers and to continue to drive forward its growth offensive.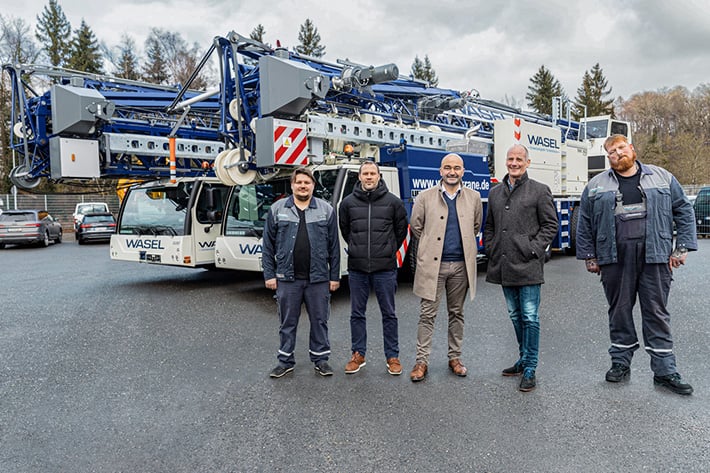 Wasel has been a dealer for Liebherr tower cranes for over 65 years and has also opted for Liebherr mobile construction cranes for many years. And now two more have joined the fleet.
"We're impressed by the MK concept. So it was clear to us that mobile construction cranes would also be part of our growth strategyThe new mobile construction cranes optimally meet our customers' requirements in terms of efficient and trouble-free crane operation."
said managing director Matthias Wasel at the handover.
Taxi crane concept for fast deployment
The new taxi cranes mean Wasel can efficiently manage several construction sites in one day, as only one person is needed for travel, assembly and operation. The machines automatically unfold at the push of a button within just a few minutes, and without the need for any other resources. Wasel plans to primarily use the new cranes for jobs in the petrochemical industry and in urban areas, for projects such as roofing and façade work. The mobile construction cranes can be erected directly at buildings, thereby making optimal use of their jib length.
MK 88-4.1 with ecological hybrid power concept
The environmentally responsible use of construction machinery is becoming ever more important for building projects. The MK 88-4.1, which features a maximum lifting capacity of eight tonnes, scores particularly well in this respect. Thanks to its hybrid power concept, the crane can work with site electricity or another local power source without generating any CO2 emissions.
Plus, it's particularly quiet in electric operation, which can be a particular advantage for night-time construction sites in residential areas. If an external power source isn't available, an efficient diesel generator ensures self-sufficient operation. The MK 88-4.1 offers a hook height of up to approx. 59 metres (45-degree luffed position) and a maximum radius of 45 metres.
MK 140 Plus for extra-long reach
The MK 140 Plus easily copes with situations where a longer reach is required. Liebherr's largest mobile construction crane offers a jib length of 58.5 metres in trolley mode. Luffing mode even makes a radius of up to 65 metres possible. A special feature of the MK 140 Plus, which can lift a maximum of eight tonnes, is its VarioJib function. This allows the crane to be operated flexibly in trolley or luffing mode, according to requirements. While trolley mode enables strong handling performance in trolley operation, a hook height of up to 94.4 metres is possible in luffing mode.
Both the superstructure and the undercarriage of the MK 88-4.1 and MK 140 Plus can be powered by HVO, a fuel produced from hydrogenated vegetable oils, and preferably from waste. Our production sites started delivering mobile construction cranes with this fuel last year. Fuelling with HVO helps to reduce emissions and promotes climate neutrality on construction sites in the long term.